Sylvia Rivera's Words Exposing Gay Inc.'s Oppression of Trans People Still Ring True Today on Her Birthday.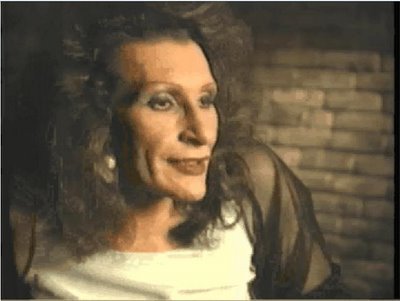 Today, July 2nd, is LGBT pioneer Sylvia Rivera's birthday. Media Advocates Giving National Equality to Transsexual & Transgender People (MAGNET) and many LGBT people honor this heroic transgender woman, who is credited by historians as being the person who "threw the first heel" in the Stonewall Inn that fateful night in 1969, when the LGBT community decided to fight back against police brutality. Rivera and many other trans and gender non-conforming people of color at the inn that night were "guilty" of having "gender inappropriate" clothing, which is the excuse the police used to exercise their prejudice with violence. The police were surprised when the guests at the bar decided to fight back! This riot catapulted the modern LGBT movement, and Rivera and other trans people were responsible for kicking things off.
Rivera continued to advocate for LGBT equality, particularly for those disenfranchised and homeless. Sadly, after the gay establishment was done using her to get publicity to raise money, she was abandoned by the gay community, and actually died impoverished. They expressed that "transgender issues are too extreme". The lesbian separatist "radical feminist" community would exclude her from women's conferences, and she was even one time escorted out of a queer women's conference by transphobic lesbians. She was banned from the New York Gay Center for publicly, and aggressively, asking them to take better care of homeless queer youth. When Rivera used her voice to call out the oppression of trans, poor and/or people of color from Gay Inc, she was blacklisted from many organizations, media outlets and social circles. Though the Gay Male Media Mafia tried to silence her truth telling, shortly before she died she foretold the future saying,
One of our main goals now is to destroy the Human Rights Campaign because I'm tired of sitting on the back of the bumper. It's not even the back of the bus anymore -- it's the back of the bumper. The bitch on wheels is back.
Today, a new documentary is making the festival circuit called Stonewall Uprising. Shockingly, but not surprisingly, the white gay and lesbian people primarily responsible for making the film totally "white washed" what really happened, by mainly interviewing white subjects, to having only white men on the promo poster. And it gets even more inaccurate and appalling- the film totally belittles the involvement not only LGBT people of color had in initiating our movement, but it downplays the significant role trans people had in igniting the flame that Stonewall accomplished.
Sorry Gay Inc, no matter how hard you try, your desperate attempt to rewrite history, therefore oppressing trans folk and people of color, will not work. There's a new Stonewall happening, and this "oppress our own pattern" is getting harder to maintain as the people continue to speak out.
Before there was Harvey Milk, there was Sylvia Rivera. Yet the gate keepers of LGB"T" media all too often marginalize her influential place in history.
If Sylvia Rivera were alive today, how would she feel about the current status of transsexual, transgender and intersex people in the LGBTQ community? How would she feel about the cries of LGBT people of color who are protesting that their voices and needs are not being appreciated or included by the gay hierarchy?
On this special day honoring Sylvia Rivera's birthday, we are calling on all gay and lesbian people to remember who started Stonewall, and to try to be more understanding, compassionate and inclusive of your trans brothers and sisters. We call on Gay Inc to remember that it was not the privileged assimilationists who first stormed the gates making it possible for this 40 year campaign for equality. In reality, it was lower income people of color who bravely defied transphobic and homophobic violence with such a resistance that the whole world knew the LGBT community had had enough, resulting in irreversible revolution.
Sincerely, Ashley Love- organizer of MAGNET.
My blog is "Trans Forming Media" : http://www.transformingmedia.blogspot.com/
Popular in the Community