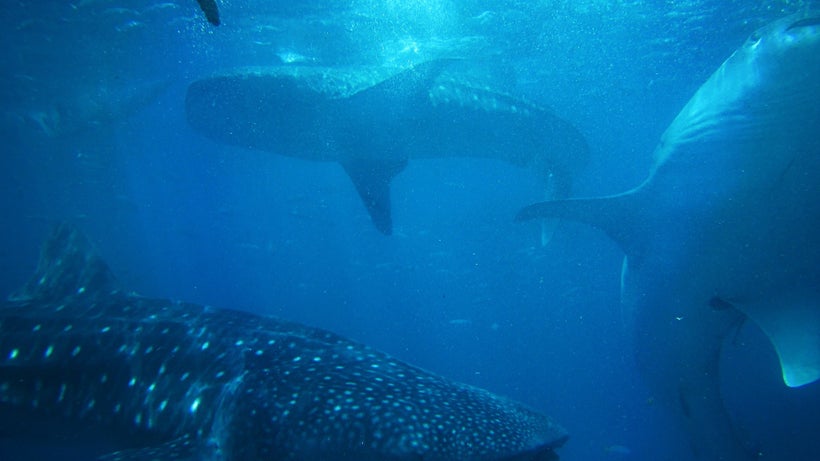 One of the coolest things I've ever done in my life was to plunge into a cage surrounded by large, toothy sharks on Oahu's North Shore. Some of you might say, "Awesome! Sign me up!", whereas others might shy away from the opportunity to come face to face with a 6 foot long shark. I am here to say that this is absolutely something you should do in your lifetime if you get the opportunity to do so.
Our day began when we met our boat with Hawaii Shark Encounters in Haleiwa. They took us out through the big waves (VERY big- we actually passed right by the Triple Crown of Surfing Competition on our way out). Although the waves were big, the boat handled them well and it never felt unsafe. They took us offshore quite a bit where we anchored near a floating shark cage run by the company. Immediately we could see several beautiful and large sharks swimming around, waiting for us.
Our guide explained all about the ecology of the area, the sharks (which were Galapagos Sharks), and their feeding habits. Sharks are actually quite reluctant to attack. He explained how they won't even go after a healthy fish, preferring to wait until a fish is injured in order to conserve their energy.
We took turns jumping into the cage to get an up-close and personal view of the sharks while the others on the boat waited and watched from above.
If you don't have scuba experience, this is a great opportunity for you to still get the whole shark cage experience. All you need is a snorkel for this tour, as the cage is floating at the surface.
All I can say is WOW! Any fear you might have before going on this tour will automatically be dissipated as soon as you see just how beautiful and majestic these creatures are in the wild.I never once felt like I was in any danger at all, but it was an absolutely awe-inspiring experience to come face to face with sharks.
Our time out to sea with the sharks absolutely flew by and by the end, we were all happy and excited about what we had just experienced. If you're ever on Oahu, I highly recommend this experience. Don't be scared!
REAL LIFE. REAL NEWS. REAL VOICES.
Help us tell more of the stories that matter from voices that too often remain unheard.
This post was published on the now-closed HuffPost Contributor platform. Contributors control their own work and posted freely to our site. If you need to flag this entry as abusive,
send us an email
.