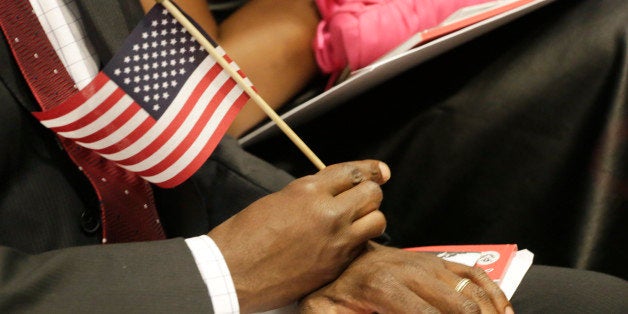 Thanksgiving is a good time to reflect on what it means to be an American -- especially this year.
Growing up, most of us learned that the holiday began as a feast hosted by English settlers -- among America's first immigrants -- in Massachusetts to celebrate the successful harvest of 1620. The guests of honor were Native Americans who had welcomed the settlers and helped gather the crops.
The real story is more complicated. The first Thanksgiving probably was in 1619, in Virginia, and did not include Native Americans. They and the English fought a series of battles at settlements along the James River through the early 1600s, initially with devastating results for the newcomers. By the middle of the century, the immigrants gained the upper hand and pushed most of the natives onto reservations or out of Virginia.
The initial Massachusetts Thanksgiving, in 1620, is more in line with the popular myth. But sadly, the goodwill between immigrants and natives didn't last. By 1637, when a colonial governor declared the first "official" Thanksgiving feast, the thanks offered were for the safe return of Massachusetts volunteers who had joined in a massacre of 700 members of the Pequot tribe in Connecticut.
Now, as its 400th anniversary approaches, the holiday arrives amid a renewed struggle over who belongs here, and who doesn't.
President Obama, whose personal story reminds us that ours is a multicultural society, declared last week that he will exercise his authority as chief executive to change some immigration enforcement policies. His move invites more than 4 million mostly Hispanic immigrants to come out of hiding and pursue the American dream without fear that authorities will break up their families and send them back to their native countries.
Not surprisingly, given our history, the president's orders are controversial.
Some of his critics argue that anyone in America without proper documentation should be forced to leave. Some talk of censuring or perhaps impeaching President Obama, or paralyzing federal operations that have nothing to do with immigration, until the president changes course.
I support the president's actions. I believe they are a lawful, limited and carefully considered response to Congress' failure over decades to sensibly deal with immigration reform. I'm persuaded by thoughtful reviews of our laws by the Justice Department and my own staff at Common Cause that there is ample precedent for what Obama has done among the actions of past presidents.
In the face of economic instability, injustice and an inefficient, outmoded immigration system, the president has made tough choices about how best to spend a limited immigration enforcement budget while respecting our democratic principles of fairness and nondiscrimination.
There is room for honest disagreement here. Our history gives us plenty of reasons -- Vietnam, Watergate, the Iraq War -- to be concerned about presidents asserting their authority.
As the president noted in his speech last week, "Even as we are a nation of immigrants, we're also a nation of laws. Undocumented workers broke our immigration laws... We expect people who live in this country to play by the rules. We expect that those who cut the line will not be unfairly rewarded." The workers covered by the president's orders already have paid a price, however. They know that any day, their families may be torn apart. They work hard and pay taxes but the risk of being caught and deported keeps them on the fringes of society.
The many in Congress and elsewhere who argue that we should take other steps to reform our immigration system should get busy lobbying for and passing laws to do the job. Those who think the president has exceeded his authority also are free to challenge him in court, a step I believe is unwise and will not succeed but one consistent with a Constitution that calls on the judiciary to resolve disputes between the legislative and executive branches.
What they shouldn't do is further paralyze our democracy with censure and impeachment resolutions, filibusters of the president's judicial and executive nominations and other petulant maneuvers unconnected to immigration.
Largely overlooked in the president's speech last week was his story of Astrid Silva, a young woman brought to America at age four. She spoke no English, so she learned the language by reading newspapers and watching TV. Her father did yard work, her mom cleaned houses.
Astrid excelled in class but her parents wouldn't let her apply to a technology magnet school, fearful the paperwork would out her as an undocumented immigrant. "So she applied behind their back and got in," the president said. Today, after risking deportation by becoming an advocate for herself and other immigrants, Astrid Silva is in college working on her third degree.
Astrid's story is far from unique. The America we celebrate Thursday should be thankful for people like her. They've earned the chance promised by the president's order.
Calling all HuffPost superfans!
Sign up for membership to become a founding member and help shape HuffPost's next chapter