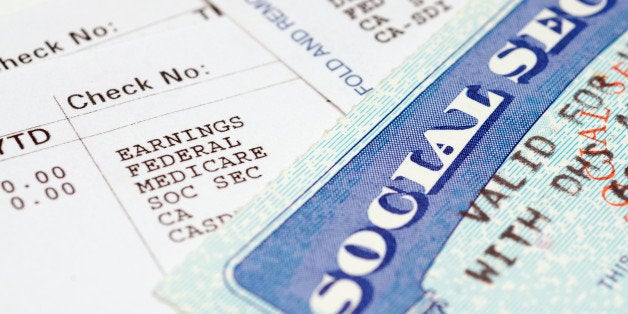 This August 14, Americans celebrate the 81st anniversary of Social Security. As the former executive director of the Illinois State Council of Senior Citizens and the current co-chair of the Seniors Task Force in the U.S. House of Representatives, I know how important Social Security is for older Americans. Their earned benefits allow older Americans to live with dignity and independence and keep 15 million retirees out of poverty.
Social Security is more than a guaranteed source of retirement security - although that is how it began in 1935.
Today, Social Security provides benefits to 9 million disabled workers and, as a recent study (Overlooked but Not Forgotten: Social Security Lifts Millions More Children out of Poverty) points out, it is an important source of income for 6.4 million children.
Social Security is better today because Congress acted over the years to build on its initial foundation. It was improved in 1939 to include children, spouses and survivors. It was expanded in 1956 to include disabled workers. And, in 1972, an annual, automatic cost-of-living adjustment was added.
Today, it is once again time for improvements. The average retiree benefit is just $1,303 a month -- $15,636 a year. Benefits for older women - who are paid less and spend more time out of the workforce caring for family members - are even lower. Disabled workers receive just $1166 a month on average. That is why I introduced H.Res. 393 calling for policies to protect and expand Social Security's modest benefits.
The expansion campaign is growing in strength. President Obama this summer echoed the call in Elkhart, Indiana, saying: "It is time we finally made Social Security more generous and increase its benefits so that today's retirees and future generations get the dignified retirement that they have earned. And we can start paying for it by asking the wealthiest Americans to contribute a little bit more."
It certainly is time for the more "generous" benefit that President Obama mentioned. Retirees who rely on Social Security for the majority - and sometimes all - of their income are finding it harder and harder to meet basic expenses. Prescription drug costs are rising. Medicare doesn't cover critical benefits like vision, dental and hearing services. And Social Security's cost-of-living adjustment desperately needs reform so that it accurately reflects the inflationary pressures seniors are feeling.
Support for expansion has not happened overnight - it involves thoughtful policy work and lots of work by national advocates and persistent grassroots organizing in cities and towns across the country.
In Chicago, Jane Addams Senior Caucus (JASC) and ONE North Side are working to preserve and strengthen Social Security, both defending against those who want to cut benefits, raise the eligibility age or privatize and promoting a positive agenda for expanded benefits.
Ann Marie Cunningham, a JASC member struggling to make ends meet on her monthly Social Security check, is helping to lead the charge. She is working with a national network of grassroots leaders organized through the Center for Community Change Action to shift the debate away from cuts and towards expansion. They are working with volunteers across the country to help grassroots leaders connect their lived experiences to policy proposals for Social Security expansion. I have seen this in social media, in opinion media, and in the persistent education and outreach activities that are changing the vision of what is possible. Their efforts are bearing fruit: the Democratic Platform calls for Social Security protection and expansion and for a Democratic White House and a Democratic Congress to act on that policy.
Grassroots organizations like Jane Addams Senior Caucus and ONE Northside are working hard to pass benefit improvements and pay for them. The Seniors and Veterans Emergency SAVE) Benefits Act, introduced by Representative Tammy Duckworth and Senator Elizabeth Warren, would provide a one-time Social Security benefit payment of $580 to seniors, veterans and the disabled to offset a lower than appropriate COLA. It would be funded by closing the loophole that allows corporations to write off executive bonuses as a business expense. Passage of this bill would reduce financial burdens on Social Security recipients, while giving us time to pass more comprehensive, permanent solutions.
If our country could afford Social Security back in 1935 during the Great Depression, we certainly can afford to improve it now. Today, at the richest time in our history, we must not allow the naysayers to block the progress that millions of Americans need us to make.
I know the leaders in the Jane Addams Senior Caucus, ONE Northside and other grassroots organizations will continue to organize with others here in Illinois and at the national level to make sure that Social Security Expansion is in the forefront of Congressional deliberations. I am proud to join them in that fight.
REAL LIFE. REAL NEWS. REAL VOICES.
Help us tell more of the stories that matter from voices that too often remain unheard.