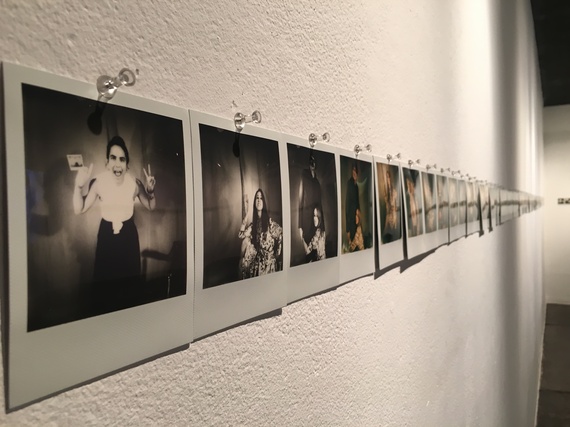 Photo provided by El Museo del Barrio, Photograph by Sofia Reeser del Rio
Not much has changed since 1979. Well, at least not when it comes to the creative and stylish social circles of New York City, according to Paul Caranicas.
"I feel like this is the same as that party back then. I don't know how much people have changed since then but they act the same," said Caranicas during the event, Antonio Lopez: A Photo Cocktail Party. "We are in a very free crowd so I think free people are always free and uptight people are always uptight. But I don't hang around them so I don't know."
During New York Fashion Week (NYFW), Caranicas, who runs the estate of fashion illustrator Antonio Lopez and his creative collaborator Juan Ramos, helped organize the homage to the 1979 party. When it was originally held at NYC's Robert Freidus Gallery the festive celebration included partygoers such as model Pat Cleveland and fashion designer Betsey Johnson posing before a large-format Polaroid camera with the images instantaneously placed on the gallery's walls. This time around the setting changed to the Prince St. Project Space but as Caranicas reflected, the party still felt the same.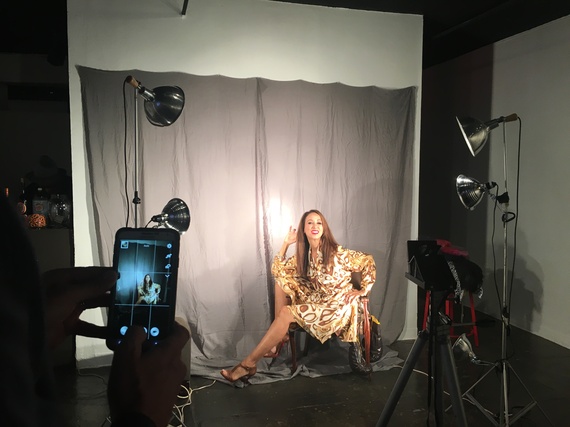 Pat Cleveland at Antonio Lopez: A Photo Cocktail Party/Photo provided by El Museo del Barrio, Photograph by Sofia Reeser del Rio
Caranicas also was involved in the El Museo del Barrio exhibition currently on display, "ANTONIO LOPEZ: Future Funk Fashion." Lopez and Ramos helped increase representations of gender-based, race and sexual diversity within the world of high-fashion during the 1970s and 1980s. Introducing their legacy to a new generation through the exhibition and the fleeting party experience is exactly what Caranicas had in mind.
"It reflects their whole zeitgeist. Everything that surrounded them was about art and fashion," he said. "I think it is important to carry on their legacy, rediscover them and bring it to the present."
Zang Toi brings Paris to the Runway and Style to Greeting Cards

Fashion designer, Zang Toi arrived on vacation to Paris with his 87-year-old mother and left with a collection's worth of inspiration. The latter was apparent in his spring 2017 presentation with silks, cashmeres, wools, hand-beading and a pleasant twist to several looks featuring kimono sleeves.
"I took my mother for the first time in June to Paris. It was the trip of a lifetime for her," an exuberant Toi shared. "And while there I was dreaming of a beautiful Parisian girl putting on her favorite trench coat with a chic headscarf. She was taking a late morning or early afternoon stroll in St. Germain and taking break at a café while dreaming of her lover. That inspired the looks in the opening. And the second part of the collection was inspired by Monet's Gardens at Giverny with a color palette of lilac, violet and black."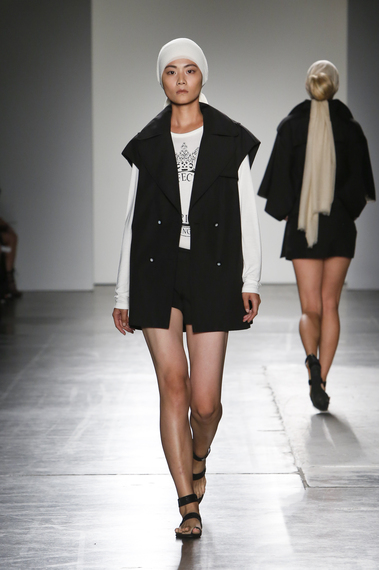 Eka Halim Photography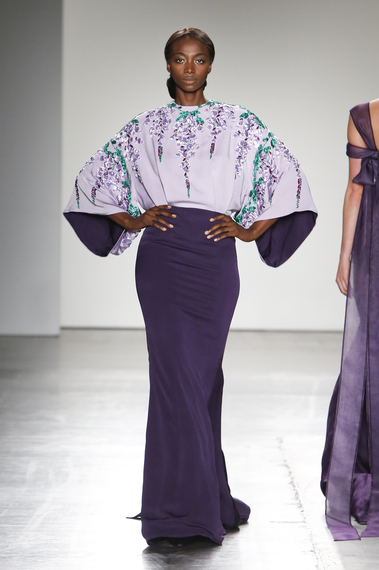 Eka Halim Photography
The inspiration carried over into his collaboration with social expressions company, Papyrus. Toi's collection of 24 cards and two boxed notes reference signature pieces from his fashion designs with sparkling jewels, beading, whimsical feathers, plush fabrics, and detailed stitching.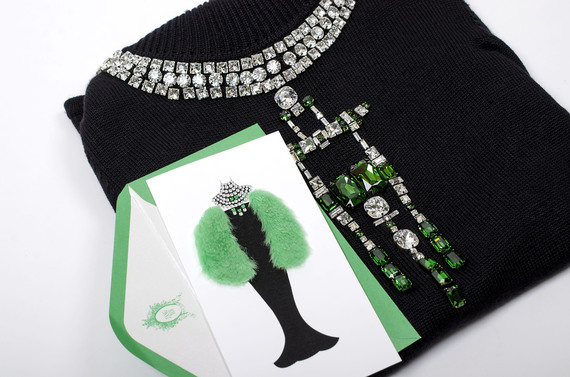 Courtesy: Papyrus
"Papyrus is amazing and it love at first sight," he said. "We had a fun journey to create such beautiful greeting cards. It took many sleepless nights to come up with this beautiful collection. I look forward to many more sleepless nights to make the next one more beautiful than this year, so we can sell out."
Macy's Fashion's Front Row Brings the Party
Selling out of a collection is every retailer's dream and Macy's is no exception. To that point, during NYFW they were committed to giving consumers an experience they would value. Macy's Fashion's Front Row presented collections by Calvin Klein, I.N.C. International Concepts, Rachel Roy, Tommy Hilfiger, and more. Entertaining the crowd was Ariana Grande and Flo Rida.
But the real party got started inside of Macy's Herald Square location with a surprise performance by hip-hop legends, Salt-N-Pepa. Check out photo highlights below.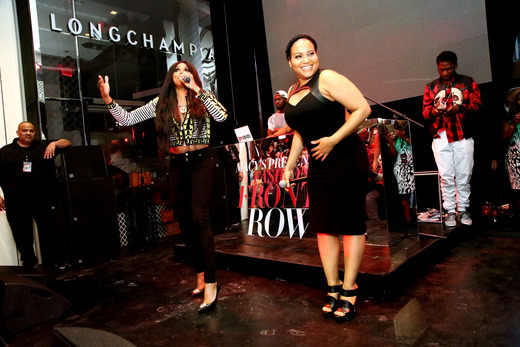 Salt-N-Pepa/Photo by Astrid Stawiarz Getty Images for Macy's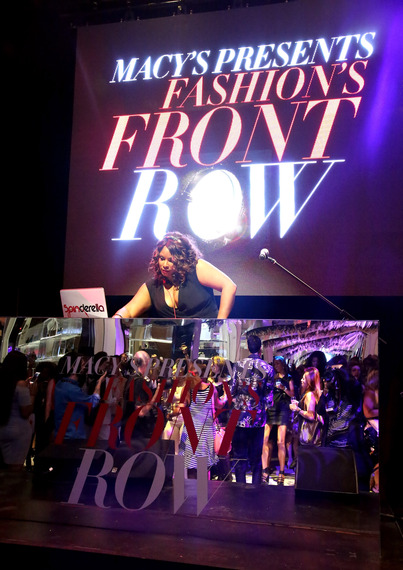 DJ Spinderella/Photo by Astrid Stawiarz Getty Images for Macy's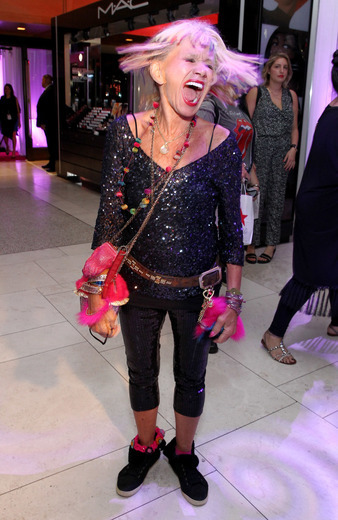 Designer Betsey Johnson/Photo by Astrid Stawiarz Getty Images for Macy's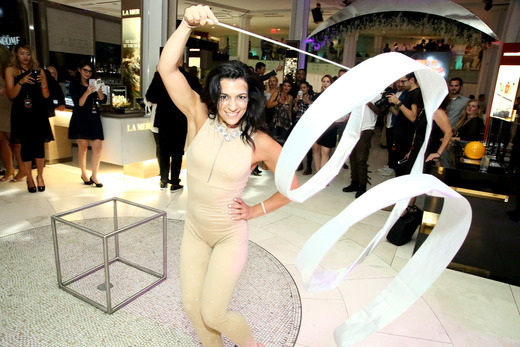 Photo by Astrid Stawiarz Getty Images for Macy's
****
The column, On the "A" w/Souleo, covers the intersection of the arts, culture entertainment and philanthropy in Harlem and beyond and is written by Souleo, founder and president of arts administration company, Souleo Enterprises.