As Ntozake Shange prepares to celebrate the 40th anniversary of her seminal work, for colored girls who have considered suicide/when the rainbow is enuf with the launch of a multigallery exhibition, she can't help but sadly acknowledge that the issues facing women which first compelled her to write the work remain relevant today.
"Unfortunately there has not been progress. I think this violence against women--just like the violence against those poor Nigerian girls kidnapped from their school--is in direct response to a scared patriarchy," said Shange. "Women who are out of control have always scared men. And there are ridiculous abortion laws that make it virtually impossible to open an abortion clinic in some of these states and if you do then people kill abortion doctors. So no we are not in better shape."
With that viewpoint she is looking forward to the exhibition, i found god in myself... that not only celebrates her work, but also serves the dual purpose of increasing awareness about the current plight and triumphs of women. The exhibition is anchored by the Schomburg Center for Research in Black Culture, which features 20 specially commissioned pieces in honor of the individual poems from for colored girls... which touch on women's experiences with love, sexuality, racial identity, domestic violence, rape, abortion, sisterhood, and ultimately self-love.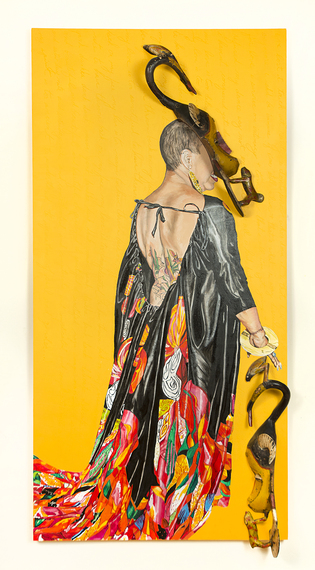 Margaret Rose Vendryes,my spirit is too ancient to understand the separation of soul & gender - Guro Ntozake, 2014
The multigallery exhibition extends beyond the walls of the Schomburg to include additional noncommissioned artworks on display at two satellite locations, The Sol Studio and La Maison d'Art. These multimedia works reference aforementioned themes while simultaneously broadening the scope of Shange's text to encompass a contemporary perspective on issues such as class, body image, gender identity, immigration, politics, and war. [Full disclosure: writer serves as curator of the exhibition]

"It occurs to me that half of us receive language and learning visually and another half receive it verbally," she said. "So if this exhibition opens up my work to those that are visually stimulated that's a wonderful thing. I'm reaching an audience I couldn't reach on my own and I'm excited about that."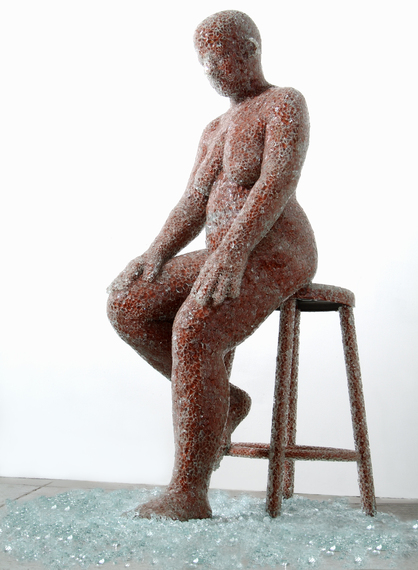 Arlene Rush, In Waiting, 2004

Shange's text was first performed in 1974, just outside Berkeley, California, at a bar named the Bacchanal. Since then it had a critically acclaimed run on Broadway (earning a 1977 Tony Award nomination for Best Play), aired on PBS in 1982 with Alfre Woodard and Lynn Whitfield in the cast, and in 2010 was made into a star-studded feature film (Janet Jackson, Whoopi Goldberg, Kerry Washington, etc.) directed by Tyler Perry. For a full calendar of exhibition related events click here.
Through A Lens Darkly explores visual depiction of African-Americans
As Shange's text aims to represent the experiences and voices of women of color in a truer light so too does the new documentary, Through a Lens Darkly, now playing at New York's Film Forum. Inspired by Deborah Willis' book, Reflections in Black, the film reveals how African-American women and men have been perceived through photography since the birth of its modern form in 1839. For filmmaker Thomas Allen Harris the heart of this story is an investigation into how Black photographers have historically used the camera to depict full African-American lives compared to the often stereotypical and negative imagery that has been perpetuated by some of their White counterparts.
"Historically African-American photographers have documented the Black family making their way out of bondage and creating Black businesses and towns and building themselves up," he said. "This is outside the myth of affirmative action or victimhood. We see a whole different picture than if we're just looking in newspapers or believing the misperception of who we are."
The film, which was shot over a ten year period utilizes archival material from slavery to contemporary works by noted Black photographers such as Gordon Parks, Renee Cox and Carrie Mae Weems. As Harris sees such luminaries as helping to expand the narrative of Black identity through photography, he is not as quick to say the same for the advent of social media. With a proliferation of selfies begs the question whether or not Black people are becoming more empowered to visually represent themselves as evidenced by the recent Twitter campaign #IfTheyGunnedMeDown? According to Allen that is not necessarily the case.
"There is still a war of images. You can take a selfie but if we consume a diet of images we can come to believe the stereotype and glorify the stereotype," he argued. "It is really about education. So many people don't know our story or the value of our story."
But he does believe that one thing the selfie does add to the conversation about Black images is positive self-affirmation. "A lot of times when people do selfies we don't talk about how much love is involved. It's an amazing love vibration as opposed to saying 'I hate my blackness.'"

****
The weekly column, On the "A" w/Souleo, covers the intersection of the arts, culture entertainment and philanthropy in Harlem and beyond and is written by Souleo, founder and president of event/media content production company, Souleo Enterprises, LLC.
Popular in the Community