Receiving a star on the Hollywood Walk of Fame takes longevity, success, the right connections, and, for some, your own episode on TV One's popular docu-series Unsung Hollywood. On February 2, groundbreaking comedian-activist Dick Gregory, who was featured on the hit show in 2014, was finally celebrated with the honor. The team behind Unsung Hollywood likes to think that they had something to do with it.
"I'm not saying we made that happen, but it didn't hurt," said co-executive producer, Henry Schipper. "He was a neglected icon, and our show last year with Dick got a lot of attention. He was extremely moved and, at a public screening, said he never thought he'd have his story told this honestly and completely."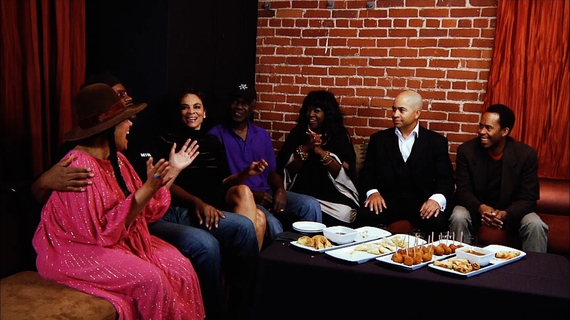 Unsung Hollywood: A Different World behind the scenes cast (courtesy TV One).
Unsung Hollywood premiered last year during Black History Month. The series was spun off from Unsung, which focuses on talent from the music industry. The series returned Wednesday, February 11, with a look at the cultural impact of the classic TV series A Different World. The Dick Gregory example from the show's first season speaks to its goal of not only entertaining TV viewers but combating diversity issues within Hollywood that have left the achievements of numerous African Americans largely forgotten or ignored.
Based on the statistics it is a battle with no end in sight. The 87th Annual Academy Awards will be the least diverse Oscars since 1998, which is not that surprising considering a 2012 Los Angeles Times survey which revealed Academy voting members are 94 percent Caucasian and 77 percent male. In television there have been headlines about more diverse representation on screens with the shows Black-ish, Empire, and Fresh Off the Boat. But the small screen has not been keeping the same pace behind the scenes with writers. According to the Writer's Guild of America, in the 2011-2012 TV season, women made up less than a third of writers, and only one in seven was a person of color.
For Schipper, Unsung Hollywood represents the story of the people behind those numbers who continue to fight for equal opportunities and recognition in Hollywood. "The whole series is a history lesson about the long march of African Americans towards having a stronger presence and mainstream presence in American culture," he said. "That journey clearly is not over, but you can see those moments of pride throughout the series of how the next step is taken."
This season the series will focus on the strides made by the likes of actress Vivica A. Fox, Redd Foxx (Sanford and Son), comedian Sheryl Underwood, Richard Roundtree (the original Shaft), and the movie Baby Boy.
Estelle's Quest to Find True Romance Within
She has a Grammy, collaborated with the likes of Kanye West ("American Boy") and David Guetta, and is a staple on high-profile red carpets. But for the past few years UK-born singer-songwriter Estelle has felt like an underdog in the music industry. With the February 17 release of her new album, True Romance, she is trying to put such worries behind her.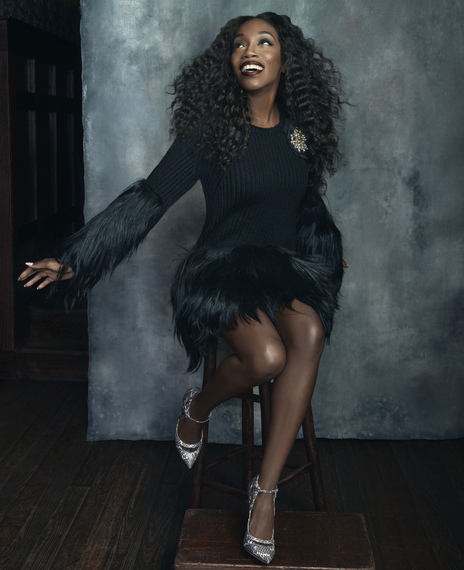 "I don't care to be the underdog anymore and always put myself at a point of striving to prove for some reason I am worthy," she declared. "This is my fourth album. What am I trying to prove?"
That confident attitude is reflected in the album's self-empowerment anthem "Conqueror," where she sings, "I'd rather stand tall/than live on my knees/'cause I'm a conqueror/and I won't accept defeat." For Estelle the lines are a reflection of her thoughts about surviving the politics of the music industry just as much as they comment on her journey in love. During the time of recording she was coming out of a relationship that left her identity in fragments.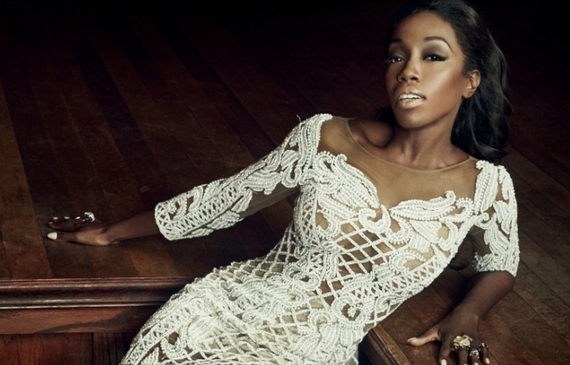 "You have to reset and figure out what shoes, hair, and temperature you like after you've been trying to compromise. You start to entertain other people's thoughts even though it may not be what you like," she said. "It was about being comfortable with myself. It is a process. I used the music as therapy."
The healing process appears to be working--at least career-wise--as Estelle has several projects outside music she's focused on, including her All of Me Foundation and debut on the hit TV show Empire this March. And focusing on such career opportunities is a welcome distraction from the pressures of seeking a relationship.
"The point of it is to do it on your own terms. Until I'm happy with myself, I probably won't find it."
The weekly column On the "A" w/ Souleo covers the intersection of the arts, culture entertainment and philanthropy in Harlem and beyond and is written by Souleo, the founder and president of event/media content production company Souleo Enterprises, LLC.
Calling all HuffPost superfans!
Sign up for membership to become a founding member and help shape HuffPost's next chapter