40 years ago, before #BlackGirlMagic existed, Dr. Ntozake Shange exemplified the essence of that popular hashtag through her genre-bending, award-winning choreopoem/play, for colored girls who have considered suicide/when the rainbow is enuf. Debuting on Broadway in 1976, the work arrived during the second wave of feminism and was one of the few mainstream success stories depicting the experiences of women of color. In the process it garnered critical acclaim for its poetic fusion of language, music, and dance, resulting in a 1977 Tony Award nomination for Best Play and a 1977 Tony Award win for Best Performance by an Actress in a Featured Role in a Play (Trezana Beverley).
On Thursday, October 6 the African American Museum in Philadelphia--also celebrating its 40th anniversary--presents a two gallery art exhibit in homage to Dr. Shange's work titled, i found god in myself. On display are 20 commissioned artworks honoring the individual poems and additional noncommissioned art further expanding upon related themes of sexuality, race, sisterhood, violence and self-love depicted in and inspired by Dr. Shange's work. [Full disclosure: writer serves as curator of the exhibition].
Check out select works from the exhibition below with artist statements.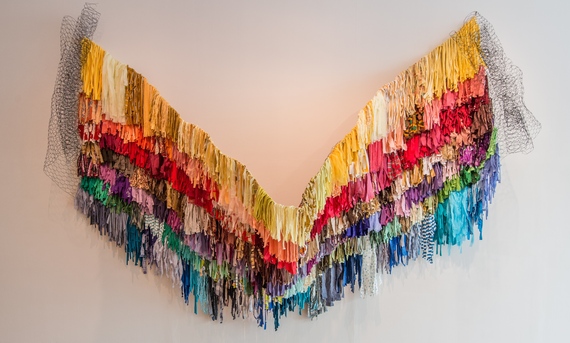 Amber Robles-Gordon, My Rainbow is Enuf, 2014
I consider this sculpture as kin to for colored girls..., because as did my mother this play fed my spirit. My Rainbow, Is Enuf, metaphysically represents my (and the collective spirit of women) search for self, search for wholeness and oneness with the higher power.
At the end of the poem a layin on of hands, all of the women join together saying "i found god in myself/& i loved her/ i loved her fiercely." I have found God in myself, through loving, living, creating, and I love her fiercely.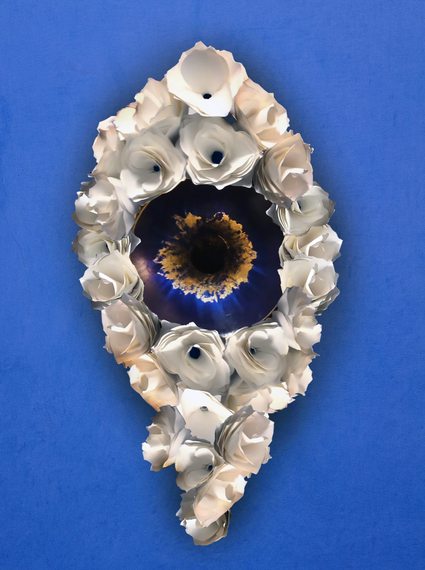 Melissa Calderón, Te amo más que, 2014
Te amo más que is inspired by Dr. Shange's Lady in Blue poem titled, now i love somebody more than. My installation encompasses smells and natural imagery with the musical elements of this poem. There is a large blue morning glory horn surrounded by the Lady in Blue's gardenias. The horn represents an ear to the birth of newness, hope, and most of all, the rhythmic beginnings of music and dance.
Noelle Lorraine Williams w/Stafford Woods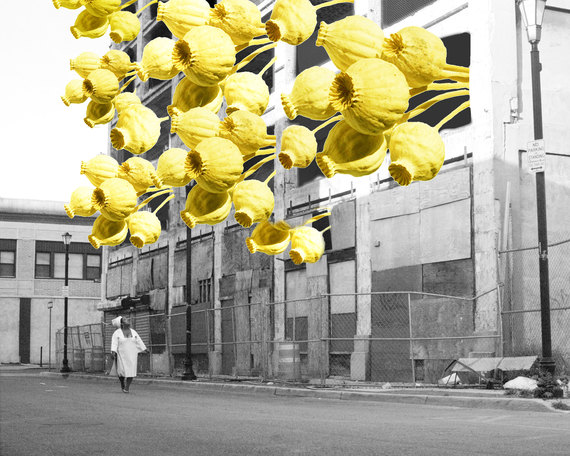 Noelle Lorraine Williams w/Stafford Woods, Isolation Refreshed 4, 2006-2007
Ever since I was younger, I've loved and wanted more from the streets. The woman in this photograph is my character Mala (Spanish translation bad or rotten) named that because she defies the notions of how her most intimate and larger community feels that she should be as a poor black woman. In this piece Mala awakens to see that all that she has known is now abandoned, left, and gone to ruin. The environment is indeed, mala. Journeying through dried poppies, abandoned streets, unable to stay awake she walks back to see the image that perhaps made her fall asleep. Isolation Refreshed is a neo-meditation on emotions, postindustrial, post-riot, post American Dream spaces.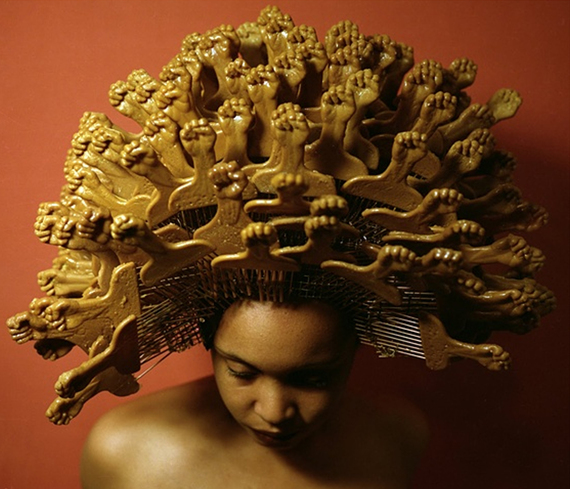 Lauren Kelley, Pickin', 1999
Pickin' was produced when I was a graduate student at the School of the Art Institute of Chicago (SAIC) from 1997-1999. At SAIC I was exploring sculpture as wearable. Pickin' is part of a series of wigs fashioned from banal materials like rice, rubber, sugar, and poultry. The entire series was about the consumption of brown skin people in popular culture, the art world's focus on identity politics and the weight that such notions placed on my head as a Black person making art.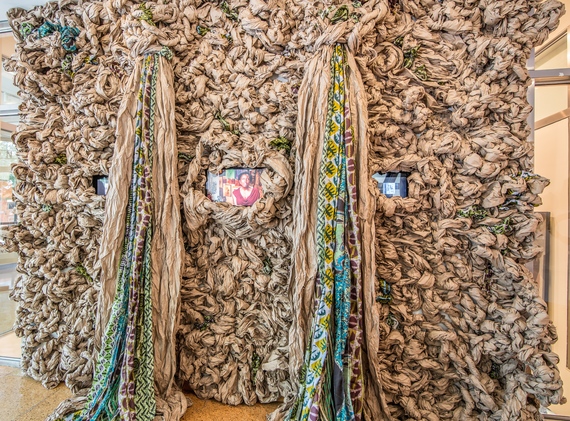 Dianne Smith, STUFF, 2014
In Dr. Shange's text, Lady in Green begins her poem by witnessing: "somebody almost walked off wid alla my stuff/ not my poems or a dance i gave up in the street...."
For me, this work bears witness to a lived experience. It is a journey of unpacking and understanding the symbolic and metaphorical references in our own lives made by lady in green. The question that comes to mind almost immediately upon hearing, reading and visualizing her words is what does she mean by stuff? I realized that she is talking about stuff in the allegorical sense. It is about a gender and racially biased society robbing her, a black woman; stealing from her, taking the essence of her. Pillaging from her mind body, and soul, trying to steal all her joys and memories.
This theft isn't necessarily a conscious act by the aggressor, but it's a theft nonetheless. Thus, Lady in Green uses her voice, taking agency to demand alla her stuff back!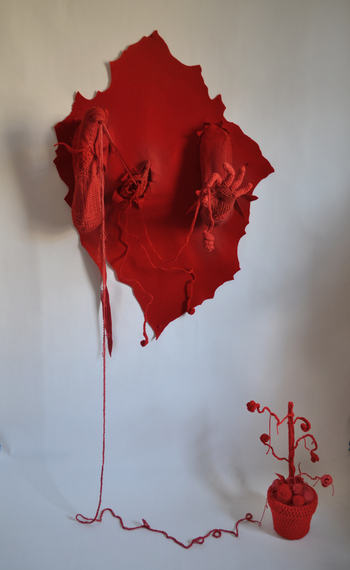 Kathleen Granados, no assistance, 2014
In visually interpreting Dr. Shange's poem, no assistance, I was interested in the lady in red's expression of strength, emotional endurance, and declaration of self-value. Her boldness and intimate revelation is embodied through the use of sewn materials, emphasizing the act of deconstructing/reconstructing aspects of herself. The act of weaving in the technique of crochet is a reflection of her journey, and the continual passage of time. The Lady in Red reveals to the audience her emotions--manifesting into the plant that she has been nourishing since the beginning of this relationship. Her vulnerability is displayed as a testimony to her palpable resilience.
André St. Clair and Tavet Gillson of AndréTavet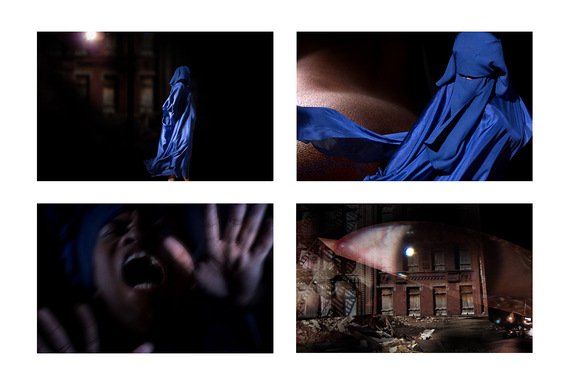 André St. Clair and Tavet Gillson of AndréTavet, i usedta live in the world, 2016
In this work we interpreted Dr. Shange's poem, i usedta live in the world, which is about the universality of women's experience of being pinned under the weight of masculinity. The threat of sexual or physical violence by men is real for transgender and cisgender women who dare to live freely under the male gaze. Though they are born free, girls quickly learn that a woman's beauty can be a liability. To compensate for this cold, cynical reality, self-imposed and socially sanctioned protective measures limit a woman's mobility and ownership of self and space. The feminine body, an object of a penetrating and policing male gaze, is then ironically rendered hyper-visible. i usedta live in the world depicts a woman grappling with this reality.
****
The column, On the "A" w/Souleo, covers the intersection of the arts, culture entertainment and philanthropy in Harlem and beyond and is written by Souleo, founder and president of arts administration company, Souleo Enterprises.
Calling all HuffPost superfans!
Sign up for membership to become a founding member and help shape HuffPost's next chapter