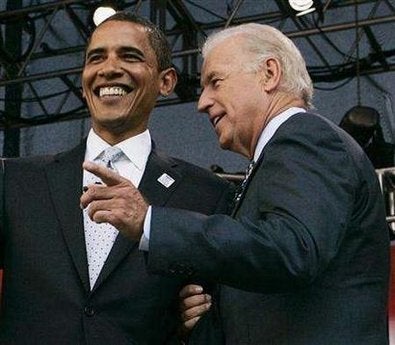 One of the things we've been told about Joe Biden lately is that he takes the Amtrak home to Wilmington at the end of the day. The day I shared a car with him, I saw for myself that he doesn't just take the train. He works hard, and what I saw made an indelible impression.

It was late on a Friday afternoon in the mid-nineties, and I had finished some work in Washington and was meeting my wife up in New York for the weekend. I was in the next to last row of an Amtrak car when Senator Biden took the seat behind me. Soon after we left the station, he got on his cellphone. While a small part of my brain soaked in the newspaper, most of my attention was on what I was hearing.

This guy was working hard, and he was very, very smart. He had at least two conversations. One was with who I presumed to be a Senate staffer, and the other was with another Senator. The conversations focused on language in some domestic legislation. I was surprised and impressed with the level to which he drilled down. This was not just a big picture guy who left it to the staff to iron out the details. He had a deep and intricate knowledge not only of the subject matter of the legislation, but of how small changes in the bill could have huge impacts on what it was he was trying to accomplish.

What he was trying to accomplish was central to his efforts. What I witnessed was an earnestness, and a total lack of cynicism, that took me by surprise. This wasn't about anything other than getting the best results from this piece of legislation.

The other thing that impressed me about this guy was how he talked to the staffer, and to the other Senator. The tone with each was the same. He was collaborative, conversational, practical, and he didn't pull rank. He showed each of them respect, and gave them reason to take ownership in the issues they were discussing. At my law firm, we insist that everyone from our runners to our senior partners are treated with the same level of respect, so there is very little that impresses me more than to see someone who appears to operate under the same creed.

In the years that followed, I noticed that whenever I saw Joe Biden on television, he would address whoever he was talking to, or talking with, the same way he addressed the staffer and the other Senator. Simply put, he is who he is, and it's easy to understand why he has colleagues who like him on both sides of the aisle. There were post-9/11 days when there was no room for debate with the neocon view of the world, and I worried deeply about what was happening to our country. I remember the first times I started feeling the least bit hopeful again about where we could go as a nation came when I would see Joe Biden and Chuck Hagel appear together on a Sunday talk show. Here were two men, two patriots, from different parties who could reach consensus on what we needed to do to get out of the mess we were in, and realized that the consensus was more important than the partisan divide.

By 2007, during the first Democratic debates, my personal choices were, in order, Obama and Biden. (As you can imagine, I'm a happy guy today) My problem then with anybody but Obama was that Biden, Edwards, Clinton and most of the rest didn't try to stop the nonsense that would become the second Iraq war. But Joe Biden became, in my mind, the best of the rest. As Chairman of the Foreign Relations Committee, he has created a consensus among grownups, including Republicans Hagel and Lugar. Like almost every other candidate, he was wrong on Iraq, but his mind remained supple and open to real world solutions. (His idea of separating Iraq into three separate regions, Sunni, Shiite and Kurd, has, to a sad degree, come about de facto through ethic cleansing.) On the Judiciary Committee, he showed a level of leadership that should make those of us who believe in a right to privacy feel secure.

At his core, Joe Biden has proven to be the guy I saw on the Amtrak to Wilmington: a brilliant, earnest guy who knows how to treat people. When he got off the train that Friday night to go be with his family, I remember thinking that the people of Delaware were getting their money's worth. We all may get the chance to get our money's worth.

Popular in the Community