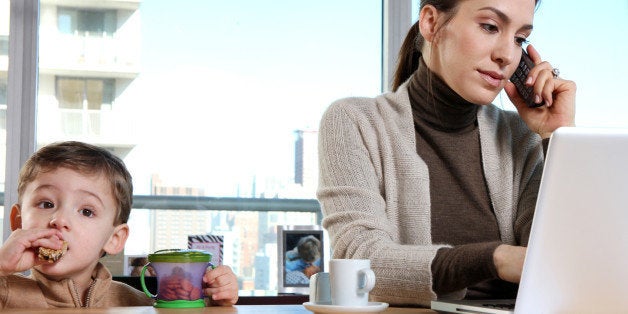 On January 22, many of us will be celebrating the 42nd anniversary of the Supreme Court's Roe v. Wade decision that reinforced women's autonomy over our bodies. Since that landmark decision in 1973, the choice movement has grown and evolved by looking at choice a little more holistically. Yes, women deserve the right to decide whether or not to carry a pregnancy to term, but women also deserve paid time off from work if they do, in fact, decide to have a baby.
Right now just 12 percent of U.S. workers have access to paid family leave. That means that most women in the workforce do not have paid time off if they are faced with a difficult pregnancy or even after they give birth.
Can you imagine being put on medically required bed rest toward the end of pregnancy without access to sufficient paid time off? Or what about having to choose between going back to work just days after giving birth or bonding with your new baby? Women are being put in unimaginable situations like these every day and often end up leaving their jobs, a decision which can ultimately wreak havoc on their long-term economic stability.
And what about women who had very difficult labors or C-sections? What about new moms, like me, who experienced postpartum depression or anxiety? We can't continue to expect women to give birth and bounce right back as if they didn't just do something extraordinary with their bodies. New moms deserve paid time off from work to care for their personal health needs, to adequately recover from birth and to develop that very important connection to their baby.
It's been heartening to see a renewed commitment from President Obama who recently announced that federal employees will now receive six weeks of paid family leave. But we all know that movements like this start on the state level. While three states currently have paid family leave laws (California, New Jersey and Rhode Island) we need to build off this national momentum and get more leave laws passed locally.
In my state, Connecticut, I'm proud to say that we have our own movement growing and this year will be introducing a progressive, comprehensive paid family and medical leave bill. What makes me even prouder is that the Connecticut Coalition for Choice, made up of organizations like Planned Parenthood of Southern New England and NARAL Pro-Choice Connecticut, among many others, has chosen for the first time to make paid family and medical leave a priority issue.
Here's what it comes down to for me. While protecting and defending our right to abortion services we must also support the choices of women who want to expand their families. Paid family leave is a natural extension of the choice movement because our ultimate goal is to support women, no matter their choice.
Popular in the Community