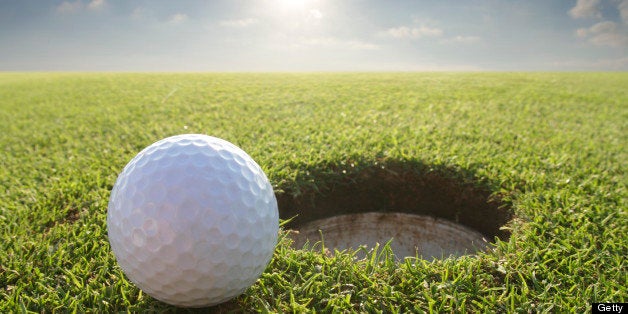 I don't play golf. Much to my husband's chagrin, I refuse to go out and play a game that takes over five hours to complete. That doesn't mean I'm clueless about the game. (Tiger Woods gets credit for that. I even met him briefly once.) With that said, I'll borrow a golf term to describe what it feels like to be halfway through my 50th year: I'm on the back nine of my life.
I never thought it would happen to me. Age, that is. I still thought I was 25 until I was 42, and now 50 looms large in its significance. It's highly likely that my time left on earth is shorter than what I have behind me. That changes everything.
My soul begs me with greater urgency to live full out. Any dark, dusty corner of my reptilian brain deserves no time despite how much it tries to dominate the minutes. Things seem to be more about letting go and reducing spiritual clutter than acquiring the new. There is more room to make room.
I have more room for good people because I have let go of the hope that those relationships I've let linger would get better. I have more room to love my family well because I say no to activities that don't match what truly matters to me. I have room for my possessions because the garbage is being given away or thrown out. I don't want much anyway. I don't really want "stuff." I now understand why my parents always say they don't need anything for their birthdays every year.
The back nine does cause some anxiety. It's the time to make up for anything that the front nine was missing to bring the game home. It makes the bucket list move from fun "somedays" to more difficult "hows?" It brings the awareness that health or circumstances could change in a nano-second to get in the way. On the front nine, we just think we have time to spare. Twenty years seems so short now!
The back nine could use some ZEN. A combination of urgency with respect for flow has to happen. If it's all anxiety and "push" we could likely throw the game and choke. So ZEN is important in the mix. Maturity does bring that. Hopefully, we can let go of petty things more easily and diffuse the "juice" of drama more readily.
Dancing with what is, requires breaking old habits but the pay off just may be peace AND getting results at the same time.
The question becomes: Will the back nine be fun or intense? Will it bring happiness or despair? There are choices, but no certainty. You can pick the right club and still not make the hole. And guess what? The game goes on... until it's over. Or maybe you can extend and go for 36 holes.
REAL LIFE. REAL NEWS. REAL VOICES.
Help us tell more of the stories that matter from voices that too often remain unheard.