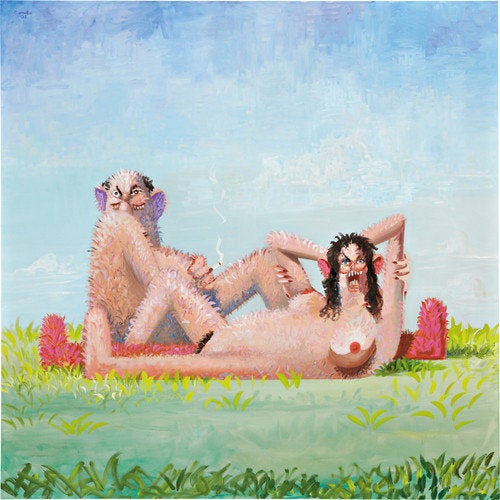 It's not much of a challenge to figure out which of the hundreds of lots are considered the most valuable--just look at the estimates, starting at $40 million, and work your way down the list. The following top ten artworks are not necessarily the obvious trophies that are available for sale next week, but rather works that are of a high level of engaging integrity, as well as outstanding examples of the artists' work that should not be overlooked. Often, these are underpriced, considering their quality.
TOP TEN KEEPERS & SLEEPERS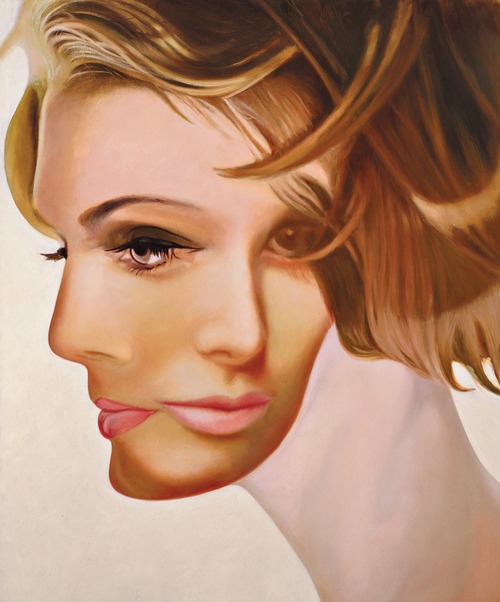 Courtesy of Phillips de Pury & Company, Contemporary Art Part II Auction, May 13, 2011. Lot 163, Richard Phillips, Double, 1996 - 1997, Pre-sale estimate: $100,000 - $150,000.
1. RICHARD PHILLIPS, Double, 1996-1997, oil on linen, 84 x 62 in. (Phillips #163) Est: $100,000-$150,000. It's safe to say that one of the most impressive portraits available from any of the May auctions is by this artist. In Double, Phillips has created a hauntingly beautiful image of a mysterious woman on a grand scale that is a complex hybrid of modern surrealist inspired invention and bold juxtaposition. In this graceful and mesmerizing portrait, he has taken a cue from Rosenquist's Pop style and twisted it into a masterpiece.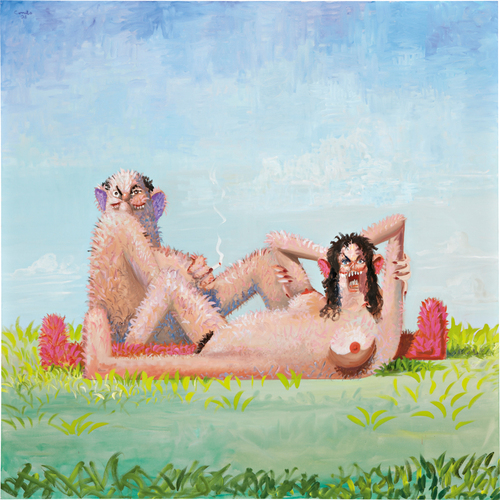 Courtesy of Phillips de Pury & Company, Contemporary Art Part I Auction, May 12, 2011, Lot 28, George Condo, The Nudist Couple, 2008, Pre-sale estimate: $500,000 - $700,000.
2. GEORGE CONDO, The Nudist Couple, 2008, oil on canvas, 80 in. x 80 in. (Phillips #28) Est: $500,000-$700,000. In this hysterically funny interpretation of a sunbathing nude couple caught in an impromptu two-person exhibition by a passerby, the raw genius of Mr. Condo and his endless bag of eccentric tricks become playfully obvious. This completely absurd and comical malformed composition of a luncheon on the grass pushes the boundaries of figure painting to the extreme. In this voyeuristic view, weird body proportions and skinny dipping naughtiness can't help but grab your attention. Throw in a three-legged human chimera that defiantly shows her fangs as a subtle warning, while her partner ignores a no smoking ban and you've joined a 'condo association' where anything goes.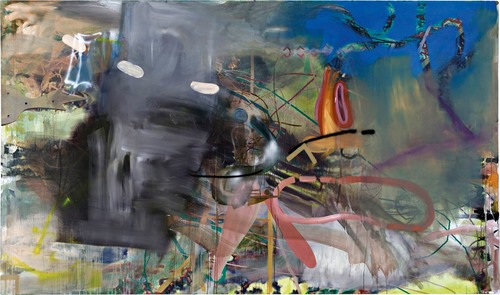 Courtesy of Phillips de Pury & Company, Contemporary Art Part I Auction, May 12, 2011. Lot 5, Albert Oehlen, Pan de Burro, 2001, Pre-sale estimate: $250,000 - $350,000
3. ALBERT OEHLEN, Panza de Burro, oil and acrylic on canvas, 86 in. x 146 in. (Phillips #5) Est: $250,000-$350,000. The title of Oehlen's provocative, horizontal canvas translates to "the donkey's paunch," which, according to the auction catalog, refers to a layering of clouds above the Canary Islands. Well, that may be a stretch, but the painting itself sings like an exotic feathered friend on its way to a migratory convention of odd ducks. Bad directions, confusing routes and unexpected passages are all part of the artist's deliberate repertoire. The purposeful anti-aesthetic and anti-social clash of multiple, disparate visual thoughts and left-footed gestures is what makes big Albert such a rare bird. This picture, as with everything he creates, eventually will fly sky high.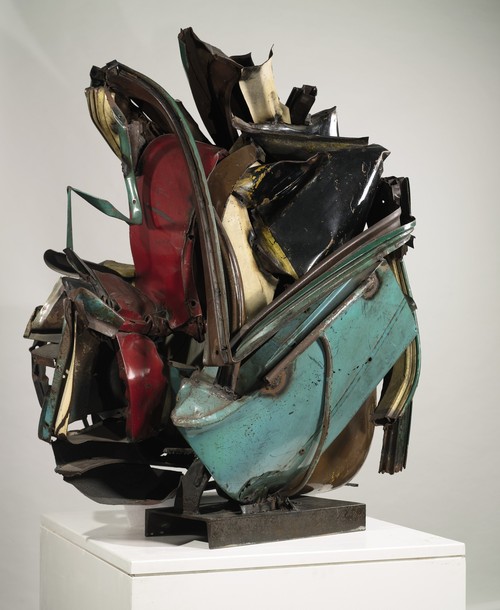 Sotheby's New York, The Collection of Allan Stone: Volume I, 9 May 2011. Lot 9 John Chamberlain Nutcracker 1958 Est. $1.2/1.8 million
4. JOHN CHAMBERLAIN, Nutcracker, 1958, painted and chromium-plated steel (Sotheby's #9) Est: $1.2-$1.8 million. The nomination for the most perfect performance in a dramatic series is arguably this sculpture. It represents an exquisite balance of texture, color, form and composition made from a challenging material that raises the bar to an unbeatable height. This work was owned by the late, great, legendary dealer, Allan Stone, who had an eye for the best of the best. Don't overlook this museum quality masterpiece just because of its small scale. Size doesn't matter when the magical, visual rhythm created over fifty years ago is as fresh now as the day it was welded together. There's nothing else to be said, as it's the finest sculptural work by a living artist offered at auction in years.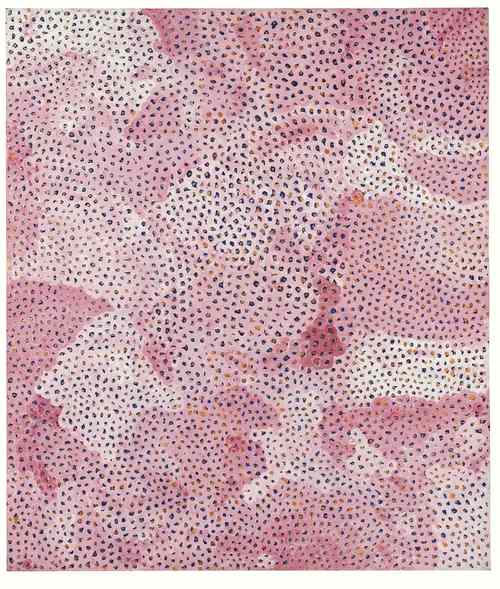 Coutesy of Christies's Images LTD. 2011. Lot 64, Yayoi Kusama (b. 1929) Untitled (Infinity Nets) signed and dated 'YAYOI KUSAMA 1972' (on the stretcher) oil on canvas, 42 x 36 1/8 in. (106.7 x 91.8 cm.) Painted in 1972. Estimate: $350,000-450,000
5. YAYOI KUSAMA, Untitled (Infinity Nets), oil on canvas, 42 in. x 36 in. (Christie's #63) Est: $350,000-$450,000. Kusama arrived in New York City from Japan the same year that John Chamberlain created Nutcracker. She quickly became known as an artist who created unusually large works with circular, repetitive patterns called "net paintings." Kusama employs a strange combination of invention and convention mixed with eccentricity and stark beauty. This quiet painting has a richness and integrity that brings together elements of color field and abstraction, with receding passages that are slightly reminiscent of a geological aerial view of a rose garden. Had she not returned prematurely to her native country years ago, Kusama would be on a level with the late Louise Bourgeois. However, her star is rising faster lately, making her undervalued paintings a good catch.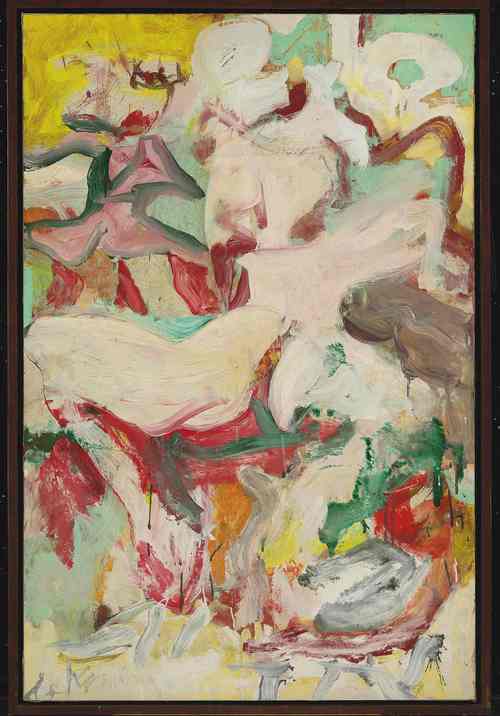 Courtesy of Christie's Images LTD. 2011. Lot 60, Willem de Kooning (1904-1997) Woman and Child, signed 'de Kooning' (lower left); inscribed 'to Emilie with Love' (on the reverse) oil on paper laid down on canvas 55 x 36 in. (139.7 x 91.4 cm.) Painted circa 1967-1968. Estimate: $3.5-5.5 Million.
6. WILLEM DE KOONING, Woman and Child, 1967-1968, oil on paper laid down on canvas (Christie's #60) Est: $3.5-$5.5 million. The two great and uniquely American contributions to cultural history are Jazz and Abstract Expressionism, of which Mr. de Kooning is a founder; he was the hands-down greatest American painter in modern art history. This riveting work is an outstanding example of the sensational talent behind the carefully crafted, meandering brushstrokes and iconic lines. Examine this painting closely, and you'll discover a small child in a pink dress (upper left-hand corner) complementing the peach-colored central shape. The term "laid down on canvas" is an art dealer's invention coined to increase sales and make the painting more appealing, and is not necessary. Compare this masterpiece with the other artworks at a much higher price, and the winner of the race should be painfully clear.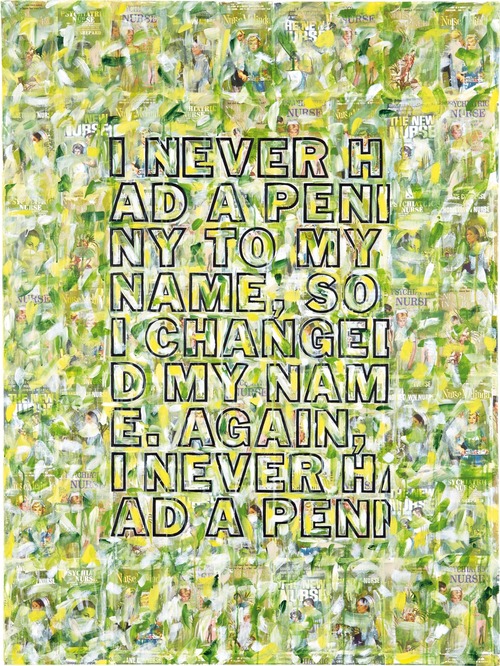 Courtesy of Phillips de Pury & Company, Contemporary Art Part I Auction, May 12, 2011. Lot 30, Richard Prince, Untitled Joke Painting, 2009, Pre-sale estimate: $350,000 - $450,000.
7. RICHARD PRINCE, Untitled, Joke Painting, 2009, collage and acrylic on canvas (Phillips #30) Est: $350,000-$450,000. Calling an artist's work a joke is rude and offensive to everyone except Mr. Prince, who's been cleverly elevating one liners on canvas for over two decades. With this picture, viewers receive a double dose of block letters on top of his now iconic collaged vintage nurse/romance imagery appropriated from paperback books. This distinguished composition offers a new style of black-outlined letters that are incorporated into a semi-camouflaged, homogenized surface that is handsome, lush and distinguished. The text reads, "I never had a penny to my name, so I changed my name..." My dime is on this undervalued and enjoyable work.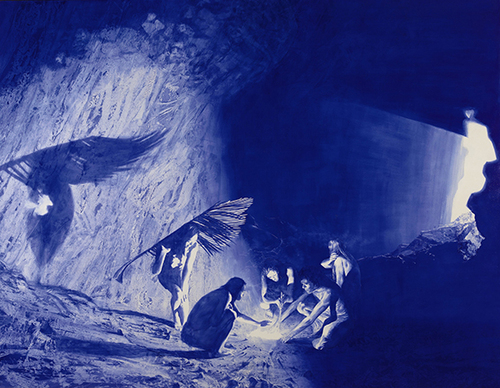 Sotheby's New York, Contemporary Art Evening Sale, 10 May 2011. Lot 8, Mark Tansey, Shades, Oil on canvas, Est. $3/4 million.
8. MARK TANSEY, Shades, 2001, oil on canvas, 84 in. x 108 in. (Sotheby's #8) Est: $3-$4 million. Metaphysical juxtapositions and ingenious illusions of impossible events that often expose a snippet of history is Mr. Tansey's duotone trademark. From an unlikely interview with a microphone to the mouth of the Sphinx in Egypt to a lift-off at Cape Canaveral, where artists demonstrate the ambitious task of illustrating (and finishing) the entire process, Tansey twists a picture's impossible circumstances into a high art of suspense and irony. This work, a modern-day take on a cave-dwelling camp, where a palm frond held to the firelight casts an ominous shadow in the shape of an angel's wing on the wall, is yet another brilliant visual equation.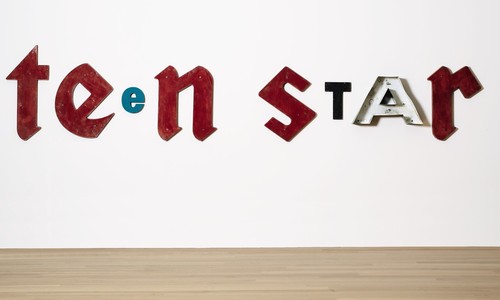 Sotheby's New York, Contemporary Art Day Sale, 11 May 2011. Lot 421, Jack Pierson, Teen Star, Found plastic and metal letterforms, Executed in 1994, Est. $150/200,000.
9. JACK PIERSON, Teen Star, 1994, 24 in. x 120 in. (Sotheby's #421) Est. $150,000-$200,000. Pierson could present a TV talk show titled, "Late Night With the Letterman," as his most famous works are an assemblage of found letters from old advertising signs. Mr. Pierson has developed a unique art form by adaptively reusing and rearranging words that create a visual image, and are beautiful as a collage, as well. These word sculptures are elegant and informal, simple and direct, and have become instantly recognizable. The artist spells success with this two-word equation.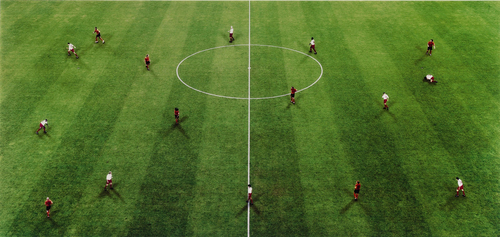 Sotheby's New York, Contemporary Art Day Sale, 11 May 2011. Lot 564, Andreas Gursky, Fortuna Düsseldorf, 2000, c-print, Est. $350/450,000.
10. ANDREAS GURSKY, Fortuna Düsseldorf, 2000, C-print, 69 in. x 120 in. (Sotheby's # 564) Est: $350,000-$400,000. It's been said that a photographer needs a better-trained and more inquisitive eye than a painter. After all, the image process takes a split second, and it has to be the decisive moment--the right light, action and compositional elements. Mr. Gursky is really a contemporary painter in disguise, who substitutes photo paper for canvas. In this beautiful, diptych-like image, the photographer finds a natural dividing line by using soccer field boundaries and the minimalism of circles and players, who become dots and spots. The deep green background of manicured turf takes a cue from the late Kenneth Noland's striped paintings.
Calling all HuffPost superfans!
Sign up for membership to become a founding member and help shape HuffPost's next chapter