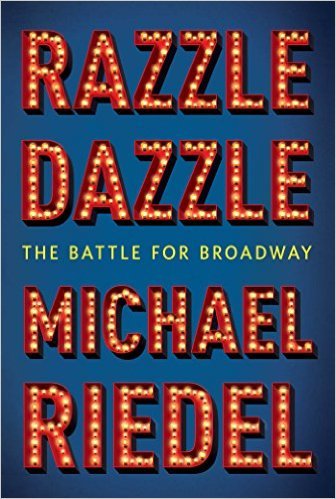 The trouble with Razzle Dazzle, Michael Riedel's new book about Broadway, is that from the first page -- on which a man complains to the attorney general's office that "I made an investment in a play, and the producer used the money to buy a lobster boat in Montauk" -- you can't put the damn thing down.
Riedel, the polarizing theatrical gossip columnist of the New York Post, knows how to dig into provocative stories. Here he undertakes not a simple scandal, but a century's worth of power struggles that have undermined and -- ultimately -- saved Broadway. You can argue about matters of quality and artistic integrity, but the figures show that the Broadway theatre is today in one of its most lucrative stretches.
A comprehensive view of the last hundred years would be way too much to fit into one volume, or at least to do so entertainingly. Riedel has come up with a wise and canny method. He concentrates on the men that modern-day Broadwayites considered "the Shuberts": Gerry Schoenfeld and Bernie Jacobs. The real Shuberts started the company back in 1900, and built it one theatre at a time. But Sam died early on, in 1905, and Lee died so long ago -- in 1953 -- that few of today's old-timers worked with him. The third brother, J.J., lived on until 1963, but dementia forced him to retreat into his aerie on the eleventh floor of the Shubert-owned Sardi Building in 1958.
Gerry went to work as a Shubert lawyer in 1950, a junior associate thrown into the lion's den to fight the antitrust suit brought against Lee and J.J. by the U.S. Government. Gerry won the day, at least until the District Court ruling was overturned by the Supreme Court in 1956. When Schoenfeld's mentor -- a Shubert lawyer from the old days -- died on the first day of 1957, J.J. named Gerry in-house counsel.
(Riedel uses "Jerry" instead of "Gerry"; apparently, Schoenfeld used both at times. I recall seeing notes and memos signed "Gerry," with a big, friendly "G," and correspondence and contracts signed with "Gerald." Schoenfeld's autobiography, "Mr. Broadway," uses Jerry -- but that book was published posthumously, so Schoenfeld never proofed the text. There is enough evidence to support the use of Jerry, although it might look odd to some readers.)
Gerry immediately hired a partner to share the job, his older brother's best friend Bernard Jacobs. Together they fought the attorney general's corruption charges -- centering on theatre tickets and "ice" -- in 1963; another battle that year over the will of J.J.'s son John, who upon his death was found to have a second wife and children hidden away in Florida; and various battles with ineffectual Shubert relatives who temporarily ran the empire, usually from a spot by the bar at Sardi's.
While Bernie and Gerry didn't "become" the Shuberts until 1972, Riedel makes clear that they had by that point been actively involved in keeping the business afloat and -- given the governmental challenges -- keeping the Shubert's chain of theaters intact. Perhaps the biggest fight occurred just after they were appointed as two prongs of a triumvirate leading the newly organized Shubert Organization. The third prong -- who also served as the figurehead -- was a paint manufacturer named Irving Goldman. (According to Riedel, Goldman's position might have been payback for offering dubious testimony in the bigamy battle over John Shubert's estate.) Goldman -- who also ran the concession for those candy and gum machines that used to be on subway platforms and was at the time New York City Commissioner of Cultural Affairs -- was charged with defrauding the city over the candy business and receiving kickbacks from the paint business. In 1975, he was bounced from the Shubert Organization, and then there were two: Bernie and Gerry.
This takes up about a third of the book, which also includes enough information about the actual Brothers Shubert to enable us to understand just what Schoenfeld and Jacobs were dealing with. Those of us who might have always considered Bernie and Gerry nontheatrical lawyers who inherited the empire might, as a result of these chapters, want to reassess their positions. As Riedel paints them, they just might be more "real" than the actual Shuberts. While Sam, Lee and J.J. built a real estate empire (both theatrical and non-theatrical), Bernie and Gerry saved the empire; first as lawyers rescuing it from multiple legal and financial crises, and then as theatre owners and producers who went out on several limbs to create what turned out to be blockbusters.
Closely tied to the pair of Shuberts, through much of the time, was Phil Smith (currently the Chairman of the Shubert Organization). He started in the box office of the Imperial in 1956 and is herein revealed to have played a central role throughout; having worked his way up from inside the business, he has always had a more direct relationship with managers, treasurers, and other union personnel. Most managers and producers have liked and respected Phil for decades, but it was never quite apparent that he served as chief problem-solver for Schoenfeld and Jacobs. When they backed themselves into a corner, Phil would calmly and unobtrusively intercede and work things out.
Along the way, Riedel also discusses other New York theatre owners, including A.L. Erlanger's Syndicate -- the power of which the young Shuberts broke -- and the Nederlanders. Certain shows get extended attention, most (though not all) of which had Shubert involvement. These include Equus, A Chorus Line, Seesaw, Annie, Cats, Les Misérables, Phantom of the Opera, Ballroom and Chess. There is also a good deal of information on producer David Merrick, who modernized the business of producing starting in the mid-1950s; Cameron Mackintosh, who more or less developed the "megamusical"; and Michael Bennett, who was something of a surrogate son to Jacobs. From the sound of it, Jacobs never quite recovered from the blow of Bennett's death in 1987.
Razzle Dazzle winds down with the deaths of Jacobs (in 1996) and Schoenfeld (in 2008), but it has been an exhilarating ride. Riedel subtitles his book "The Battle for Broadway," and he follows through by giving us a fascinating, eye-popping view of all the bloody carnage.
Calling all HuffPost superfans!
Sign up for membership to become a founding member and help shape HuffPost's next chapter