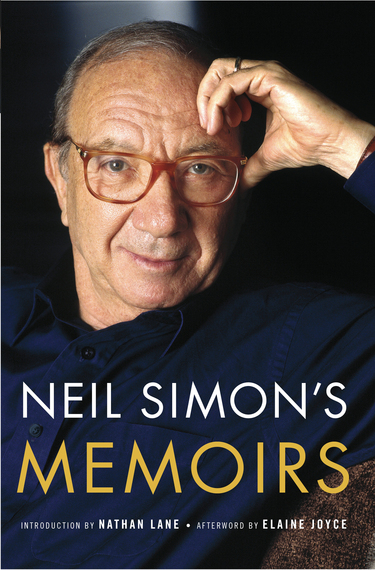 Several years back--it was opening night of Bengal Tiger at the Baghdad Zoo in 2011, to be precise--I escaped during intermission to the outer lobby of the Richard Rodgers for a breath of slightly fresher air. Said lobby was crowded as well, though not nearly so tight. Seeing the silver-threaded mane and moustache of Broadway's most distinguished elder statesman--which is to say, Manny Azenberg--I wedged myself over to say hello.

After a perfunctory hug, he gestured upstage--or, rather, to a spot between the opened glass lobby door and the inner box office window--and said "Do you know Neil?" There, standing alone in the crowd, looking pale and ashen, was the man they used to call Doc Simon.
"Oh," I mumbled, "I used to share an office with your kidney." (I am still in awe of Simon and Azenberg's press agent Bill Evans, who--when Neil was in desperate need of a kidney in 2003--graciously and heroically sent over one of his.)
The crowd being loud, Simon didn't catch what I said so he simply responded, "Hello." We chatted briefly until the bells rang for the second act, and in we went for more of that mirthless entertainment. But I was struck by the image of the great and celebrated Neil Simon, standing in a packed lobby at a prestigious Broadway opening, alone and unnoticed. Here was a man who had just about owned Broadway, arguably the most popular and most famous playwright of his day. From the early '60s into the early '90s, he was Broadway's most renowned and celebrated playmaker (and surely its biggest moneymaker).
Back in those days, larger-than-life giants roamed The Street, with names like Simon, Nichols and Merrick. The latter two remained imposing to their last days. Even when ravaged by illness, they were still commanding; if you happened to see either at the theatre--both continued attending shows, as that's what they loved--you knew they were there. Fans and friends would congregate around Nichols, or shrink away from Merrick, but they were never shunted into the corner unnoticed and ignored. Which left me stunned that night at the Rodgers, home of Simon's Pulitzer-winner Lost in Yonkers (along with a couple of other Simon plays). The playwright, while nearing eighty-five at the time, still looked like Neil Simon, with the sunny open face and the ever-present glasses; but nobody at all noticed him standing there, just Manny and me.
Of course, Simon was always one of the more modest people in the business. His work was so facile that it sometimes seemed easy; people might have snarled condescendingly, along the way, at the blockbuster success of this one-time television writer. (Walter Kerr greeted the 1966 hit The Star-Spangled Girl by saying "Neil Simon, your friendly neighborhood gagman, hasn't had an idea for a play this season, but he's gone ahead and written one anyway.") But the plays ranged from brilliant comedy (like Barefoot in the Park and The Odd Couple) to hit musical (like Sweet Charity, Promises, Promises and They're Playing Our Song) to more mature comedy/drama (like the Brighton Beach trilogy and Lost in Yonkers).
As for the career, Simon started in 1961 with the undistinguished but successful Come Blow Your Horn--which did indeed seem like something from a TV gagman--but firmly established himself in 1963 with the long-running Barefoot. His final Broadway play came in 2001, which gave him a run of forty years with as many as four shows on Broadway at once. Not to mention revivals, which came along regularly. He also--unlike Nichols or Merrick--was memorialized by having a playhouse, the former Alvin, named in his honor in 1983. So the Simon name will likely never disappear from the marquee.
If Simon has, presumably, stopped writing for publication--his final produced plays were Forty-Five Seconds from Broadway and the 2003 Rose and Walsh (also known as Rose's Dilemma)--no matter: the voice of Neil Simon comes through loud and clear and warm and (obviously) humorous in Neil Simon's Memoirs, from Simon [no relation] & Schuster. This is a combination of his two autobiographies: "Rewrites" (1996), which covered his first forty-six years and ended with the death of his beloved first wife Joan, in 1973; and "The Play Goes On" (1999), which covered the subsequent twenty-five years. The saga does not continue in "Memoirs," although there is an afterward by Simon's fourth and presumably final wife, Elaine Joyce. Best known along Broadway for playing the title role in Sugar, the 1972 adaptation of "Some Like It Hot," Joyce brings the saga more or less up to date.
There is also a new introduction by Nathan Lane, who would have been a supreme Simonizer had he come along twenty years earlier. (One of his first major roles was as Stanley, the older brother, in the 1987 National Tour of Broadway Bound. He later starred in Simon's Laughter on the 23rd Floor, as well as the 2005 revival of The Odd Couple.) Lane offers nothing but fulsome praise for Simon, and no wonder.
But it is Simon who makes these "Memoirs" so delectably readable. It is not surprising that he writes funny; what stands out here is the warmth, the self-awareness and the honesty of this "laugh machine" who expresses, again and again, his struggles with separating the comedy writer with the Midas Touch from the insecure man underneath. He also outlines his miserable childhood, recalling how his divorced mother would take him to stand in front of his father's new house for hours at a time, as punishment for the father.
Simon is impeccably honest, meticulously detailing all his insecurities (although they come out, mostly, funny). He even tells how during the tryout of the 1968 Promises, Promises, he cheated on his wife. This leads to a funny story about how he decided to leave home, with Joan responding by merely saying "when do you want to leave?" and him realizing he didn't. Simon being Simon, though, he built his next play around the pot-propelled adultery: you can see it, in its fictionalized glory, in the second act of The Last of the Red Hot Lovers.
The only personal information that he cloaks in mystery is the relationship with his third wife, apologizing that he was specifically restricted as to what he could say by the divorce settlement. (After Joan's death, he was married to actress Marsha Mason from 1973 to 1981; and to actress Diane Lander from 1987 to 1988 and again from 1990-98.) "Rewrites" was (and remains) dedicated to Lander; "The Play Goes On," which was written during and after their second divorce, was dedicated to Joyce (whom he married in 1999).
Broadway, as Simon knew it, is long gone; and one wonders how this man--who seems never to have been happier than when he was sitting alone at his typewriter, pounding out his four pages a day--gets through the day without putting words down on paper. Or perhaps he still does. In any case, "Neil Simon's Memoirs" preserves the voice of that warm and wonderful and gold-plated writer. It is a joy to read, and a joy to live through the seventy years he humorously recounts.
Calling all HuffPost superfans!
Sign up for membership to become a founding member and help shape HuffPost's next chapter