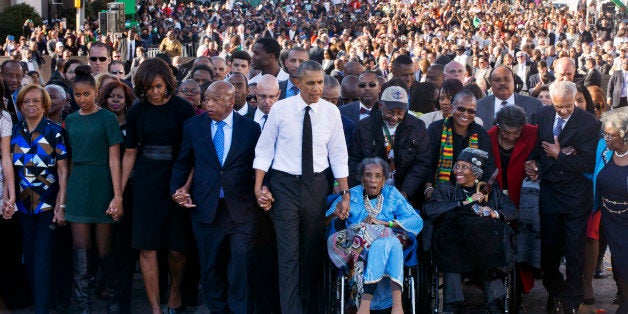 Fifty years after Bloody Sunday, I marched to the top of the Edmund Pettus Bridge with Mrs. Amelia Boynton Robinson, Congressman John Lewis, President Barack Obama, and many others.
After President Obama's speech, event staff situated some of us at the foot of the bridge. I was behind Reverend Al Sharpton and NAACP President Cornell William Brooks, and just to the left of a gentleman pushing centenarian Amelia Boynton Robinson in her wheelchair. Mrs. Boynton Robinson and others who marched in 1965 were in the front row.
President George W. Bush and Mrs. Laura Bush came out, followed by the Obama family and John Lewis. President Bush signed the update to the Voting Rights Act in 2006, and his presence on this day was a clear message that voting rights should not be a partisan issue. I reached out my hand to President Bush, and thanked him for coming to Selma. He took my hand, looked me in the eye, and clearly stated, "It is an honor for me to be here."
Staffers were still positioning marchers, and the magnitude of it all may have been a bit much for those of us who do not live in the spotlight. President Obama smiled and put us at ease. "It may have been easier to organize the first march!" John Lewis insightfully replied, "At the first march, no one wanted to be out front."
We started marching. At first, I focused on a simple task...walking. I did not want to step on the heels of Reverend Sharpton or do anything else embarrassing.
Someone started singing: "Woke up this morning with my mind, stayed on freedom." We all joined in, and a few verses later we transitioned into "Eyes on the Prize."
We stopped at the top of the bridge. John Lewis described the events of Sunday, March 7, 1965. Amelia Boynton Robinson, from her wheelchair, softly gave her account. We all listened intently.
John Lewis and Amelia Boynton Robinson connected us to that day. Their efforts and the work of others fifty years earlier had led to great progress, including the President who stood next to them. At the same time, the prior five decades had not solved all challenges related to voting, policing, opportunity, and race.
I was grateful to have the experience, and I was inspired. As I walked back down the bridge, I was more committed than ever to building the Joint Center to help solve some of today's challenges. It was clear to me that the day was not an ending, but a beginning.
Popular in the Community