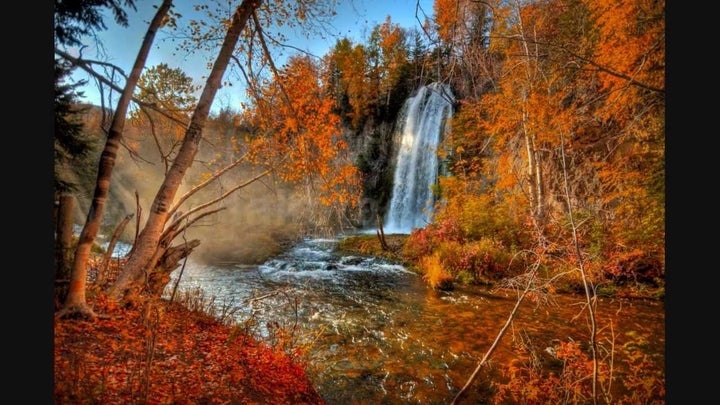 October is the perfect month for getting on the road and driving with the windows down to breathe in the crisp cool air as you view the autumn foliage, a rolling lush green landscape that gradually transformed into a temporary artist's palette of gorgeous hues in flaming oranges, deep reds and bright yellows accented by auburn falling leaves literally basking in the setting sun, a view that has been a natural inspiration to artists for centuries. The northern half of America gets a front row seat to some of the most beautiful aspects of our annual changing scenery, as during the spring and summer the leaves have served as de facto workshops where most of the nutrients necessary for a tree's growth are manufactured. In the fall, with the changes in the length of daylight and fluctuations in temperature, the leaves stop their energy-building process and as the chlorophyll breaks down, the green color disappears, providing the flamboyant fall splendor. That's how it works. This festival of blazing hues motivates annual caravans of day-trippers to soak in the scenery before it disappears, leaving only bare branches that later will be dusted with a white covering that often stays put for the next six months.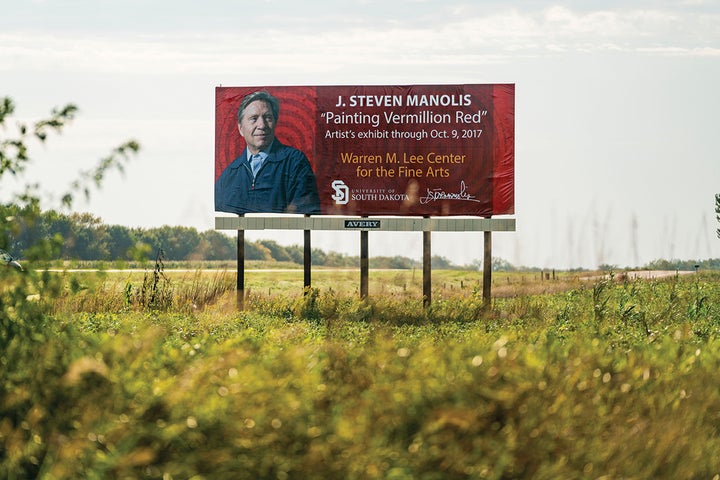 If you happen to be traveling north on Highway 50 in South Dakota this autumn, you may come across a fascinating outdoor billboard just outside the historic town of Vermillion that advertises the remarkable REDWORLD exhibition, which features dazzling paintings at the University of South Dakota, one of the most talked-about shows in the Midwestern states. So, if you are headed for the 244,000-acre Badlands National Park, you should consider taking the turn to see a totally badass painter named J. Steven Manolis, who is the subject of this billboard and the artist of the REDWORLD exhibition, as well as a distinguished alumnus of USD.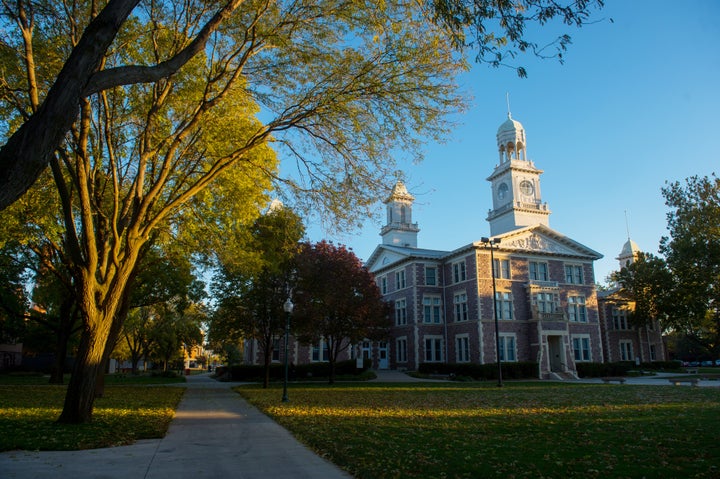 The Dakotas are rich in history and have a tradition of dedicated hard work, which perhaps is why so many eminent and prosperous Midwestern-born Americans (including J. Steven Manolis) owe their success to an honorable work ethic that is second to none. In 1804, famed explorers Lewis and Clark, commissioned by then U.S. President Thomas Jefferson, were meandering northward up the Missouri River when they came to a memorable vista during the late afternoon. According to their journals, the setting summer sun began to reflect upon the water's surface, emitting a sparkling red display. This effect may have been the inspiration for the name of the town that sprung up along the mighty river's edge, appropriately named Vermillion, which literally means red (vermilion). Serendipitous circumstances continue to mix with a masterful exhibition of painter J. Steven Manolis' brilliant works at the University of South Dakota (founded in 1862), which complement the colorful surrounding countryside. The show is appropriately titled "REDWORLD," but even more coincidental is that the town with a name meaning red is the birthplace of the artist, and he has been named the Grand Marshal of the 2017 Dakota Days' parade.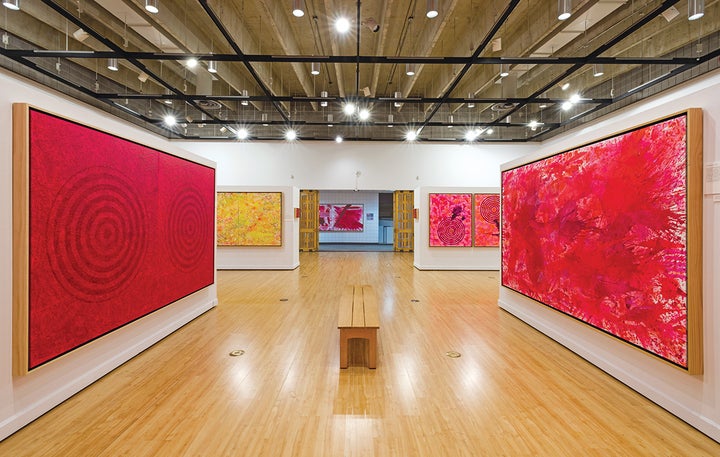 The basic idea of creating monochromatic contemporary artworks can be traced back to the avant-garde movement, when artists purposely pushed a controversial envelope to explore unknown and somewhat controversial territory. Artists have pursued the objective of choosing a single color and analyzing values changing across a surface; the expressive exclusivity of textures rough and smooth and in a specific gradation; and articulating a wide variety of sensations, objectives and obscure meanings or personal references in a broad range of dramatic applications and shapes. From geometric precision to extemporaneous expressionism, the elementary types of monochromatic formulae have proven to be an irrepressible idiom in contemporary art. J. Steven Manolis' groundbreaking series is all about RED, as is all the various connective components reproduced here, and the expansive and elite use of one vibrant bright color with subtle variations that taken as a whole, throws off a mesmerizing, nearly mystical aroma that leaves a lasting impression. Red also is loaded with symbolic connotations that are broadly cultural, and for Manolis, idiosyncratically personal.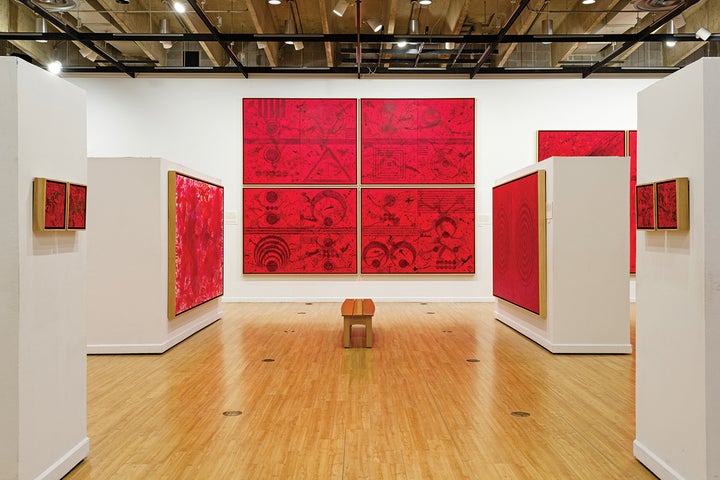 Even the word red continues to appear in Manolis' home state of South Dakota, where many of the roads look to be red in color, from the local natural red granite that is ground up and used to produce "blacktop." There are small towns in the state named Red Shirt, Red Elm, and Redfield, and locations like the Red Hills, which harbor creatures like the Red-naped Sapsucker, red bats, red fox, red deer and a red hooded duck. Most curious are the upper Red Beds of the Black Hills, which are composed of five to six hundred feet of red sandstone and red sandy shales exposed from the Jurassic age.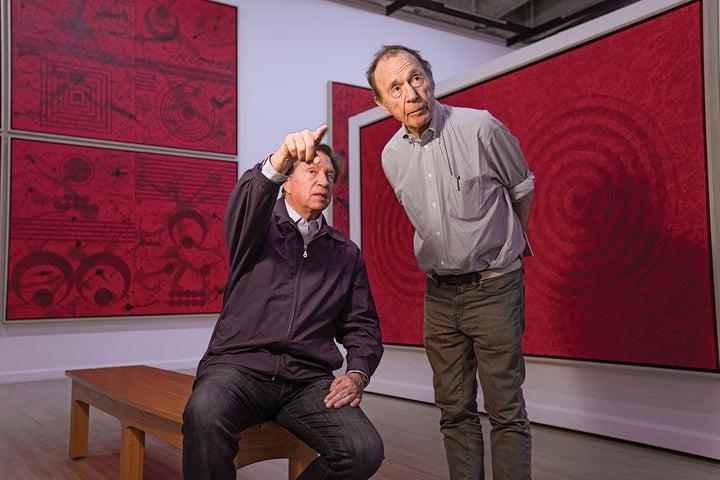 J. Steven Manolis follows the great and revered tradition of studying with modern masters. He spent more than twenty years in private lessons with the renowned colorist Wolf Kahn, who in turn was taught by Hans Hofmann, one of the shining stars of Black Mountain College. And like all of the artists mentioned above, whose instincts were abstract expressionist-oriented and later, for some, splintered into color field large-scale canvases, Manolis picks up where others stopped or chose to explore different directions with their artwork.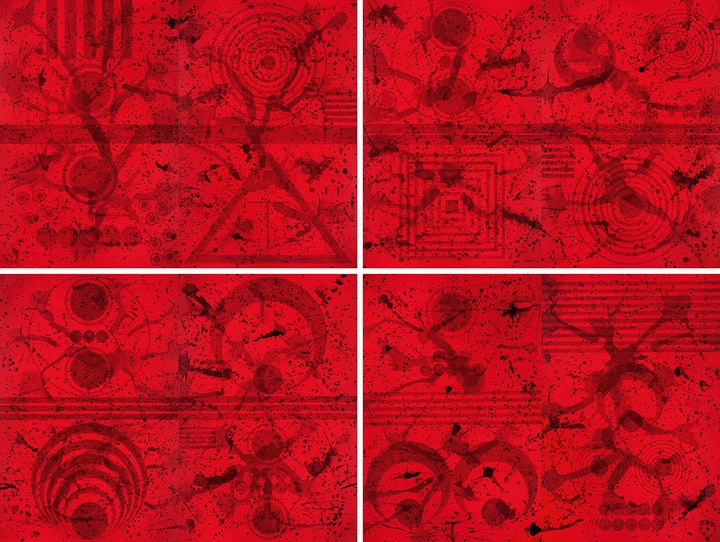 On the other hand, Manolis, like early Dakota pioneers, utilizes a unique and fearless explorative spirit and the Midwestern work ethic as he delves into a seemingly endless parade of neo-expressionist hybrids and color field infused, often with symbology, handsome works that have evolved with an instantly recognizable signature on the surfaces on which he paints. He also follows the honored tradition of successful artists that push boundaries and create singularly exciting compositions in a distinctive series. As an artist living and working in Miami, now the third largest art city in the U.S., he surely has been influenced by his proximity to water, exemplified in the "Blue Splash" series presented in his book, "Key West: Changing Colors," or the red sunset imagery shown in his most recent book, "A Survey of Works: Coral Springs Museum of Art." He also has explored other conventional color themes and applications that offer the viewer a literal concert of dazzling pictorial notes, as he skillfully orchestrates his swinging brush as a theoretical baton while producing vivid harmony for the eye.
However, all styles and color combinations considered, it is J. Steven Manolis' REDWORLD series, an endless bounty of canvases born from a single spatter of expanding rosy pigment that have an inherent magnetic condensation of glowing marks, carefully placed abstract crimson splashes and inventive purposeful drips, which perpetually energize his paintings that seem to constantly move in all directions. The title, REDWORLD, is straightforward, self-explanatory and expeditious, but also humorously reminds me a bit of the famous logo for American paint company Sherwin-Williams, whose motto "Cover the Earth" is emblazoned on a half-drenched globe that is dripping with red acrylic house paint being poured out of a can from the heavens above.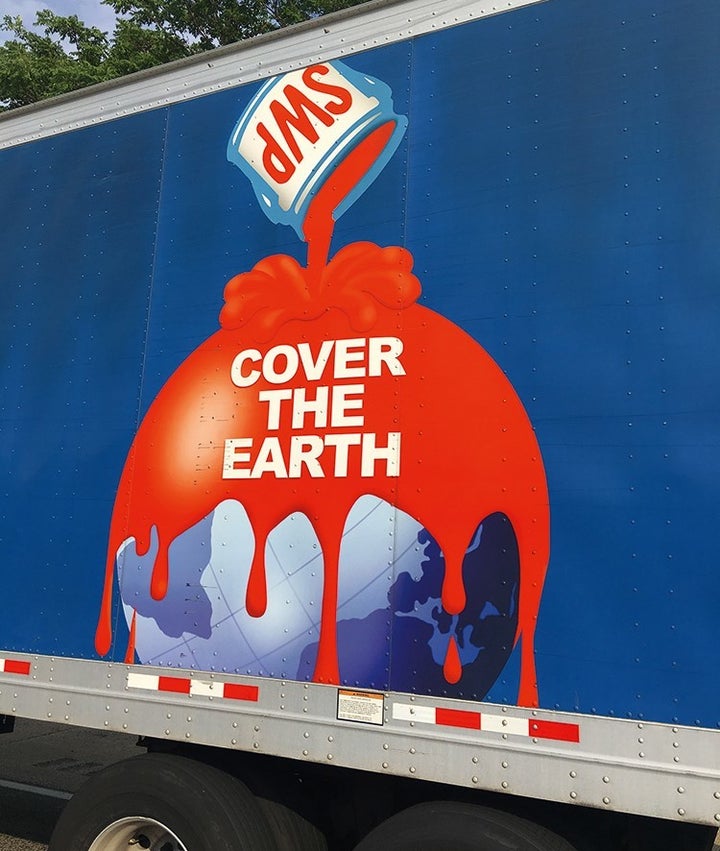 Meanwhile, although Manolis has a way to go before he envelopes the entire planet in tints of reddish medium, he is well on his way to covering the complicated and available aesthetic bases he has set for himself as a personal goal when it comes to mastering the idiosyncrasies of serious picture-making, particularly, in this case, when it's grounded in the ancient and respected color red.
The exhibit opened to the public in August at the John A. Day Gallery, Warren M. Lee Center for the Fine Arts, USD and will run through Dakota Days, with an artist's reception on Friday, October 6, 4-6pm (Artist and art critic commentary starts at 4:30pm). For more information on the REDWORLD exhibition and related events: REDWORLD at USD To learn more about the artist and his work: J. STEVEN MANOLIS
Related
Popular in the Community