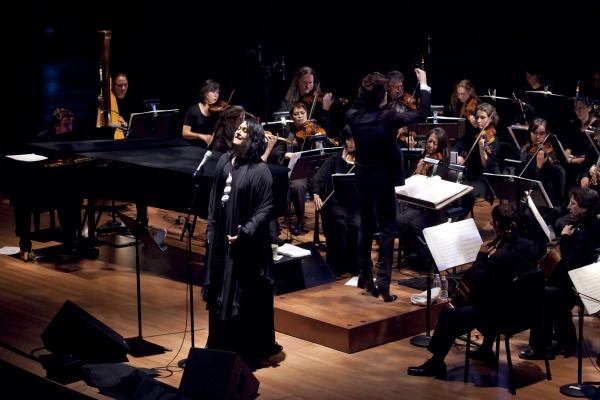 When Antony and the Johnsons took the stage Saturday night at Alice Tully Hall shortly after 7:30pm - which is like 5am in indie rock time, especially for the weekend - there were still plenty of empty seats despite the show being sold out. Antony even stopped a song ("Ghost") early in the evening to let throngs of latecomers find their seats while he whistled a little Satie. The crowd was an eclectic mix of Lincoln Center regulars and those who generally don't come uptown.
There's been a big push in recent years for orchestras to attract younger audiences (including Sufjan Stevens' BQE and Grizzly Bear's collaboration with the Brooklyn Philharmonic at BAM), and since Antony has always walked a fine line between classical and pop, he fit in well in the refined venue. For one, the acoustics at the recently renovated Alice Tully Hall are superb giving the music an incredible depth that sometimes can be missed on the album.
Nico Muhly's arrangements accentuated the strengths of both Antony and the St. Luke's Orchestra that backed him and inventively filled the absence of a trap set. On "Kiss My Name," the bassists, cellists, and other string players tapped out the rhythm on their instruments. Other songs, like the rousing finale, "River of Sorrow," particularly benefited from the fullness of the 30+ piece orchestra and was the perfect sendoff into the Halloween night, but the crowd roared for more as the lights came up. Clocking in at around 90 minutes, it was a short yet very satisfying evening.
Afterward, I headed out to Bushwick for a warehouse party, Within the Land of Ash, hosted by arts collective 3rd Ward. Beyond the obligatory ironic costumes and endless supply of Pabst, there were some interesting gems to be discovered, including a small room with a dj spinning old rhythm and blues records against video projections of vintage black-and-white striptease videos for a mass of colorful, dancing bodies. One guy, dressed as Hunter S. Thompson, sprinkled cocaine from a saltshaker into my friend's unsuspecting hand. Other sights to see included a couple of rope ladders where would-be go-go girls could try their moves out for a welcoming crowd.
On the theater front, Kander and Ebb's new musical, The Scottsboro Boys, recently opened on Broadway following a successful run off-Broadway at the Vineyard last season. The show, directed by Susan Stroman, is staged as a minstrel show, which proves to be the perfect vehicle for this darkly funny and moving musical about justice deferred. The story (of young black men falsely accused of raping white women in the early twentieth century South) is hardly new, but book writer David Thompson's unusual approach allows him to present a visceral portrait of inequality.
Through short scenes before, during, and after their trials we see the boys' aspirations as well as their frustrations and keen observations about the ways of the world - making it easy for us to invest in them despite knowing how it turns out. Other scenes staged in song, like the powerful "Make Friends With the Truth," detail the evolution of one character's ethics and the stark contrast with white society of the day.
Some of the most impressive moments come from Coleman Domingo and Forest McClendon, who play the stars of the minstrel show as well as the racist cops, creating a funhouse mirror effect that shows us their ugliness while making us laugh albeit very uncomfortably. The Scottsboro Boys is the smart crowd's Memphis, and will hopefully run as long as Kander and Ebb's beloved Cabaret and Chicago. With the election of Kentucky senator Rand Paul this week, we need it now more than ever.
What we don't need is another Thai place on 9th Ave. At least that's what I thought before going to Pure Thai Shophouse, a cozy new place near 51st Street that's authentic enough to make you feel like an expat in the '70s. Wood-paneled walls and a very friendly staff add to its charm, and the food is fresh and delicious. I was there for a "takeout wine dinner pairing" that featured Terra Andina's Chilean wines along with a number of the restaurant's most popular dishes, including a delicious Ratchaburi crab and pork noodle bowl that's paired nicely with the 2009 Carmenere Varietal. With the winter months ahead, it's nice to know that Pure delivers.
REAL LIFE. REAL NEWS. REAL VOICES.
Help us tell more of the stories that matter from voices that too often remain unheard.