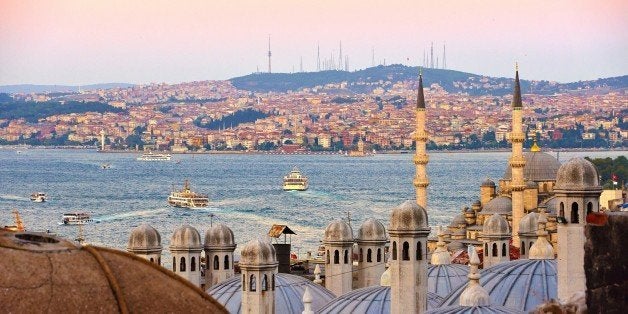 I found myself back in Istanbul last fall after a memorable trip a few years back with my sister. I was immediately taken by the diversity and tolerance that echoes through the city as the "call to prayer" rings out on blocks where ads of scantily clad women plaster bus stops as they would in an modern city. One of our best days was wandering through Taksim square and on the way to Galata tower discovering a great steakhouse and hookah bar.
This time, I decided to take another vantage point from the sea aboard the elegant and expansive MS Europa 2, the newest of the Hapag-Lloyd ships. Upon arrival, I opened the large glass door of my suite and stepped out onto a balcony. An intoxicating breeze from the Bosporus river surrounded me along with a powerful beam of sun. Tiny boats below rocked visibly through the waves, but there was utter stillness up on deck as I stretched out on a cushy chair. My first thought (since it would be my only day in Istanbul) was to go out and explore everything I missed on my first trip to Turkey. This is generally my impulse when I travel: to squeeze meaning into every second.
Sometimes transcendent experiences can be found at a slower pace. Watching the rhythm of the ocean and the diverse Istanbul skyline dotted with ancient mosques and modern towers alike, I couldn't pull myself away. Even without a museum ticket or designated tour guide, it felt like I was having a unique experience in the city while catching up on some work. I listened to Christian Rudder reading his book, "Dataclysm" in preparation of profiling the OKCupid founder for the Financial Times.
When it comes to cruises, David Foster Wallace's "A Supposedly Fun Thing I'll Never Do Again" pops into my mind often. But at their best, they remind us that even though life moves at a predetermined and irreversible speed, there are refuges that turn a minute into an hour, a day into a week. And if time was to miraculously stop, I wouldn't mind being stuck on the Europa 2. For one thing, the decor doesn't make your eyes bleed. During many meals I even felt as though I was in New York restaurants. The ship's Pan-Asian restaurant elements gives off a muted refinement while the French bistro Tarragon pops with Parisian tiles and vibrant colors. The wide swaths of lights that garishly illuminate many ships are no where to be found, and often times I forgot I was even on a boat - that is until seasickness hit me on the final night.
On land, I toured a local dwelling doubling as a museum (or perhaps vice versa) on the Greek island of Lesbos and then had lunch at the unassuming Heliotrope Hotel, which turned out to be the best meal on shore. An endless array of food included octopus with roasted tomatoes and fried haddock with potato puree. Less like a restaurant, the outdoor feast felt more like a family gathering.
Back on board, it was time to discover gin at a tasting in the cigar room. Amidst the musky aroma of Cubans and the comfort of oversized leather club chairs, I tried a number of gins alone and in cocktails. I learned that London no. 1 gin is made from the blossom of a small flower that gives it a bluish tint. The botanicals also mellowed the spirit's normally strong taste. Tanqueray Rangpur was also very drinkable and took on the flavor when mandarin orange was thrown into the mix. The small batch Blue Gin, made in Austria, had an aggressive nose but a much mellower taste. My go-to drink on board remained a g&t with Thomas Henry tonic, but the tasting gave me a window into how complex and varied the spirit can be. I bought a bottle of New Amsterdam gin the other week and have been making cocktails for friends.
I think the best mark of trip is not wanting to go home and as the final night approached, I had serious anti-homesick pangs. Still, I would have been thrilled with another week on board. For the ultimate experience, they offer a 155-day world tour. I don't formally have a bucket list yet, but I think this would be at the top of it.
The final stop before the airport was Ephesus, the ancient Greek and later Roman city in various stages of ruin - new excavations are perpetually underway. Built in the 10th century BC, it's a mind-altering experience and a tangible reminder of how vast human history is and how our achievements can be immortal. Walking down the marble-lined main street, flanked with ruins on either side, I started to imagine what the bustle of everyday life was like for the Greeks and Romans - and how they survived without air conditioning in the blistering sun.