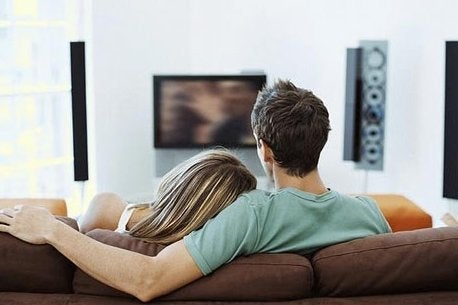 As tangible media becomes increasingly irrelevant, Criterion remains the go-to place for serious film collectors. They consistently turn out definitive special editions of new and older films alike. In the past couple months, they released a number of notable DVDs, including a box set of the late Canadian director Allan King, double disc editions of The Darjeeling Limited and The Thin Red Line, and a new, restored transfer of Paths of Glory.
If you're like me, you probably haven't heard of Allan King, a prolific director across many genres who died last year. Criterion's Eclipse series focuses on five of his "actuality dramas," which are basically documentaries but really intense. They're similar to Fredrick Wiseman's "fly-on-the-wall" style even though both men wince at the term "cinema verite." A lot of times labels can be limiting, failing to describe the full scope of a complex work, but King's self-imposed categorization of his non-fiction films are pretty accurate. They range in style and accomplishment, beginning with his rough slice-of-life debut, Warrendale, a black-and-white portrait of troubled youth and the adults in charge of helping them. These counselors employ an in-your-face technique that often involves them yelling supportive phrases like "why should you be mad at yourself" directly into a self-destructive child's face. It would be similar to the "it's not your fault" scene from Good Will Hunting if Robin Williams' character were a whole lot angrier. It's unsettling but engaging at the same time.
Two other films in the set focus on institutions, including Dying at Grace, an epic document of the final days of five terminally ill patients. King shot it in 2003, just six years before he succumbed to brain cancer. It's such a starkly realistic film that brings us painfully close to its subjects to the point where we can smell the air in the room and feel the chill of the sterile atmosphere.
My favorite, though, is the 90-minute, A Married Couple, a voyeuristic thrill ride that places the viewer right in the middle of brutal arguments between Billy and Antoinette Edwards as there marriage disintegrates in front of us. It's terrifying, because like Dying at Grace, it allows us to confront our greatest fears, but it's also not without a humor that comes from being humanly flawed. In a lighter moment, as the couple lie half-naked in bed talking of their hopes for the future, Billy says matter-of-factly, "I just want a few things in life: success, money, and fame," seemingly unaware of the tall order of his request. Antoinette just nods tenderly, and we see the love in the relationship, which makes its destruction that much more powerful. It feels more like a narrative film than King's others in the set and is reminiscent of Ingmar Bergman's masterpiece, Scenes from a Marriage.
New Wave filmmaker Francois Truffaut famously believed that it was impossible to make an anti-war film because film tends to make battle look exciting. While he generally has a point, Stanley Kubrick's Paths of Glory and Terrence Malick's The Thin Red Line make a vivid case for the opposite. Malick's adaptation of James Jones' (From Here to Eternity) autobiographical novel centered on the battle for Guadalcanal has the claustrophobic insanity of Apocalypse Now infused with an Everyman philosophical bent that could only come from a director who both studied Heidegger and worked as a farm hand. Malick lets the work speak for him, but cinematographer John Toll, provides an audio commentary that details the visual conception of the film; and the second disc is packed with interviews from the cast and creative team along with bonus footage.
Paths of Glory has only one disc but manages to squeeze in an audio commentary, television interview with Kirk Douglas, and an excerpt of an audio interview with Stanley Kubrick, who like Malick, was famous for being elusive. At just 88 minutes, it's a powerful anti-war film that explores the value of bravery as a World War I French colonel defends his men who are being accused of cowardice after failing an impossible mission. Especially all that's happened recently with Abu Ghraib and President Bush's insistence on being unaware, the film's exploration of dehumanization as a casualty of war is particularly resonant.
Finally, Wes Anderson's adventure flick, The Darjeeling Limited, gets the full Criterion treatment with double-disc set and accompanying booklet, featuring an illustrated essay by New Yorker film critic Richard Brody. Eric Chase Anderson's playful illustrations are almost reason enough. There's also Anderson's delightful short "Hotel Chevalier" that circulated on the internet around the time of the film's release. Above all, though, it's a rare comedy that gets better with age.

Popular in the Community