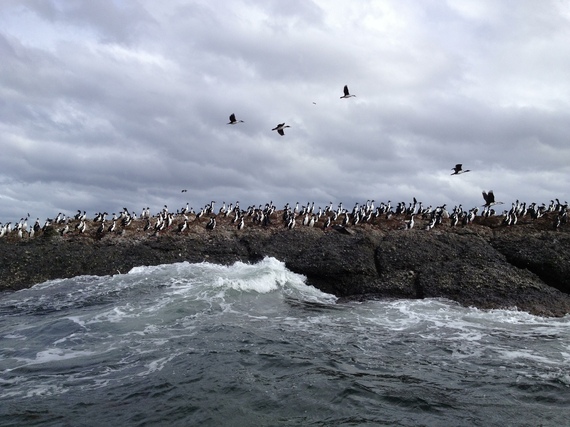 Photo credit: Chris Kompanek
Some places have one season, and others all four, but there's almost no place on Earth that cycles through them on a daily basis. This is the magic of Patagonia. Situated in the southernmost remote area of South America and stretching across Chile and Argentina, this stunning expanse of land is like the natural equivalent of grain alcohol. Taking it in immediately causes strong sensations of euphoria while being enveloped by the awesome weight of its power.
My trip began last October, just outside Santiago, Chile. After disembarking from a long flight, I took a two-hour drive to the boutique winery Vina Vik, which sits in the foothills of the majestic Andes mountains. As I trotted through land on a very mild-mannered horse, I marveled at the combination of natural wonder and utility. Billed as a holistic vineyard, Vina Vik has a "wine spa" and rooms to overnight in, but just taking in the surroundings is a Zen-like experience.
From Santiago It's a short plane ride south to Punta Arenas, the gateway to Patagonia. There's a monument to Magellan and a general feeling of the boundless exploration that lurks just beyond the docks. As I boarded the Stella, Australis' newest ship, I felt giddy for what's to come: We would be tracing the same route that Charles Darwin took through Tierra del Fuego in the early 1800s, before his visit to the Galapagos Islands, a trip that would help inform his theories on evolution.
On board there's a sense of austerity mixed with restrained elegance that causes the vessel to fade comfortably into the background of a radiant and expansive purity that stretches across land and sea. I spent one particularly memorable afternoon lounging in a leather club chair and listening to podcasts as glacier upon glacier passed by. It was almost as if a flipbook of life-changing experiences were materializing in front of me, the product of a benevolent genie.
Living in New York, it's easy to forget just how grand the elements can be. During one of our first hikes of the four-night trip, pieces of ice could be heard violently crashing into the sea. Gazing at them, I felt like I was watching history unfold, and many looked on with their mouths agape in horror, until one of the many knowledgeable guides explained that we weren't quite watching climate change in action. He explained it as being akin to a glass of water with an ice cube in it. If the ice is in the water, when it melts, it just changes form and doesn't increase the volume of the glass' contents. What's dangerous, he explained, is when glaciers on land melt and fall into the sea (as they are doing near the Arctic Circle). The sight still felt a little apocalyptic to me, though.
The most memorable hike started near a small museum in a stone house dedicated to documenting Darwin's time in the region. As we approached the woods, the sun was beating down heavily. The incline increased gradually, and then more dramatically, until it was verging on a proper climb. Ropes lined the trail, though, making it easy to traverse otherwise precarious areas. Midway up one of the steepest stretches, the strangest thing happened: I felt tiny, hard particles hit my face. As I wiped them from my face, they began to turn into tiny puddles. It was hail! I hadn't noticed the temperature drop immediately, but this was hard to ignore. What had begun as a mild summer day had turned to winter before my eyes. Never mind the hassle of hiking through the poor visibility that the conditions created; this was an out-of-body experience to be savored: speeding up the hand of time so as to witness the tangible changing of a moment, feeling touched by the hand of creation. I wonder if that's how Darwin felt a couple hundred years ago.
By the time we reached the top, the sun was peeking back out, illuminating the Stella in the distance. The temperature had crept up to crisp fall weather, and the cup of hot chocolate spiked with whiskey that awaited near the dock was the perfect coda to the experience.
Australis, which has just revamped their food offerings with the addition of Peruvian chef Emilio Peschiera, abounds with small touches. From the drinks that greet you after an excursion to free boot rentals, oversized cabin windows, and frequent Zodiac rides, the cruise is designed to create an immersive experience. One early-morning Zodiac pulled up within arms' reach of a raft of penguins chilling on a tiny patch of land. Another morning found us at Cape Horn, the southernmost point of South America and the last stop before Antarctica. With trips till April, it's not a bad time to escape civilization for a bit.