Halloween is the perfect night to watch scary movies. In fact the entire month of October lends itself to noir, sci-fi, horror, and all sorts of scary delights. This was the time of year when I used to wait up for my Uncle Mike to come home on Friday night. He was single and went out a lot, but on Friday nights he come home by midnight and we'd watch The Hoolihan and Big Chuck Show, the successors to Ghoulardi, together. They showed awful films and terrible skits, but occasionally they'd play a horror film that really got to me. This set a trend which I follow to this day. One day during the weekend, I try to watch something scary.
Uncle Mike loved all kinds of movies, and we went to the cinema often. Mike shared his film passion with me, and we always dedicated October to the weird and frightening. He was a frustrated writer, and had he not taken on the responsibility in his mid-twenties to care for his widowed mother and then his widowed sister and her daughter, he'd have likely gone to Hollywood to try his hand at screenwriting. Instead, he encouraged me to tell stories, and we'd watch films, go to plays at the Cleveland Playhouse or other theaters nearby and dissect everything we saw.
One time, he took me to the Playhouse, and we saw an older Margaret Hamilton in Blithe Spirit. We went backstage after the show and he introduced me to her. She had been his acting teacher at the Playhouse when he was a boy in their Curtain Puller's program, and remembered him fondly. She was so kind and generous with her time that night that I was star-struck, and I must admit after that, no matter how many times I see The Wizard of Oz, I root for the Wicked Witch of the West.
I get my love of the scare, the chill down the spine, and the tingling on the back of my neck from his influence.
As I got older, Mike introduced me to the classics. We were lucky enough to have a revival house in town, and he took me to see them on a big screen. To this day, whenever I hear the strains of Tchaikovsky's Swan Lake, I immediately visualize Bela Lugosi as the dreaded Count Dracula, the pin light shining on his eyes, telling us he never drinks...wine. I feel teary-eyed when I see Boris Karloff as Frankenstein's creature playing with the little girl by the pond, demonstrating compassion and pathos infused inside a monster. One year for Halloween, I actually went out dressed as Maria Ouspenskya's gypsy woman Maleva in The Wolfman, and memorized her famous lines in a perfect accent to freak out my friends.
The way you walked was thorny, though no fault of your own, but as the rain enters the soil, the river enters the sea, so tears run to a predestined end. Now you will have peace for eternity.
It worked.
Horror films evolved as I did, and Hammer's monsters took over. Christopher Lee replaced Bela as Dracula and Peter Cushing was an interesting Van Helsing, or sometimes Victor Frankenstein. One summer Mike rented the film Abbott and Costello Meet Frankenstein and we howled over it and got nostalgic seeing our old horror film friends.
We always had fun analyzing these films and even as an adult, spent many a Friday night with my uncle watching horror films and eating popcorn, sometimes at home, and sometimes at a theater.
One boyfriend of mine often suggested Mike come with us to the movies, and then we'd all go out to a bar and have wild, far-ranging discussions of films, actors, and the nature of scaring people.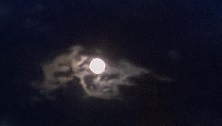 That boyfriend is married now- to someone else. Whenever we've run into each other though, we fondly remember those crazy October nights. We think of when the winds blew, and there was a chill in the air, and the full moon accompanied us as we walked. We remembered how we scared each other with tales of werewolves, vampires, and things that go bump in the night. And I remember too my uncle as he watched us indulgently, and treated us to fascinating tales in rooms lit only by fire.
I think back with fondness of those innocent times.
Mike is gone now. He died fairly young after years of health problems. To the end though, we'd always talk about movies and share Friday nights.
Now there's just me.
It's nearly Halloween weekend. I think I'll find some Dracula films, or maybe just listen to the overture to Swan Lake. Maybe I'll bug my housemate to put on a scary movie or two Friday night while I make some popcorn, and we'll stay up late afterwards and discuss them.
I hope maybe my uncle's ghost will pay us a visit as well, and we can all watch them together.
That would make the last days of October perfect.
REAL LIFE. REAL NEWS. REAL VOICES.
Help us tell more of the stories that matter from voices that too often remain unheard.