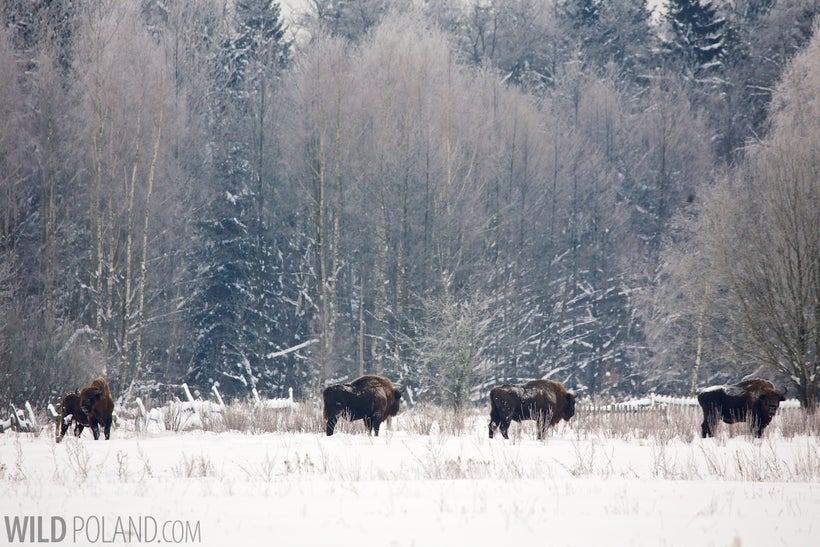 In the middle of a forest, where European Union ends and Belarus begins, there is a village called Bialowieza. It's a small place, with one main street flanked by multi-colored old wooden houses with intricate carvings. Yet despite its size, this Polish village has been beloved by kings, tsars, and, for a few years, even by both the Soviets and the Nazis.
The main reason Bialowieza, which in Polish means white tower, has been so admired is that the village serves as the gateway to one of the last and largest parts of primeval forest that once covered the entire European continent.
When you walk into the Bialowieza National Park, which has earned a rare double-designation as UNESCO Biosphere Reserve and World Heritage Site, it's easy to see what makes this place so special. When I visited the day after the first snow fall of the season, the ground was densely crisscrossed by tracks of wolves, foxes, boars, moose, lynxes, wildcats and – most famously – the European bison. In fact, the Bialowieza forest, which spans parts of both Poland and Belarus, houses the world's largest free-roaming population – about 900 – of this impressive deep brown beast, which went extinct here during World War I, but was since carefully restored from zoo-kept specimens.
The restricted area of the park is best seen with a trained guide who can tell the history of the trees, ponds, rare mushrooms and scientific discoveries made here over the years. But even without all the information, the forest itself is an impressive sight in any season, and it's hard not to envy the villagers who have it as their view. Ironically, the farmers here are not all happy about neighboring the wildlife preserve – since bison aren't restricted to the forest, they often wander out into the surrounding fields and locals are forced to lay out haystacks for them to munch on and keep away from their crops. On my visit, eager to find a free-roaming bison, we finally spotted one eating hay in a clearing. As these huge animals tend to be rather shy, we approached through the trees and stood quite a way's away so as not to scare it off from its pensive chewing.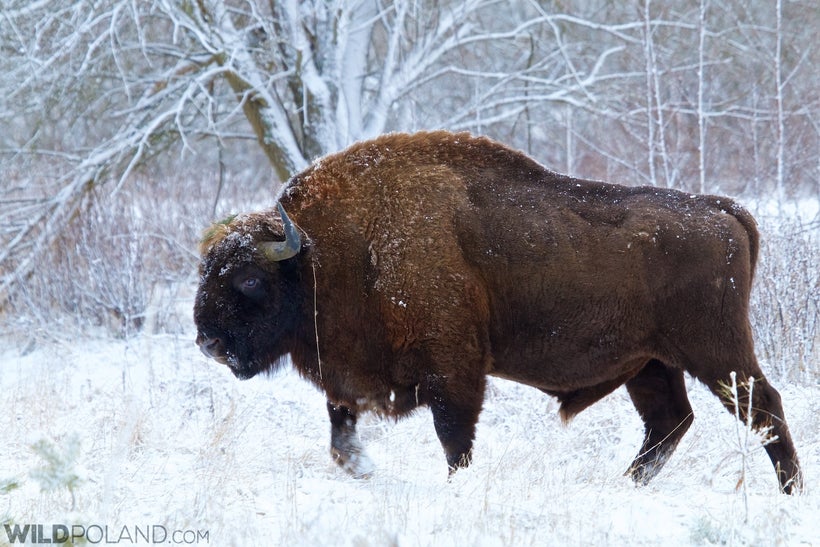 For those more serious about seeing the local animals, a wildlife tour operator Wild Poland offers multi-day trekking tours to track bison, wolves and elk. But for a more casual and up-close view of the bison, as well as more skittish animals like wild boar, the Bialowieza Show Reserve nearby shows the main mammals of these forests in semi-wild conditions.
Yet Bialowieza is not all about protection. Since the 1400's, the village's main purpose was for hunting. In fact, until 1944, the village boasted a unique hunting lodge built for Tsar Nicholas II. Though the main building can only be seen on photographs, the nearby brick structures remain and today house the Museum of Natural History.
The village's centuries-old hunting tradition means there are several excellent restaurants where you can taste deer, wild boar and yes, even bison. But don't worry, that juicy bison fillet you'll have for dinner comes only from animals that died of natural causes.
For non-meat eaters, there is plenty to savor too. For lunch, Stoczek 1929, an elegant spot with an enclosed terrace and soothing sounds of Russian bard music, offers not just deer pierogi (though who could resist trying that?), but also delicious buckwheat crepes with smoked salmon and goat cheese, and excellent baked potato cakes with locally gathered wild mushroom sauce.
For dinner, you can't beat Carska, a restaurant housed in the wooden train station built for the Romanovs. Here, in the carefully restored period décor, you can sample venison pate with juniper, hazelnuts and black currant jam, Siberian fish dumplings, red deer steak with root vegetables, and ukha, a traditional Russian sturgeon soup that is particularly striking with the addition of a bit of vodka.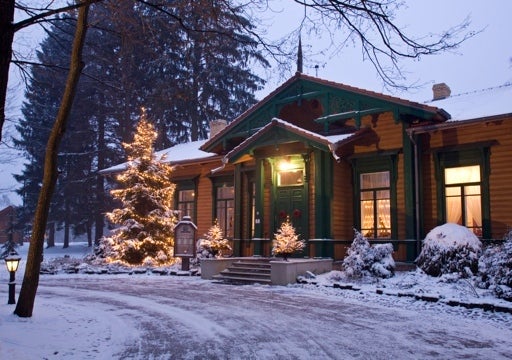 Carska is not only a restaurant, but Bialowieza's best place to spend the night. As one of Poland's unique historic hotels, here you can choose your own private wooden bungalow, a room in the stone water tower, or – my favorite – your very own train car. The black, four-car train parked near the station-restaurant is decorated with period-themed details and photographs of Tsar Nicholas II and his family.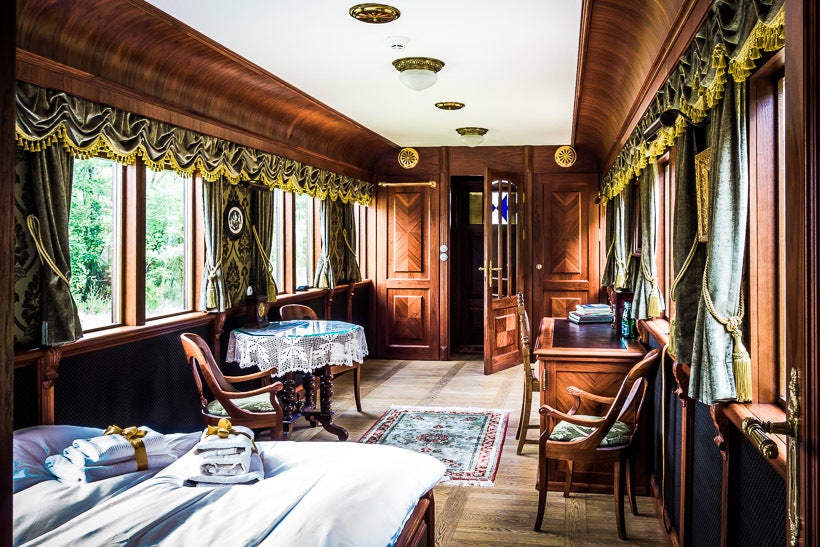 On a snowy night that leaves a white dusting on the iron-wrought benches and curved lanterns of the train station to the howl of either dogs or wolves (hard to tell here), Carska oozes early 20th century romance that makes you feel like a heroine of a Tolstoy novel.
The royal treatment continues when in the morning you look out from your cozy train car room onto an all-white field and a horse-drawn cart that can take you for a ride into the forest. But before venturing out into the brisk day, breakfast is in order. Carska lays out an impressive breakfast spread of cold cuts, cheeses, vegetables and cinnamon rolls that greet you in a green room decorated with samovars, boar carpets and deer heads. For something warmer, the restaurant's excellent chef can prepare you eggs, homemade veal sausages, apple pancakes or cheese pierogi.
Carska's location on the outskirts of the village encouraged me to take what I couldn't resist calling my "morning constitutional" in the forest. If you follow in my footsteps, just be ready to answer some questions by the friendly border control officers careful to prevent tourists from accidentally strolling into Belarus, which lies only a couple of kilometers away. Otherwise, please explore the wilderness freely: there are 100km of trails for cycling or Nordic walking, which seems to be particularly popular here.
Besides Bialowieza's natural beauty, the village also offers worthwhile man-made entertainment. There are two impressive, fully-equipped spas located in the village's two bigger hotels. Made of traditional and ecological materials, the four-star Hotel Zubrowka offers, in addition to its swimming complex, a salt cave – a cold room filled with natural salts, where a 45-minute session of lying and tea-drinking fills your lungs with minerals said to be equivalent to three days at the seaside.
For a more Eastern experience, head to the nearby Budy village, where Siolo Budy offers a traditional Russian banya (as well as an excellent farm-to-table restaurant). And if you're here on a Sunday, visit the Catholic Church of St. Theresa, decorated with tree roots and antlers, and the Orthodox Church of St. Nicholas, which houses a rare iconostasis made from Chinese porcelain.
After a weekend spent in Bialowieza, it became clear to me why this place in the middle of a primeval forest has been loved for centuries by both western and eastern Europeans. But even that didn't prepare me for its final multicultural surprise: a Sicilian pizzeria tucked in an old wooden house in the village's center. How? Why? The slice of cheesy Italian goodness was so unexplainably delicious on a brisk Polish December afternoon that I decided to leave it as a mystery to solve on another visit.
REAL LIFE. REAL NEWS. REAL VOICES.
Help us tell more of the stories that matter from voices that too often remain unheard.
This post was published on the now-closed HuffPost Contributor platform. Contributors control their own work and posted freely to our site. If you need to flag this entry as abusive,
send us an email
.