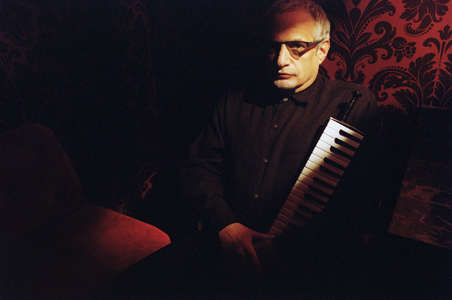 Steely Dan's 2013 tour, fabulously titled "Mood Swings: 8 Miles to Pancake Day" (really!), opens this weekend. Coming on the heels of Donald Fagen's latest solo album, Sunken Condos, and only two years after their last tour, Steely Dan is proving itself one of the 21st century's most consistent, and unfailingly impressive, touring acts. Yes, this is the band that came to symbolize finely honed studio production, even completely dropping off the live performance scene between 1974 and 1993. Although principals Walter Becker and Donald Fagen are both now in their 60s, they show no sign of slowing down the pace. Fagen, especially, seems to have boundless energy for performing: Shortly after Steely Dan's 2011 tour ended, Fagen was back on the road with Michael McDonald and Boz Scaggs for the second tour of their "Dukes of September Rhythm Revue," a "supergroup" act that features most of the regular Steely Dan touring band.
Shortly before rehearsals for "Mood Swings" commenced, Donald Fagen took some time out to chat with me, in a conversation that touched on tantalizing details about the tour, the dynamics of collaboration, music critics, social media pitfalls... and even Prohibition-era Jewish gangsters.

The first order of business to discuss was whether, for this tour, they would be pulling out some unrecorded or rarely played numbers, as they did in 2011 (their "Rarities" show at the Beacon that year was a particular high point, including "for the first and maybe only time" a performance of "The Second Arrangement," the legendary song that would have been on the Gaucho album had an inept assistant engineer not accidentally erased it). This set list question is always an issue of endless pre-tour conjecture, often heated, among Steely Dan fans. As I've written before, there is a push-pull demand from different sectors: While many concertgoers seem to crave a show filled with familiar hits or themed "album nights," there's also a large contingent of hardcore fans who salivate for the lesser-played masterworks like "Dr. Wu" or "West of Hollywood."
As Fagen explains it, "A lot of venues have requested that we do those album nights, where we do Aja [in full] or whatever, so we'll do some of those." However, "hardcore" fans won't be disappointed: "In our regular set list, we added a few older things that we've never played before. We dredged up a few we think will be successful on stage." Like "West of Hollywood?" "That's on the [tentative] list, actually," says Fagen, "We have a pretty strict time for rehearsing, and that's a very complicated piece of music, but we'll try to get that one in." How about songs from their respective solo careers? "I'm going to do one or two things [from Sunken Condos], and I keep asking Walter to do some of his things, and he's very reluctant to do it, frankly." Could we ever hope to hear something like "Surf and/or Die" (from Becker's 11 Tracks of Whack) played live? "I'd like to hear that one, too," says Fagen, adding "That's something you'd have to ask him. But I do encourage him... I love his records, so I'm certainly a fan."
Something else that Fagen turns out to be a fan of -- OK, maybe "scholar" is a better word -- came up as we discussed Sunken Condos and the inspiration for the various song protagonists: "For a long time I was interested in Jewish gangsters," he says. "At the beginning of Prohibition, the Jews were actually in control of most of the gangs, the Italians were kind of folded into it. Meyer Lansky and Arnold Rothstein were gangstering long before the Italians were into it." Fagen took particular interest in one of Rothstein's associates, Yasha Katzenberg, one of the first gangsters to scout out the heroin market in China: "He was an interesting guy... at one point I was going to write an article about him, but I couldn't find enough information, so it ended up being just a song." (That song, "The Good Stuff," is a gem that brilliantly evokes the Prohibition era in lyrics scattered with old-time gangster colloquialisms.)
But back to those unrecorded Steely Dan rarities. Being that the original records are the first touchpoint in band preparation for any song, how do they commence creating charts and rehearsing when there is no original record to reference -- for songs like "The Bear," "This All Too Mobile Home," or the afore-mentioned "The Second Arrangement"? Believe it or not, Fagen says they use the same source that their fans use: YouTube, where any number of bootleg demos of unreleased Steely Dan songs can be found. Indeed, a phenomenon that one would expect the perfectionist Becker and Fagen to cringe over has turned out to be quite handy for them. "The sheet music is long lost," says Fagen, "so I just transcribe them from YouTube or I get Jon Herington [lead guitarist and musical director] to do it."
YouTube, it turns out, is one of the few social media platforms that Fagen admits to having time for. He guarantees that other than his recently launched Facebook page, which is administered by his own people, and the official Steely Dan website, he currently maintains no online platform. "I've never had any kind of Facebook or [social media] presence." What about Twitter? "No, I've never had a Twitter account," he says, which verifies what many Twitter followers have long suspected: The "blue check verified" account claiming to be Donald Fagen has nothing to do with him (hear that, @verified?). Fagen continues, "There have been many people using my name on Facebook and Twitter over the years, and now we just don't pay any attention to it, it's really more trouble than it's worth [getting fake pages taken down]."
He's even pulled, for the time being, his official donaldfagen.com website (it now directs to the Facebook page), mainly for practical reasons -- "I felt like I was getting ripped off," he says. That site, by the way, was a treasure trove of wry essays, including a series where he pricelessly skewered certain individual critics. Although he says he deliberately avoids reading reviews "because it's depressing," they have occasionally found their way to him ("Every once in a while, some friend would think it was funny to send me these bad reviews, stuff with soul killing comments in them"), and his answer was to parody the critics on his website. "I always feel that [critics] don't know what goes into it... they just seem to be so cruel a lot the time, or so flippant about what they say. It's not necessary to be cruel to say what you don't like about something. So I thought it would be totally fun to just destroy them." He adds, "That's just my sense of humor though. I'm sure it was offensive to plenty of people."
Although sensitive about cruel music critics, Fagen expresses appreciation for such Steely Dan parody as the Yacht Rock web series. "They were funny," he says, "In fact, a few years ago [2006, on the Sugartooth McDan tour] when we went out with Mike McDonald, the guy who did them [Yacht Rock creator J.D. Ryznar] came to a show... we knew he was coming, so Mike, Walter, and I came out with these yachting caps on." He deadpans, "Apparently, his mind was blown." Indeed, after our conversation I contacted Ryznar about this incident, and he confirmed Fagen's assessment: "It was a highlight of my life. Chills for years."
So what's next on the horizon for Fagen? Outside of touring, Fagen is currently producing a second album for Oh Whitney, a band his wife Libby Titus discovered when they were vacationing in Mexico. And look for the "Dukes of September Rhythm Revue" to hit the road again in 2014: "We're going to keep it going. We've had requests, both from the States and from Europe." In fact, a special "Dukes" show was filmed for a PBS special this past November, and Fagen said there is expected to be a DVD of it released. "They'll probably use it for one of those fundraising extravaganzas," he says.
But the big question is whether Becker and Fagen will be heading into the studio again soon, as has been rumored (Steely Dan's last recording was Everything Must Go, in 2003). "We keep talking about it, and we had a little talk about it a couple weeks ago," Fagen says, "We're going to try, when we're on the road, to get something together... we have a notebook of stuff that we were working on together some time ago, and we'll start adding to it."
He notes, however, that the collaborative process is not as easy as it once was: "I think when you advance in years, you get kind of set in your ways, and it's easier to be a solo artist, in the sense that there are certain very personal things that you want to say, so it's a little harder for both of us to collaborate in the way that we used to."
Of course, anyone who's heard Becker and Fagen interviewed together knows they still maintain a style of off-the-cuff repartee that projects a downright symbiotic relationship. So do they ever disagree? "We've hardly ever fought," says Fagen, "But I think that's maybe not so healthy, because we're both so terrified of confrontation. We've probably swept entire wars under the rug over the years."
"But that's OK, because we are still working together, and we do have a lot of fun"
Photo credit: Danny Clinch
Popular in the Community