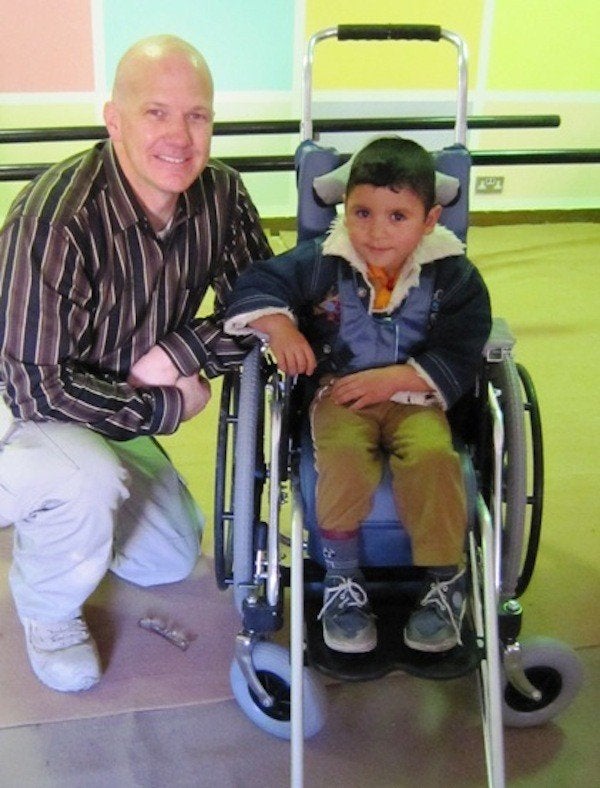 Brad Blauser landed in post-9/11 Iraq for selfish reasons: he was nearly bankrupt and accepted a job working as a civilian in an Army supply warehouse. Soon after his arrival however, Brad's plans changed.
"I thought I was going to Iraq to get my life straightened out financially, but fate had a different reason for my purpose in Iraq."
Brad heard stories about parents carrying their disabled children for miles and witnessed young children dragging themselves through the streets, while their most basic medical needs -- crutches, wheelchairs, disability support -- remained unmet.
An Army surgeon told Brad that wheelchairs were the most pressing need for disabled Iraqi kids and Brad immediately set out raising funds for wheelchairs and establishing the nonprofit Wheelchairs for Iraqi Kids (WFIK). To date, the organization has outfitted 863 children with wheelchairs, at a cost of $2.5 million.
According to Brad, pediatric wheelchairs are not widely available in Iraq because of the high cost of manufacturing and fitting the wheelchairs to each child. Moreover, the state of Iraqi healthcare has been seriously crippled by the war.
"Basic healthcare was virtually non-existent for Iraqis as most medical staff had fled the country. Rehabilitation hospitals were closed and looted of much needed equipment," Brad said. "Now they are open again, yet in need of major renovations and equipment."
Shortly after Brad's work was featured on CNN in 2008, General David Petraeus helped him determine a way to stay in Iraq and focus on WFIK fulltime.
Hundreds of wheelchairs later, he still remembers one of the first children he met through his efforts.
"During my first wheelchair distribution event at a border command post on the Iraq Syrian border, a young boy named Alaa old pulled himself along the ground approaching me from behind," Brad said. "He asked me 'Mister, I can have a wheelchair?' and I lost my breath for a split second, I had to regain my composure."
Brad describes giving Alaa a wheelchair as a process that transformed the young boy into "a person of worth and dignity."
"For all his 10 years, he dragged himself through the desert sand...and he was given a respectable way of getting around. He became eligible to attend school for the first time because he didn't have to be carried."
Due to the departure of General Petraeus from Iraq, Brad had to return to a day job, but remains in Iraq and focused on maintaining WFIK, the only nonprofit working with disabled Iraqi children.
And as U.S. troops leave, Brad faces more challenges. U.S. State Department staff and military leaders have allowed WFIK to organize distributing events on bases, providing security for events and transportation for the wheelchairs.
Brad has located a Baghdad factory that could potentially make pediatric wheelchairs, but has so far been unable to raise $75,000 necessary to make it fully operational.
Brad contends that the organization receives support from "a large showing of individuals and organizations from across a broad spectrum of political backgrounds," and says the support of the U.S. military has been invaluable in giving him the access and security he needs to carry out his work.
He hopes to continue his efforts on the ground in Iraq as well as expand his work to Afghanistan.
Related
Popular in the Community