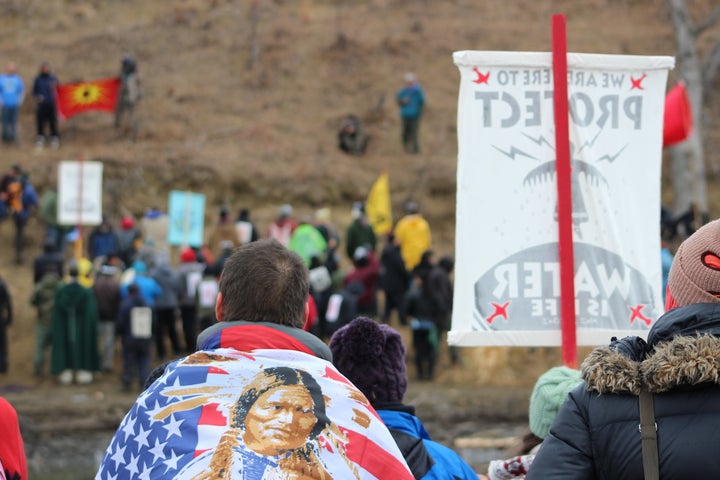 The day after Thanksgiving, the Army Corps of Engineers gave an eviction notice, December 5, 2016, to the largest gathering of Native Americans and supporters in recorded history. Concerns for escalated violence are high.
On Sunday, November 20, 2016, I experienced first hand the intense pain of tear gas as I supported an event at a barricade on the bridge by Oceti Sakowin Camp. I saw hundreds of people being doused with water by a water cannon on top of a military vehicle and dozens more doused with fire hoses in below-freezing temperatures as they protected their campfire which was built to prevent them from getting hypothermia.
All around me and before me, dozens were shot with rubber bullets, compression grenades, and countless more were sprayed with mace by the Morton County Police.
Throughout the twelve hour, overnight confrontation, I also witnessed extraordinary acts of restraint and commitment. An elder chanted and stepped side to side in prayer for hours despite being repeatedly sprayed with freezing water. Native American men rushed through tall grasses on the riverside to put out fires started by the tear gas grenades with their own bodies.
Water protectors chanted "Mni Wiconi, Water is Life!" repeatedly, despite having their sisters shot in the head and their men shot in the groin with rubber bullets beside them. My heart broke, however, when I saw the young adults who formed a human wall for hours to protect their campfire, fall to the ground when the police shot them with rubber bullets. Later, I learned a young woman had her arm amputated after the damage done by a compression grenade. Another young woman has lost the use of her eye.
40 people were arrested the day after Thanksgiving at a peaceful prayer event, the total count is well over 400, for exercising their right of free speech. The police brutality at Standing Rock has shocked the world and yet the greed of the corporations, who will stop at nothing to increase their profits, surprises no one. Americans are realizing that the new patriotism is not to blindly chant how great America is, but to speak up, show up, and stand up to the horrific tragedies our government is willfully causing.
Today, ten thousand strong people are at the main camp, Oceti Sakowin in Standing Rock, North Dakota. Never before has there been such a gathering to stop a pipeline, not only in the terms of sheer numbers of people but the significance of people as well. Groups from all over the world, including Japan, New Zealand, Hawaii, and over 300 indigenous tribes, many of them sworn enemies, have come together peacefully to pray and stop the Dakota Access Pipeline.
Pipelines are nothing new. 72,000 miles of crude oil pipelines cross rivers and residential areas across the USA. This pipeline, however, gained national interest when LaDonnah Brave Bull Allard and seven Sioux Nation Native Americans noticed that the pipeline was re-routed from a white neighborhood above Bismark to their treaty land. The pipeline would go beneath the Missouri River and near seven different points of water, above their reservation, and through ancestral burial grounds.
The pipeline has never gone through the proper environmental or cultural assessments and was never given permission to go through the Sioux nation 1851 Fort Laramie treaty land, which is being cared for by the Army Corps of Engineers.
When LaDonnah made the request for support to help stop the pipeline she "thought maybe forty people would show up." Instead, thousands are flocking to the site, raising awareness with international media.
Non-native and native alike are selling their homes to move to Standing Rock in solidarity. Florence, Cheyenne Sioux River mother of Kalen, a 17-year-old young man who was one of the original seven campers at Sacred Stone Camp in Standing Rock said, "We should listen to our young people more. My son and six others began this with silent prayer and signs. That's it. They always intended this to be prayerful, not violent." The reports of demonstrations escalating to violence have not deterred supporters, however, arrivals with women and children are only increasing.
Their fervor is warranted.
The Missouri River is upstream from 20 million people who stand to have their main water source polluted beyond repair. Dallas Goldtooth stated, "It is not a matter of if, but when the pipeline will break." The website DAPLLies.com clearly shows the devastating impact that oil spills have on the health of the people downstream: tumors, leukemia, miscarriages and more.
Over 300 pipeline breaks are recorded each year, spilling over 300 million gallons of oil into water and land, causing billions of dollars of clean up and years of toxic pollution.
John Bolenbaugh, producer of DAPLLies stated Wednesday night at Standing Rock, "The same companies who create the pipelines are also the same companies hired to clean up the spills, with federal funding, so they often ignore the reports of cracks in pipelines for years and wait for them to break. Then they cut corners, instead of cleaning up the oil. They cover the spills with mesh and grass seeds."
The majority of the people flocking to Standing Rock or donating ten, twenty or a hundred dollars are not driven only by the above atrocities. There is a deeper drive of injustice. Millions of Americans have realized over the past few years, that corporations are bullying and bribing our government to put the profits of corporations before the wellbeing of our children and citizens.
We live in a nation that puts wealth before health. The result is a country full of sick children, ailing loved ones and angry citizens.
Pennsylvania mother Zoe Swartz said of GMOs and pesticides on our food, sprayed with chemical cocktails which contain petroleum, "A chemical company's right to make a profit in no way surpasses a mother's right to protect her child." Apparently, Obama and the Governor of North Dakota do not agree, however. With one phone call, either of them could stop the pipeline and police brutality, which is happening at Standing Rock.
To find out more about Standing Rock or to donate go to www.ocetisakowincamp.org. To learn more about DAPLLies and oil spills go to www.helppa.org.
Contact zen@momsacrossamerica.org www.momsacrossamerica.org.