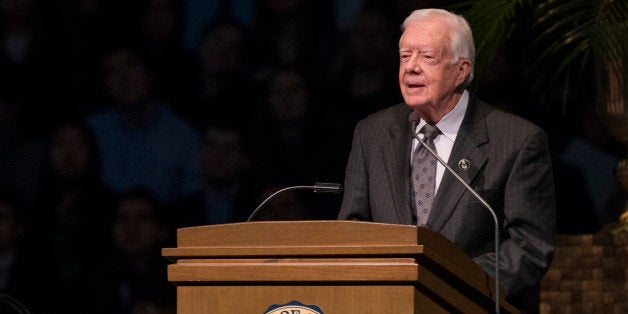 The announcement by former President Jimmy Carter that he has liver cancer and that it has spread was sad news.
Cancer of any sort is devastating to hear about by the patient and his/her family, but liver cancer with metastases seems almost too much of a Goliath to confront.
And yet, Mr. Carter will confront it, as he has always confronted the difficult things in and of life.
By all accounts, Mr. Carter should not be on the short list of an African-American seeking racial justice in these United States. He is a Southern white man. That combination of monikers is a recipe for a personality type which historically has not had the interests of African-Americans in mind.
But where Mr. Carter comes from and lives, and his race, make little difference when one considers that this Southern white man has always stood up and fought for the rights and dignity of "the least of these."
He has not been a favorite of the American political elite. Over the years, he has been disparaged over and over again.
And yet, he has been steadfast and immovable, as the Bible describes we should be, in his quest for human rights for all of God's children. He has remained a member of his small church, teaching Sunday School as often as his schedule permits. He says he likes to teach and that he has been in different places, going house to house "explaining the plan of salvation to people who did not have any faith. A lot of them have accepted Christ."
The language seems strange coming from a politician because politicians so often either talk in generalities, so as not to offend any part of a potential voter base, or in language which comes off as judgmental and demeaning to anyone who does not believe as they do.
Mr.Carter's language does neither.
This former president... has held onto Jesus... and has taught Sunday School for as long as he has been in politics and longer in a church whose membership is about 30. That just seems incredibly counter to the political culture of today.
His language is not offensive, though, because he has lived what he has been teaching. He believes in salvation for everyone; he hasn't separated the worthy from the unworthy. After he left the presidency, he formed the Carter Center and he said that:
For the past 35 years, almost all of our work... has been among the poorest people in the world. For the people who don't hae peace, we negotiate agreements that end wars and prevent wars. We promote democracy and freedom by holding elections in troubled countries...This year, we'll treat about 71 million people, mostly in Africa, so they won't have terrible diseases.
Mr. Carter seems to have been captured and captivated by the words and directions of Jesus the Christ. Peace is what he has always sought, peace and democracy and a love for each other. He brought together Prime Minister Menachem Begin and Egyptian President Anwar-el-Sadat at Camp David, seeking peace, and when he announced the treaty they agreed upon, he quoted the Beatitude that said, "Blessed are the peacemakers, for they shall be the children of God."
This Southern white man will talk about racism, which many politicians are wont to do unless cornered. He thinks "extreme racism" is on the rise and he doesn't like it. He believes in gay marriage and says he always believed gay couples should be allowed to marry but does not believe a church ought to be ordered by the government to perform marriages for gay couples if they do not want to.
He thinks the deal between Iran and the rest of the world brokered by Secretary of State John Kerry is a good one and thinks Kerry is the best Secretary of State this nation has had in a long time. This deal, he believes, will be good for the entire world.
The reason why, one must presume, is because the proposed deal is a vehicle for peace, which he has always believed is the will of God. He believes America can be a superpower on earth... if America is a champion of peace.
That feels like the internalization and digestion of Jesus' words for those who believe in Him to be peacemakers.
Now, Mr. Carter must attend to the battle which is warring within his body. There is no secretary of state to broker a deal. There is no summit which can be called to bring those disgusting cancer cells to a negotiating table, called to accountability by the yet-healthy cells of his body which stand to be destroyed as the cancer cells go on their quest of victory in this battle. The cancer cells are equipped, it seems, to handle the opposition; they seek death; the opposition seeks life and... peace.
The poet Langston Hughes wrote, "Life ain't been no crystal stair." Surely, that is the case and has been a reality against which Mr. Carter has fought his entire life. Now, at age 90, he must become involved in a battle which promises to be brutal and without mercy. No crystal stairs here.
The warrior Jimmy Carter is on the battlefield. It is a battle I for one wish he did not have to fight.
Related
Popular in the Community