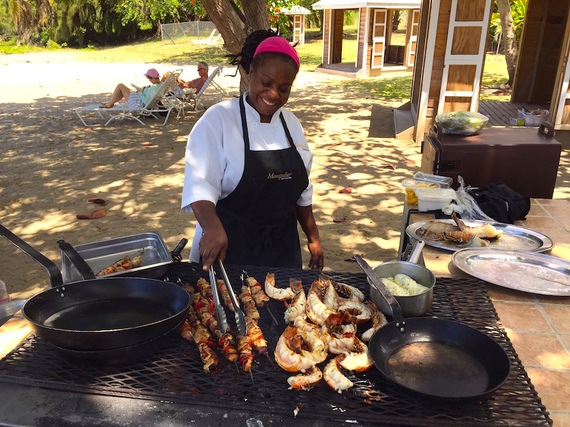 Last week I wrote about Nevis as an island that has maintained its unique Caribbean character, history and culture, with only one large resort, The Four Seasons. So, too, in addition to many restaurants offering a diversity of European or American cuisines, most of the villas and guesthouses strive to serve food of the islands--as often as possible on a sun-bleached beach.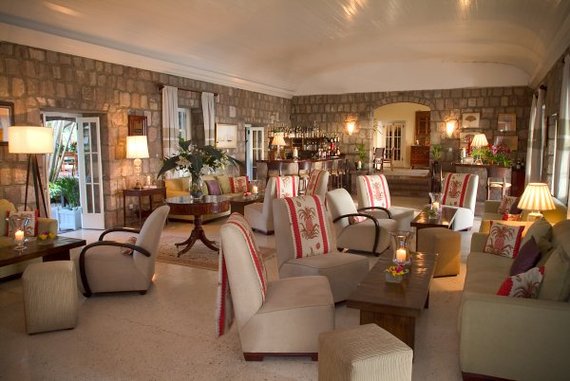 On my recent stay at Montpelier Plantation, sequestered amidst tropical greenery and built into the island's rocks of the foothills, I found that as much as possible everything is made on the premises, including excellent breads in the morning, along with pastries and fresh fruits.
At night, after rum cocktails in the villa's Great Room (above), dinner is served at Restaurant 750 on the candle-lighted veranda, where Chef Stéphane Caumont shows off his French technique in adapting dishes to global and Caribbean flavors, like his superb yellowfin tartare with wakame seaweed, avocado, and spicy wasabi mayonnaise. He marinates bell peppers in a salad with goat's cheese, spinach and serves it with housemade breadsticks.
Red snapper is ubiquitous on menus down there and Caumont does a splendid rendition, carefully pan-seared and sided with assorted vegetables, an herbed couscous and a deliciously tart lemon beurre blanc. French chefs often overdo pastas and Caumont's spinach-ricotta ravioli came lavished with pecorino cream, raisins, pine nuts, and a sun-dried tomato pesto, with confused results. Also, serving only six ravioli as a main course seemed a little ungenerous.
Desserts proved to be as good as all breads and pastries at Montpelier. White chocolate mousse with passion jelly, coconut foam, crumble, and cocoa was delightful that evening, but I also sampled the cheeses--unexpected in the Caribbean--and found them first-rate.
All of this is accompanied by a reasonably priced wine list that covers all bases for this kind of cuisine. The fixed price menu is $78, plus 24% tax and service charge, so you need not tip further.
In keeping with the hospitality here, the villa is happy to pack a picnic lunch for beachgoers, and upon leaving, we were given the same for our ride back to the airport. This is a very civilized place where the staff bends over backwards to please you from joyous arrival to one's sad leaving.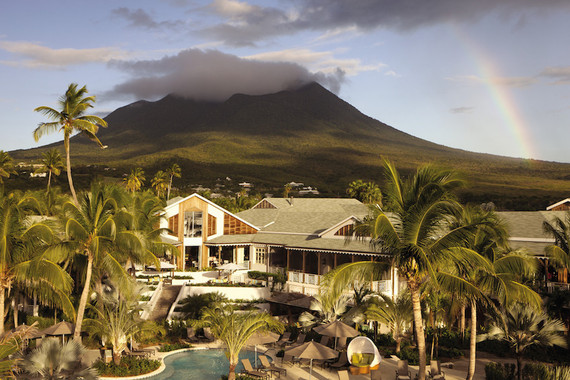 I noted The Four Seasons (above), which sprawls over the landscape at Pinney's Beach with its own golf course, tennis courts, state-of-the-art spa, many family activities, luxury beach houses, and several options for dining. Despite its size (and a hurricane put it out of business for two years), the resort intrudes very amiably into the landscape, and the architecture fits the island impeccably, with a profusion of as much greenery as possible.

We opted to dine at the resort's Mango restaurant, whose 101 Bar takes its name from the same number of rums it stocks, arrayed and lighted against the wall like bottles of amber. Here they happily do flights of three rums for you to taste; we tried a Ron Zacapa XO, an El Dorado 21 Year Old, and a Clément 10 Year Old. Many of the rums here don't reach the U.S., so you can get a quick education on what you've been missing.
Mango (which will be closed for two weeks at the end of October) is a casual spot best appreciated at twilight, when the sun is going down in its fiery dramatic fashion, sometimes with a green flash on the horizon, famous in the Caribbean. The menu is Caribbean, and we enjoyed dishes like crisp, hot barbecued empanadas stuffed with juicy pulled pork and plantains with a terrific avocado-garlic aïoli; Caribbean snapper, served whole, is dusted with Cajun seasoning, dredged in flour and fried, with cassava fries on the side and mango-tomato salsa; divers' scallops are quickly seared with Cajun spices and served with lush and creamy guacamole and wonderfully tangy pickled mango. There's even wagyu-style beef fajitas, and for dessert rice pudding, rum cake, and chocolate mousse, all of which are well complemented by an after-dinner tot of rum. Maybe even a flight.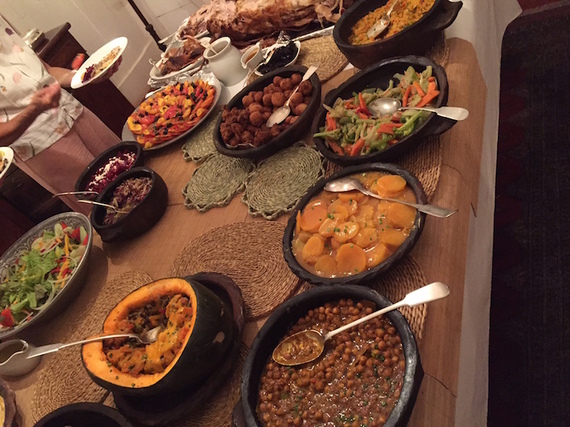 On another evening we joined a jolly bar crowd at Hermitage in Figtree Parish, whose wooden house is said to be the oldest on the island, carefully restored and maintained by the Lupinacci family of Philadelphia, who have owned it since 1971. A Caribbean "Pig Night" buffet and pig roast (above) was in full swing, prepared by local Nevisian cooks Lenny Liburd and his assistant Super Cat cook, who smoke and carve the pig and surround it with many ceramic pots of sweet potatoes, red beans, johnnycake, rice and salads galore. Everyone helps himself, everyone laughs, everyone goes back for seconds and thirds.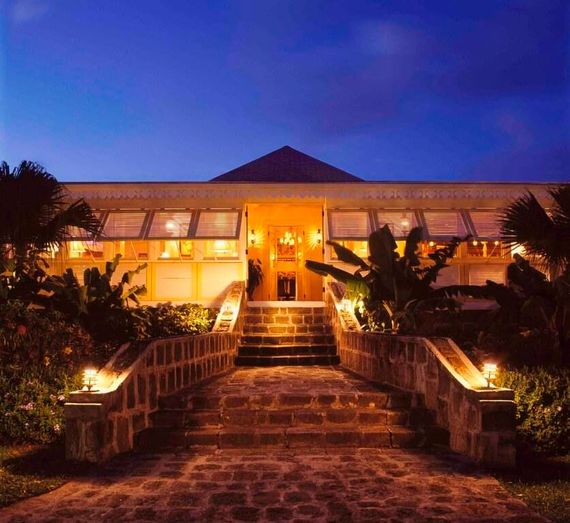 Owner David Dodwell's Nisbet Plantation in Newcastle on the beach (above) has long been considered one of Nevis's finest restaurants and villas, and our experience did nothing to disprove the claim. It is such a pretty dining room, full of fine antiques and historic artwork, as is the windswept veranda within view of a vast lawn leading down to the sea. Our dinner, by Filipino-born Chef Tony Piani, included tender roasted pumpkin and creamy green pea risotto and prosciutto crisps; expertly fried tempura of sweetbreads and cauliflower with a lemon caper drizzle; and a superb Korean-style beef tenderloin with an egg noodle stir-fry and Asian vegetables. These were all so good and out of the ordinary for a Caribbean restaurant that the sautéed chicken breast with wild rice pilaf and Marsala mushroom sauce seemed a tame throwback dish. For dessert the chocolate opéra gâteau was an impressive, decadent rendering.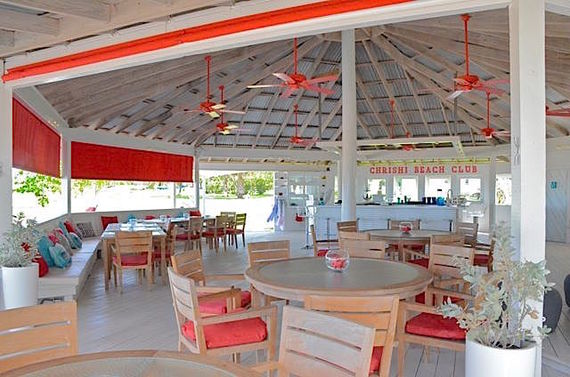 Next day we were at the Chrishi Beach Club (above) on Cade Bay, where Hedda and Christian Wienpahl have fashioned the ideal spot to have good, casual food and drinks on a snowy white beach, with a good kitchen that turns out the island's best burgers--seven different kinds--a creamy roasted tomato and red pepper soup full of fresh shrimp, and five-spice slow-roasted duck noodle stir fry. You come to the beach in your bathing suit, you have some lunch, you stay a little longer at the beach, have a cold beer, lean against the pillows, and soon the afternoon has been successfully shot.
At Sunshines Bar & Grill, on Pinney's Beach, a kind of overstuffed shack of memorabilia and flags left by celebrity guests, the best items are the BBQ chicken wings and lobster sandwich, and the signature drink to have is the powerfully rum-based "Killer Bee" rum punch, which goes down way too easily.
Another very casual option is Bananas Bistro on the Hamilton Estate, founded by Jillian Smith, a former can can dancer turned hotelier. Opened on a shoestring and named more for her state of mind than for its trees, Bananas Bistro has a rustic, funky charm best appreciated on the veranda, where we enjoyed a chunky lobster salad sandwich, snapper with lemon butter sauce and fragrant basmati rice; and a spicy Thai red curry; and a delicious platter of sticky guava barbecued ribs with Caribbean coleslaw.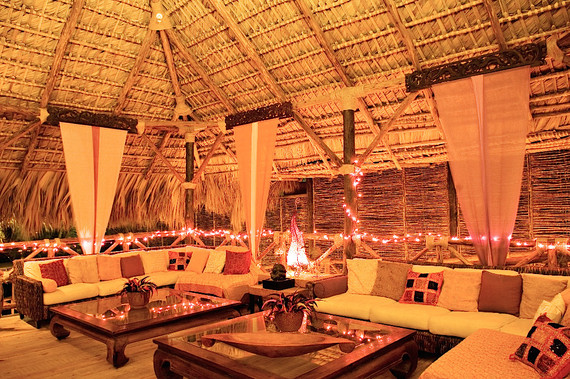 Our last meal on island was in a remarkable spot, Coconut Grove Restaurant (above) at Nelson's Springs, which appends "Wine Lounge" to its name for good reason. Owners Karin and Gary Colt maintain an amazing temperature-controlled cellar of fine wines you'd be hard put to find anywhere in the Caribbean. The buildings here are all thatched, so you dine under a tall canopy, looking out to the sea and up to the stars. Chef Stephen Smith makes his own pastas as well as a cream foie gras torchon laced with rum, a baked Camembert round touched with Calvados, and an abundant Creole-style seafood stew; there's even a mole poblano on the menu, served over rice with nuts and coconut shavings.
Too often in the Caribbean, restaurants try to please tourists' taste with the same common denominator in the assumption that was it local is of little interest. On Nevis, restaurants at the top of the hill and down on the beach are more representative of a cuisine that came on the tradewinds, made by people who are proud of that long, well-seasoned heritage of local and foreign flavors.
Related