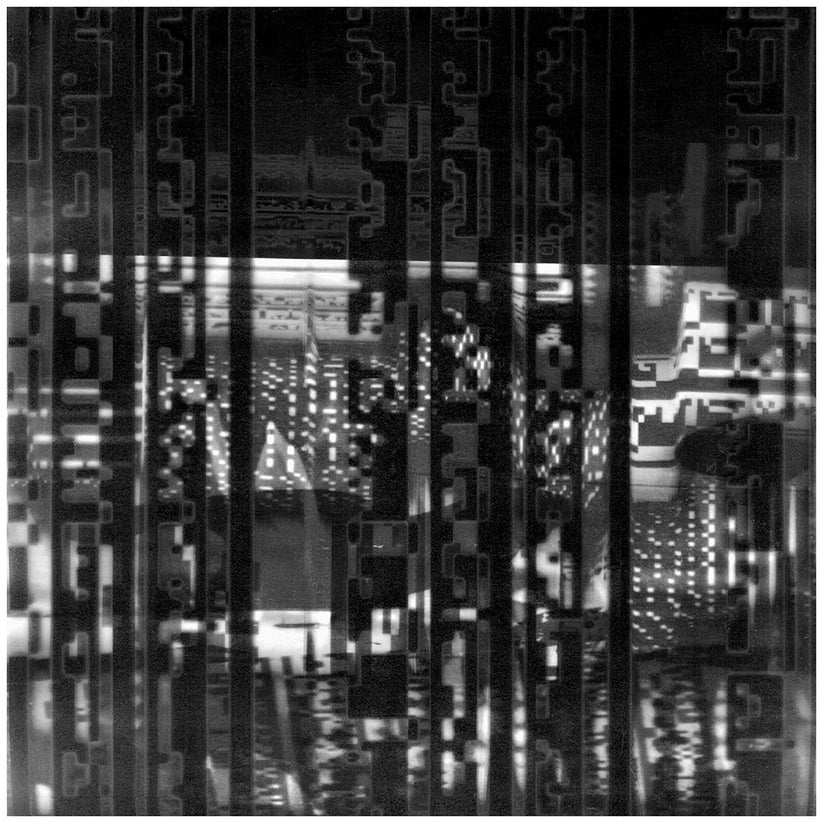 Spanning over four decades, Creighton Michael's studio practice can be seen as an insatiable desire for exploration and discovery directed by the endless potential of drawing activity. Often hyper-focused at times – always with an eye for change –his creative mind and his restless spirit have found renewed inspiration at every juncture of his journey. For most of his career, Michael has, in many ways, been driven by an artist's ability to transform a random mark into a gesture or "digital phrasing" with results that can be two dimensional, three dimensional, or even, suggest the multi-dimensional.
We are at a time when boundaries are frequently blurred or intensely defined by everything from politics to public behavior as the digital age becomes more invasive. What Michael does is incorporate certain disturbances of pervasive media into his art rending fractured filaments of virtual units that are first digested, then layered to create a mutable visual language. To get closer to the root cause of the growing content of Michael's art I recently had the opportunity to discuss his motivation.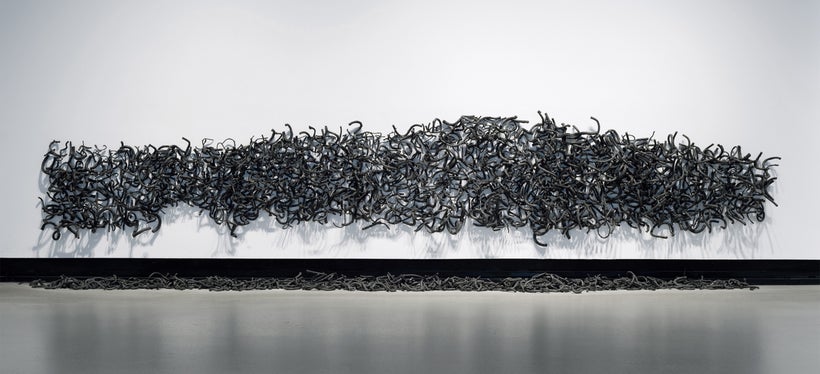 DDL: I believe the first time I realized that you were on a very long journey into the notion of 'drawing' was when you were creating the SQUIGGLE series using graphite and paper coated rope back in the early 2000s. The fact that you were making lines in 3D coming off a gallery or museum wall, floor or pedestal really activated my thinking about line in space and time. This was especially effective in the way the 'physical' line was changing its gesture as the viewer moved around the work, and how the incorporation of cast shadows enhanced the ambient space. What was your thinking here?
CM: I had been thinking for some time about ways in which drawing activity could be a shared experience that engaged the viewer. In early 2002 with the help of three interns, I began to explore approaches that mimicked the chorography of a gesture. My initial attempts developed a series of wire based "drawing kits" whose installation depended on the decisions of another and whose identity as a "drawing" was always fluid. With strong parallels to music this series, titled GRID, lacked some of the physicality of a drawing episode. I wondered, "If I could distill a traditional drawing and make its elements three dimensional, what would I have?" My answer was an assortment of physical "marks" comprised of graphite (or charcoal) and paper. Realizing that cotton rope would be a perfect substructure, I began to develop a recipe for making "marks" and a strategy for installation. SQUIGGLE as the series would be known did capture the variety and intimacy associated with traditional drawing. Unlike drawing however, which characteristically records a moment, action or image in time, Squiggle remained transitory in nature.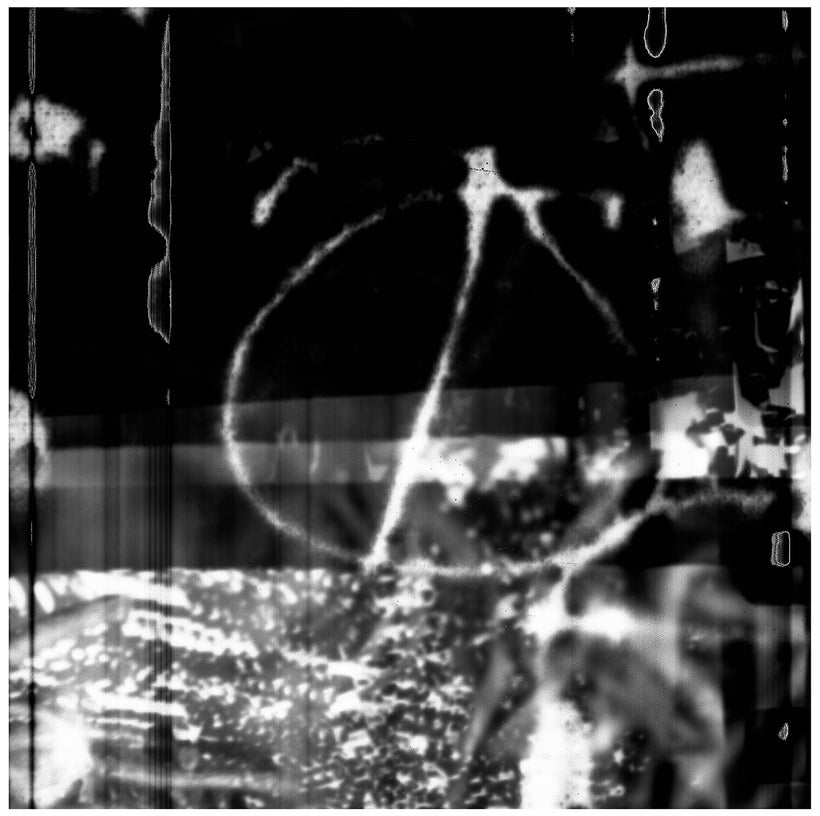 DDL: I may be jumping ahead a bit, but the TAPESTRY series of 2011 appears to be a digital extension of the SQUIGGLE series, only in negative tonality – something like a rayograph of a SQUIGGLE, at least aesthetically. Do you see a direct connection there?
CM: I see a similarity in process as well as a desire to expand the boundaries of his medium, which was photography. My exploration in drawing digitally began in 2010 when I laminated past episodes of marking activity documented either by video stills or 35mm slides. This alternate approach to mark making initiated a novel way of working resulting in a series of composite drawings titled, TAPESTRY. Later additional facets of my studio practice such as sculpture residue, solar plate acetates and extraction patterns, which are distilled digitally from images of existing work, were included in the layering process creating not only a chronicle of personal marking history, but also another direction for drawing.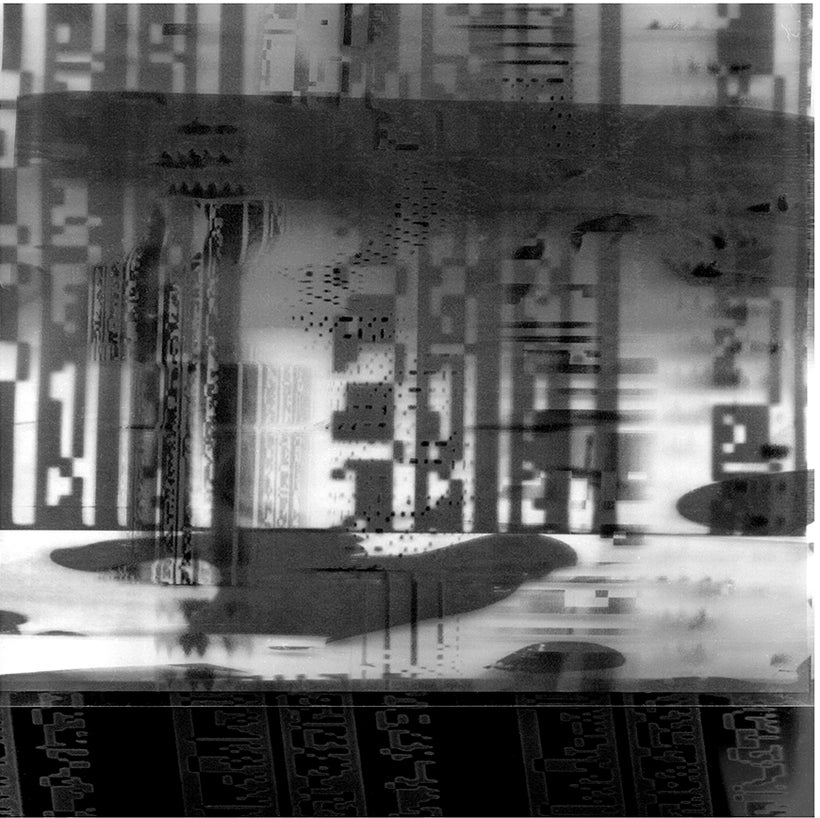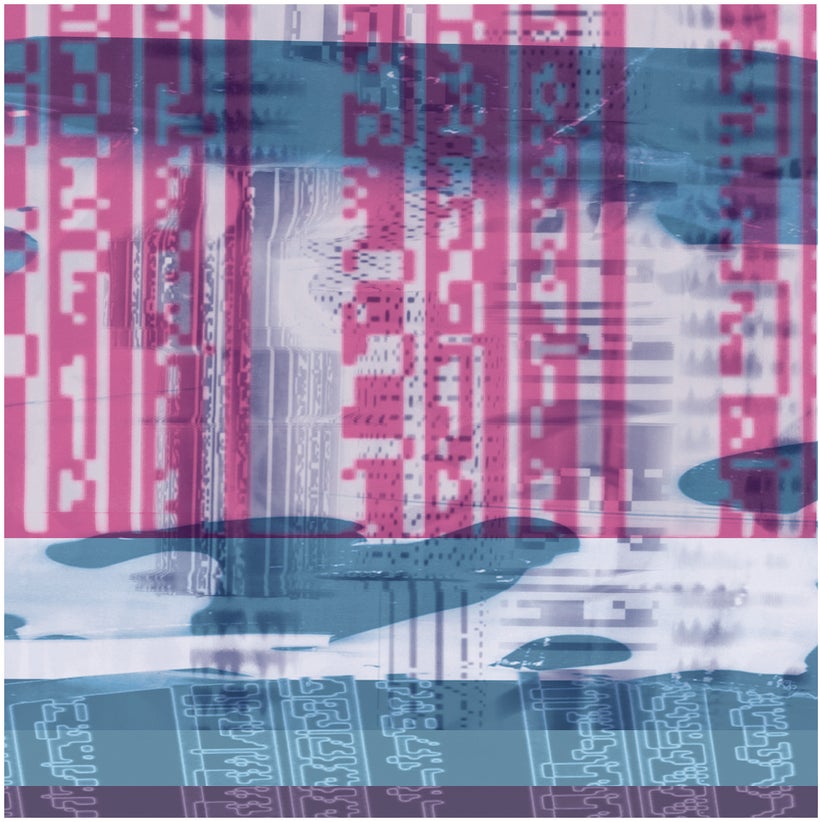 DDL: The last show of your work at the Katonah Museum of Art included paintings where you attached multiple layers of acrylic bands covered in 'digital noise'. They were an amazing rendition of drawing, especially in our intensely media driven age. The prints you are now showing are similar to those paintings, in that they suggest swift movement and depth using abstract digital symbols. How are they done?
CM: INd 6317, like Tapestry 3610 before it, is a stratiform drawing constructed of previous marking episodes that in this case have been converted to corrupted image patterns through a computer anomaly. The CHRONICLE pieces, showcased in an exhibition this summer at the Katonah Museum of Art, share the same digital information with the addition of synthetic calligraphy, thus interweaving analogue and digital approaches. The INd series is the initial phase of the INd Suite developed from a combination of digital and color intaglio techniques currently in production under the direction of master printer, Christopher Shore, at the Center for Contemporary Printmaking in Norwalk, Connecticut.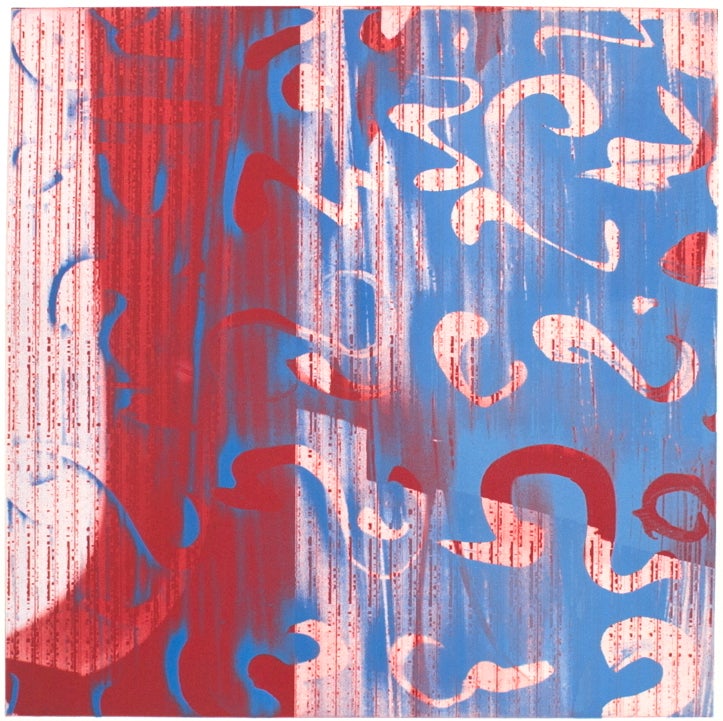 DDL: Your one-person exhibition at The Norman Shannon and Emmy Lou P. Illges Gallery at Columbus State University will be a very wide-ranging view of your work since 2000. Aside from what we've already discussed, can you tell me about your mysterious PUNCTUATION series and the large, beautiful tour de force, Vernacular 516.
CM: Paralleling Moholy-Nagy's act of disengagement recorded in his 1922 Telephone Paintings by establishing a distance of time and space between artist and product, I emailed Chris Shore three digital files reflecting recent work accompanied by an assortment of color samples with a request to select various combinations and orientations that would create a set of unique intaglio prints. We had no further contact until the series was complete and we met to sign and number the prints. Vernacular is the precursor to CHRONICLE in both process and content employing past marking activity in the form of transdimensional motifs (extraction and corrupted image patterns) layered with synthetic calligraphy. Arranged as a pentaptych, this lateral narrative suggests a cadence and spatial illusion more often associated with movie projection.

Pressing Matters: Print in the Digital Age runs from January 11 – February 24, 2018. The Opening Reception is January 11th from 1–5pm. There will be a Panel Discussion with the artists from 2–3pm on Saturday, January 13th. Washington Printmakers Gallery is located at 1641 Wisconsin Avenue, NW in Washington, D.C.
Calling all HuffPost superfans!
Sign up for membership to become a founding member and help shape HuffPost's next chapter
This post was published on the now-closed HuffPost Contributor platform. Contributors control their own work and posted freely to our site. If you need to flag this entry as abusive,
send us an email
.