Praised by food critics and celebrity chefs including Art Smith, Gusto executive chef Vic Casanova crafts Italian soul food using seasonal ingredients and fresh hand-made pastas. While you might recognize him from an appearance on "Iron Chef America," he established his reputation as the lead chef at top-rated Culina at the Four Seasons Hotel in Beverly Hills.
Esquire magazine named Gusto one of its Best New Restaurants and Zagat ranks it "very good to excellent." Up next, Chef Casanova will open Italian steakhouse Pistola and serve as the menu mastermind behind Jessica Biel's kid-friendly restaurant, Au Fudge, where he hopes to build on Gusto's success.
We spoke to Chef Casanova to find out about his dining philosophy, family life, new restaurant projects and more: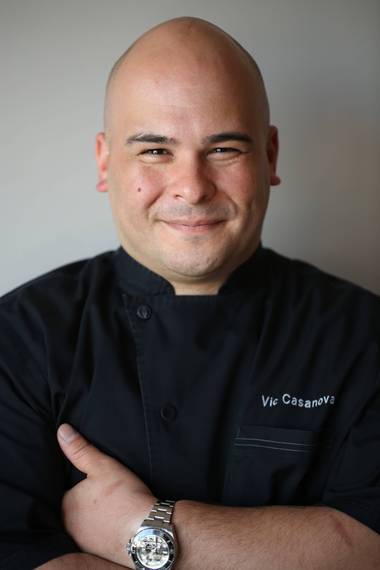 (Travelzoo)

At Gusto, what is your favorite dish on the menu, and why?
That's a tough question to answer. This whole menu is always rotating. What I like about the all'amatriciana, which is less recognizable -- more people are familiar with bucatini carbonara, right. However, the all'amatriciana, we take guanciale and it's slowly rendered down until it gets nice and crispy. As tradition, the tomato cooks down for hours. It gives you this rusty tomato flavor that's a hallmark of that region. So I just love that. The pasta we make in-house goes into that. That cooks until it becomes one and then it gets finished with a little pecorino. Why that dish is so special to me is because I feel like it shows another side of the tomato.
How would you describe your food philosophy?
Simple. Everything I do, it all starts with tradition. At the end of the day, it's very Italian in a sense that we use the best products we can get our hands on, we keep the food very simple, we let tradition dictate the route. We let those ingredients shine and, given the simplicity, we get something really, really good and it's not convoluted, it's not contrived. It's delicious in its purity.
Do you still get recognized for competing on "Iron Chef America"?
You'd be surprised how many people come in every single night, and there was a key dish that I did on "Iron Chef America" that is on the opening menu of the new restaurant that we're building. And that's the carbonara. When I was on "Iron Chef America," it was battle with live trout and so we did a really cool play on carbonara. It's going to be on the Pistola menu. At Gusto, we just do an old-fashioned carbonara.
Describe what your typical day is like.
In the morning, it's like Grand Central in my house. We have a 90-pound boxer; I have a 3-year-old daughter. I hold Jake [6 months old] and we go to the backyard with my daughter and the dog to hang out and play. And that's my downtime for the day. That's the time I have to spend with everybody. Then I'm off to the restaurant to meet up with the guy who makes pasta. Our pasta is made fresh every single day from scratch, by hand. We dedicate a lot of resources to that. After that, I go into the dining room and do menu development. Before you know it, it's time for pre-shift and a meeting with the whole restaurant staff. Then we get going.
Bigger foodie: Jessica Biel or Justin Timberlake?
With Jessica being so involved with Au Fudge, I'm obviously hearing her talk about food, watching her eat and talking about what she likes and doesn't like. So I know that they both like food really a lot. I don't know; I have a hard time answering that.
What can you tell us about Au Fudge and Pistola?
They're coming along good; it's kind of crazy doing a couple projects simultaneously. Pistola, I'm hoping, is going to open mid-August. I mean, that's the goal. With construction, you can have delays that could potentially push you back. But yeah, Au Fudge is probably going be another six months after that.
You have 15 minutes; your family is hungry. What do you whip up?
The little, little one, it's almost getting time for him to eat foods. But my daughter loves pasta! In Abruzzo, it's very popular to make fat Roman spaghetti a la tomatoes. At the very end, I take hand-torn basil leaves, a little Calabrian chili, some grated Parmesano-Reggiano and good extra virgin olive oil, tossed vigorously. It's vibrant, my little daughter loves it. She loves the heat, the basil, that's her thing. The other thing she loves is orecchiette with sausage and kale; I think a lot of kids love orechiette. They're like little ears. Those are the things that make her happy when she wants to eat, so those are the things that I naturally whip up.

Gusto is located at 8423 West Third St., Los Angeles.