As one of the nation's top tandoor masters, Hemant Mathur is the executive chef and co-owner of Michelin-starred Tulsi in Manhattan. Praised by food critics, he is well known for bringing innovation to traditional Indian dishes, such as his signature tandoor-grilled lamb chops, jackfruit biryani and tandoori prawns.
Born in Jaipur, India, Chef Mathur apprenticed at age 17 at the Rambagh Palace Taj Hotel and honed his craft of tandoor cooking at the world-renowned Bukhara Restaurant in New Delhi. After coming to New York, Chef Mathur helped Devi become the country's first Michelin-starred Indian restaurant in 2007, and earned a second consecutive star in 2008. Starting his own restaurant Tulsi in 2011, Chef Mathur once again has been awarded consecutive Michelin stars since its opening (2012-2015).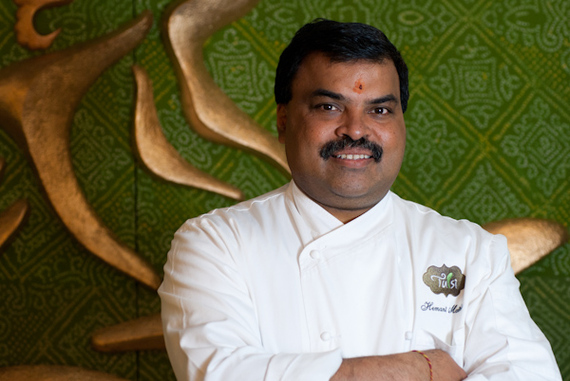 For Travelzoo, I spoke to chef Mathur about tandoor cooking, his food philosophy, the exclusive menu that he offers Travelzoo users and more:
What can we expect from Tulsi's three-course exclusive menu?

In this three-course exclusive menu, you can enjoy all of the regional [Indian] cuisine. So coming in, I will offer them a choice of vegetarian appetizers. Like one dish we are making, mushroom poriyal. You know, it's the mushrooms used in shiitake for typical mix and with coconut and whole red chili. Or for main course, I will serve them Goan seafood curry. Goa is one of the most popular tourist places in India, western city of Goa. Third course, they can try bread pudding. We make an India-style shahi tukra, so we making bread with reduced milk and top off [with] candied cashew. This is from Northern state of India. So appetizer from South, main course from West, and desert from North.
What is your favorite dish on the special dinner menu, and why?
I am especially fond of making lamb chops. I'm using very American lamb rib chops from Colorado, grilled and cooked in tandoor. This is the dish that we are cooking that people love. I'm serving with South Indian potatoes with pear chutney. First we marinate at least 3-4 hours with some ginger, garlic, spices and yogurt. Then I will cook in tandoor. Tandoor is clay pot, Indian clay pot. This is traditional cooking from India. And in this tandoor we make bread also, we cook meat, fish, chicken, everything. [The] temperature [is] almost 450 degrees Celsius.
How would you describe your food philosophy?
My food philosophy is I'm using fresh ingredients, a lot of ingredients I'm using local. Consistency also fits my philosophy. So fresh, not frozen. And vegetables from small farms. The spices I'm using from India, like cardamom, bay leaf, whole mustard seeds, cumin, whole red chili. In New York on 28th Street and Lexington, you can get good Indian spices. There is a small Indian market. Right now, my experience, I'm cooking almost 30 years. So yeah, I'm working in all good kitchens. Some traveling also. I will go somewhere and see this dish and then I will [make] some changes. And I train very well my staff to do it properly. I'm taking very seriously my cooking.
Tandoor cooking is often thought of as somewhat rustic. What can you do with that type of cooking that works with a fine-dining menu?
For fine dining, tandoor cooking is very healthy cooking, you know. There is no oil use, no butter. And normally, Indian food is very salty, but this is not. Tandoor is perfect dish, perfect [for] cooking any meat, fish, chicken. Tender, tender and flavorful, also. Normally, we use tandoor with charcoal, you know, so some smoky flavor also coming in meat. And my presentation is also very good. I [have been] working in this almost 30 years and where I learned tandoor cooking is one of the top restaurants in India called Bukhara. So I learned there and I learned from the greats there, so that's why [I cook] meats according to custom.
It's rare for Indian cuisine to receive a Michelin star; what does Tulsi do that makes it stand out above the rest?
I'm only focusing on three things in the restaurant for food: consistency, presentation and fresh[ness]. So Michelin is very serious about this. They come in here, inspectors, we don't know when. But regularly we have consistency. My Michelin star fourth year. So this is 2015, so I got one this year. This feeling is very good. Every year, I am waiting for this.
What do you like to do when you're not cooking?
Spending my time with my daughter. She's eleven. She wants to spend time, so we go some time to movies, activities. I am working too much, so whenever I get time on Sunday, we spend time together. My wife [Surbhi Sahni] and I are working; she's running her own company, Bittersweet. And she's helping me out, also. We don't have much time.
We're all about travel here at Travelzoo, so I have to ask: Where was the last place you traveled?
Last place, I went to Mexico. In May, Cancun with my wife and daughter. First, we went to Cancun, then Acapulco, then Mexico City. We like the beach and we like to see the museums, landmarks. I love Mexican cuisine; I went to one of the top restaurants with chef Patricia Quintana. I like traveling.
Tulsi is located at 211 East 46th Street in New York City.