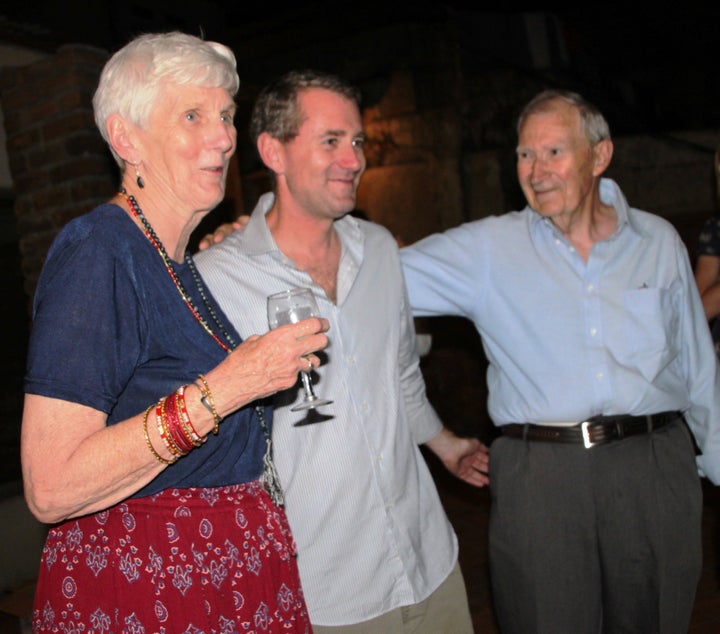 Yesterday when we said goodbye as I left your home in Colorado, it hit me that this was likely the last time I'd see you alive. When I next return – whether it be in a few weeks or a few months ― I will likely be greeted by Mom alone. The doctors predict it, and the advanced stages of cancer pretty much guarantee that this Father's Day is the last one we will have together.
I have always considered myself lucky to have won the lottery of life. I was born into a middle class family in one of the world's richest nations. I had access to great public schools, teachers who taught me to value education, and parents who constantly encouraged my voracious appetite for reading. I also won that lottery in a less obvious way ― having a father who believed in my dreams.
Each time I am asked by an investor or journalist about the founding story of Room to Read, "Woody" is a main character in the plot summary. When I told you about meeting a headmaster with an empty library in the dusty little village of Bahundanda, Nepal, you immediately offered to help run a book drive. You were alongside me a year later, at the age of 73, as we climbed the hills of Nepal with 3,000 books on the backs of six rented donkeys to make good on the promise I'd made to that headmaster. And you encouraged me when, at age 35, I contemplated quitting my executive position with Microsoft to devote all of my energies to replicating that library hundreds or thousands of times.
I'm fairly certain that part of the reason why you believed so much in this mission was because you are the only one of seven siblings growing up in poverty to have received a formal education. Being awarded a scholarship to college was truly a ticket to a better life for you, and eventually for me and my siblings. But I also think you were doing your true duty as a father, to provide unwavering support and encouraging me to persevere in the face of many doubters who scoffed at my dream of becoming "the Andrew Carnegie of the developing world." If I was ever in doubt, I could call you for a quick pep talk, and you'd tell me "John, don't ever let critics or cynics talk you out of your dreams."
Since then, Room to Read's work has taken me to hundreds of underserved communities with no electricity or running water, and to dinner tables with the most powerful people in business and politics. Yet, the moments spent with you are now my most treasured memories. I'll never forget your face and the tears we shed together when we returned to Nepal, with Mom in tow, ten years later to cut the red ribbon on Room to Read's 10,000th library. I want you to know, on the occasion of our last Father's Day together, that the work will continue. What was once a boot strapped start-up is now a global movement, thanks to your role as an early investor, volunteer CFO and most importantly, Chief Inspiration Officer. Every time I travel to the field to meet children and their parents who are beneficiaries of our programs, I will tell them about you and how the support of family was what drove me toward the unrelenting pursuit of my dreams.
As I cope with your illness and departure from this earth, I will continue to forge the path that you helped me plow. Every day, you will be with me in spirit, cheering for me and for our team. Your legacy will continue to be felt by millions of children, long after you've left this earth.
Happy Father's Day, Dad, with love.
Related
Popular in the Community