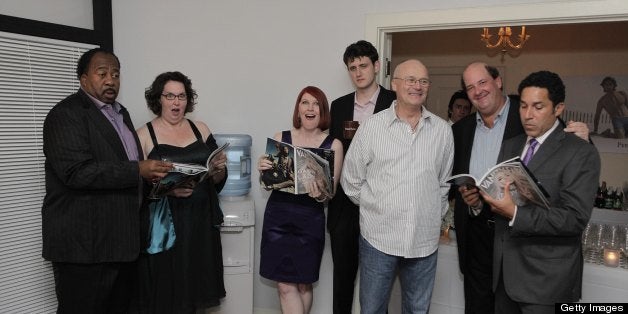 Everyone keeps asking what I am going to do now that The Office is ending. I liberated myself on live radio by simply saying, "I'm gonna kill myself." Now this is not an actual suicide note but there is a death happening because life as I know if is about to change.

The Office goes out of business this Thursday which marks the 200th episode of a nine-season TV series based on a British TV show about a documentary about a small paper company in Scranton, Pennsylvania. The TV audience got to be a fly on the wall in that office with a bunch of characters not unlike the annoying folks that most people have to work for and with everyday, year after year, rain or shine. I got to play one of those paper company workers for all but one episode. I played the drunken slut. (It was good to be the drunken slut.) I'm gonna kill myself.

The job of playing a fake employee of fake paper company Dunder Mifflin was the best job in show business. I had a place to sit! Every day after getting barrettes in my hair and minimal makeup done, I put on a turtle neck with a matching corduroy jumper or one-size-fits-all denim skirt and sat at my fake desk with fake paper work and real spider solitaire on my computer in a room with the most talented actors in the business -- before they were famous -- saying the smartest funniest lines ever written, produced, edited and shot by the most thoughtful and clever team ever put together in 2004 -- before they were all famous.
Did I mention I had a place to sit?
Before I sound like a civilian with a head injury who just fell into show business, let me say, I had worked for 20 years before The Office, doing mostly comedy in theaters and a few TV and movie jobs where they cut most or all of my lines. I got great reviews on stage and a slight cult following and I'd get a few smiles when I took their order at my Beverly Hills restaurant job on Wilshire Blvd.
To be a part of an ensemble on TV is a gift. I stopped counting lines. I was disappointed at first when my lines would get cut but it dawned on me -- I don't need to be the meat. I don't need to be the side dish. I can be the onions. It's good to be the onions. Tasty. Again, if I sound like I have a head injury, forgive me. I just lost my job. A job on a show that had a soul. Abraham Lincoln said most people are as happy as they make up their minds to be... although some don't consider actors to be people. This show made its mind up to have heart and soul and treat the audience like that had a brain.
In nine seasons, I got to work with stars like Will Ferrell, Kathy Bates, James Spader, Amy Adams, even Warren Buffett!
I got to meet my NBC still photographer boyfriend on this show. We got to work together for seven years. He would set up in the fake men's room off the fake kitchen on set. I spent a lot of happy times in that fake men's room.
I got to be friends with the actors who became famous on this show like Steve Carell, John Krasinski, Rainn Wilson, Jenna Fischer, Mindy Kaling, Ed Helms, Craig Robinson, Angela Kinsey, Brian Baumgartner, BJ Novak, Oscar Nunez, Ellie Kemper, Clark Duke, Phyllis Smith, Zach Woods, Creed Bratton, Dave Koechner, Catherine Tate, and Paul Lieberstein. (Not in real friend order.)
Greg Daniels, our showrunner, figured out what to do with all these characters in time.
I got to be the drunken, accident-prone slut.
So here we are, at the end of the road, which ends for every single solitary show ever on TV (except maybe The Simpsons).
My thanks to Greg Daniels for giving me this job, changing my life, putting me on the map, and making the back of my head almost as famous as the front. Thanks for letting me get hit by a car, dragged into rehab, attacked by a bat, get lice, have sex in exchange for Outback Steakhouse gift certificates, Drive That Minivan, and be "casual" on Casual Friday. Thanks for giving me a great place to work for nine years. And letting me be a part of TV and comedy history. Seriously ...