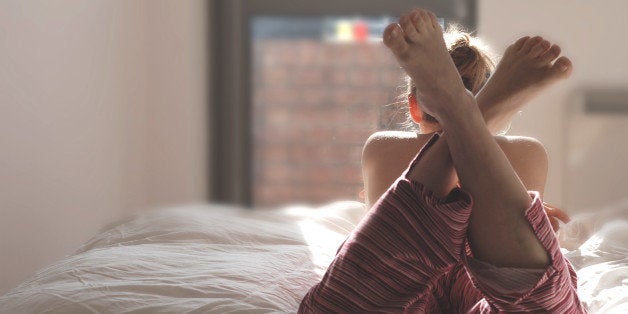 I started writing in between double shifts and in the middle of my three jobs and on the dirty bar of a strip club while I made lonely men and exotic women drinks. I wrote exhausted and I wrote desperate and I wrote confident and I wrote after countless rejections and I (definitely) wrote in spite of angry comments telling me that I had no business forming complete sentences for a meager living.
And then I started getting published and I started finding literary jobs and I started staff writing for reputable publications. I had a small collection of essays turned into a book and that book was published and I wrote for a Pulitzer Prize-winning newspaper and finally, after eating peanuts for dinner and washing my hair with hand soap and over-drafting my account after buying a $3.00 cup of coffee, I felt like I had done "it," whatever "it" is.
Almost simultaneously, I fell madly in love with a wonderful man and had a baby, wide-eyed and with a full head of black hair and a smile that squeezes my chest. I balanced a full-time freelance writing career and the needs of a tiny human, and while I was constantly exhausted (still am) and usually frustrated (still am) and in a consistent state of self-doubt (still am), I loved the struggle and the busy schedule and the balance of it all. I loved meeting deadlines while cooking my son breakfast and I loved calling into conference calls while I changed my son's diaper, and after over a year and a half of the same intricate (albeit weary) dance, I still do. Not a day goes by when I don't feel accomplished, and while that usually means I'm unconscious before my head hits the pillow every night, I am fulfilled.
And then I was given the opportunity to write for an incredible magazine in New York City. I applied on a whim and was completely unsure of my chances, but I sent in a resume and writing samples and in less than a day, I received an email back. I video-conferenced an interview and was offered the job less than a week later; before I knew it, I was filling out tax forms and inputting bank information for direct deposit. I was filled with pride and rejuvenated in my already steadfast belief that being a mother didn't mean I had to give up a great career and having a career didn't mean I had to give up being a great mother. Everything seemed to be going right, and while I spent my fair share of nights wondering how a new schedule was going to work and how new responsibilities were going to fit feasibly into an already overcrowded calendar, I was eager to try.
And then two days later I received a call from the person who would have been my editor. After speaking with other team members of this established publication, a decision was reversed. They no longer wanted to employ a remote worker; they wanted someone who was local and who could come to the office, full time, every day. They wanted someone closer and more available and I was no longer that someone because I couldn't do any of those things. My editor was apologetic and I could hear her embarrassment and I quickly said I understood and "thank you for the opportunity" before hanging up the phone so she wouldn't hear my voice crack or the tears dripping from my cheeks onto the screen of my cracked phone.
And it was then, right then, that I resented being a mother. For a second I looked at my son and wished he wasn't there. I was acutely and painfully and sheepishly aware that if I had waited to get pregnant or chosen never to have a child at all, I could've pick up and moved to New York City and accepted a job with that amazing magazine and done the thing I've dreamed of doing ever since I wrote in my tattered Secret Love Journal Diary Notebook. I could've been free to relocate without thinking about how it would impact my family because, well, I wouldn't have a family to worry about. I felt guilty and dirty and horrible, but I felt angry and resentful and for a second, just a lingering second, I wished I wasn't a mother. I wished I was that struggling single girl, washing her hair with hand soap and scraping by to afford $3.00 cups of coffee, because she could have moved and taken the job and she wouldn't have thought twice about it.
And then the moment vanished and I grabbed my son by his chubby, slightly dirty cheeks and I kissed him on his slobbery mouth. I looked into his eyes for the briefest of minutes before whispering "I love you so much" and letting him walk away to play with a toy or a book or the pens he knows he's not supposed to play with. I kissed him and looked at him and loved him the same way I have since the day he was born and I don't regret a single second of any of it because, while New York City isn't going anywhere, he is. My son will go places and do things and he will leave me behind and that is exactly how it is supposed to be. He will be with me, under my constant care and supervision, for but a small sliver of his life -- and, eventually, he too will experience a moment much like this one, when he feels like the perfect opportunity is just at his fingertips and slipping through the cracks because he can't be everything for everybody, all at once.
And I will remind him, when that moment of confusion and sadness and frustration and regret inevitably arrives, that he is doing everything he is supposed to be doing and everything I have so desperately hoped he would do and everything I work so hard to make sure he could do if he wanted.
In that moment, he will be utterly, painfully, beautifully alive, and I will smile, knowing that there isn't a job in the world I could possibly be upset about not having that is worth more than that.