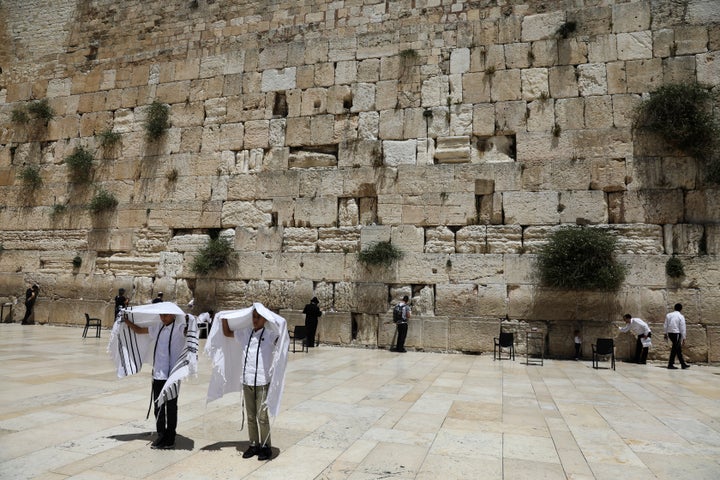 "You don't know my name. You don't know anything about me. The things that you say, you may think I never hear about them. But word travels fast. I'm telling you to your face. You don't know what it's like to be left out. And you don't know how it feels to be your own best friend on the outside looking in." - from Outside Looking In, by Jordan Pruitt
Today hurts so very terribly. Love shouldn't hurt like this. With twin efforts to tyrannize the Western Wall and to weaponize Jewish conversion, the State of Israel is actively hurting the Jewish People, and it is worse than wrong. It is not wrong born of ignorance. It is knowing, willful abuse within our Jewish family.
I was having a hard time formulating the thoughts of my aching soul, and so I turned to a colleague and friend, Myra Meskin. Myra is a third-year rabbinical student at the Ziegler School for Rabbinic Studies at American Jewish University and the Director of Education at Camp Ramah in Northern California, where I've been blessed to serve as Rabbi-in-Residence this session. She articulate the anguish of this moment perfectly:
When I experience the voices of our history, I accept that they don't see me. They could never have imagined me: an independent woman training to be a rabbi. But these Israeli leaders, I cannot experience the same way. They know me. They know I exist. Why do they choose to not see me?
I'm sitting with hundreds of passionate, smiling, dancing Jewish children and their counselors and teachers. They are proud to be Jewish, creating art, learning Torah, loving Israel and studying the Hebrew language. And all I can do is cry because our homeland sees none of this.
I work in countless ways as a progressive Rabbi in America to defend my homeland and to cultivate a love of Zionism in my community through teaching, singing, writing, and political activism, and the State of Israel, my soul's home, treats me like a disease, as an infection it must amputate. How dare Israel's leadership choose to not see (let alone admire, amplify, and celebrate) this Jewish beauty?
I scream to the leadership of Israel a sound I've labored intensely to hold back: Why are you hurting us? Why are you hurting my children? Who do you think you are to deem one sliver of our family the only one worthy in the eyes of God?
Our home has attacked us all. Hate against one is hate against us all. We use this language when a swastika is painted on a synagogue. I never thought I would be forced to apply it to the actions of fellow Jews. But a member of our family is wielding our diary (Torah) and our home (Israel) to maul our family (the Jewish People). This violence has pushed me over the edge. I've hesitated from this language for so long, and still don't want to use it. I don't want it to be true. But the pain is just too much.
From my first moment at the Kotel (the Western Wall), crying into its precious stones, to my most recent visit months ago, where I was humbled to officiate in Tel Aviv at the Simchat Bat (the naming) of my niece, the first member of my family to be born in Israel, my heart has always yearned for Israel, my eyes always turn eastward. I march for Israel. I lobby for Israel. I lead missions to Israel. And, for my efforts, I've been punched in the gut by Israel over and over and over again. It is too much, and we have allowed it to be this way for far too long. When I meet with Israeli elected officials and activists, how can these actions of the Israeli government not be in my heart? How dare I betray my community by remaining silent in the face of this abuse?
As I pour all this out, I was searching for one last quote, something from our tradition to bring this short reflection to a close. But it just hurts too much inside to imagine tying up these fierce feelings in a ribbon. I'm beside myself with sadness and anger at my own Jewish soul and those of countless others being rendered invisible by the State of Israel. I'm simply out of words.
But, as I type these final words, I hear the voice of a young girl learning Hallel (a special Jewish worship service) outside this office at Camp Ramah, as if in response to this painful moment. She is singing, sharing through her sweet soul this melody and message of our People, words the Chief Rabbinate and Government of Israel have forgotten (or worse, overruled with their own craven politics and religious extremism). In the face of all this, these sacred words waft through the air at Camp Ramah this very moment:
I beg You, God: I am Your servant; I am Your servant, the child of your servant; You have freed me from my restraints. I offer You a sacrifice of gratitude, call upon Your name, I will repay my debts to God in the presence of all God's people, in the courts of the God's house, in the midst of you, O Jerusalem. Halleluyah. (Ps. 116)
As if I hadn't cried enough. This young Jew, this proud, safe, affirmed young Jewish woman, is simply inhabiting her rightful place as a voice of Torah, of prayer, of Jewish tradition. While I type, she has moved on to the closing prayer of Hallel:
Please God, Save us. Please God, help us succeed. (Siddur, the Jewish Prayerbook)
Dear God, I offer my deepest gratitude for the strength You will give us all to heal our family from these terrible wounds, wounds we cause ourselves.
Dear God, in this excruciating moment, I beg of you: Save us from ourselves, so that we might sing together, women and men, not only in Jewish Summer Camps and Diaspora shuls, but once again in the sacred heart of our nation, Jerusalem.
Support HuffPost
The Stakes Have Never Been Higher
Related
Popular in the Community