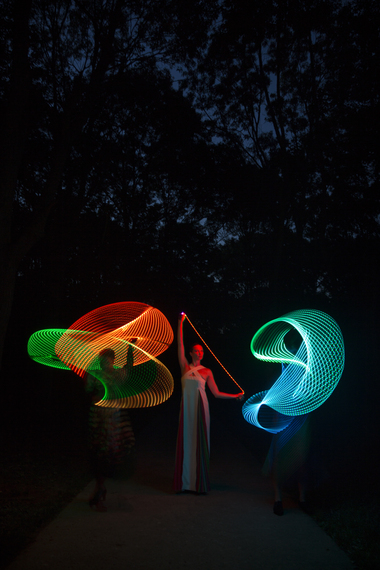 This last Saturday, Lia Chavez, presented her first live dance performance alongside dancers Troy Ogilvie and Djassi daCosta Johnson. The work titled "Light Body" showcased the practice of contemplative walking, which Lia encountered during a recent artistic pilgrimage to meditate in the cave monasteries of the Himalayas. Set at Isabella Rossellini's farm in Brookhaven, the performance happened in the woods bordering the crops. It was a visual fest, accompanied by the music of the evening crickets and cicadas. I thought nobody better than Lia's herself could explain what she accomplished.
If you need to explain Light Body in just one paragraph, how would you write it?
For "Light Body" -- my first live dance performance -- I lead a balletic procession of effulgent bodies at sunset. I appropriate the practice of contemplative walking, which I encountered during a recent artistic pilgrimage to meditate in the cave monasteries of the Himalayas. For Saturday's presentation, I performed alongside dancers Troy Ogilvie and Djassi daCosta Johnson. "Light Body" refers to the practice in which Tibetan Buddhist meditation gurus transform their physical bodies into new, rainbow-colored energy forms after many years of practice. For this performance, I imagine this advancement into another realm through a process of visual choreography which conceives the live figure within the art-historical tension between pictorial form and abstraction. This performance meditates on the primordial state which has no form but is capable of expressing all form... ontological becoming.

The "light" is a word that can refer not only to the basic physical electromagnetic radiation, but it can also be used as an epistemological representation of what is sacred. How would you explain your connection to "the light"?
If art is a process of mining paradox, then light is the perfect paradox. It's a wave and a particle. It inspires illumination as well as superstition. It connects equally to our material and our spiritual existence. I find its luminal status fascinating in this way. Light has always been very important to me. From chance encounters during childhood all the way up to my recent experiments in the neuroscience of visual perception, visions of light in the darkness have always factored strongly into my personal experience. As an artist I investigate light's phenomenological and spiritual essence.
How important is meditation to you? Do you follow a specific school or method?
I have studied contemplative disciplines with mystics and sages in the East and West for much of my adult life. I've been fortunate to learn from multiple traditions, including Vedic meditation, Tibetan Buddhism, contemplative Christianity, the Cahuilla Native Americans, and the deep analytic meditation which both Leonardo da Vinci and Albert Einstein practiced. Another important influence on my practice has been the Himalayan Yoga Meditation tradition. During the month of February 2016, I undertook an artistic pilgrimage to North India. Over the course of my journey, I was in silent meditation under the tutelage of the Swamis at Swami Rama Sadhaka Grama in Rishikesh, India. I conducted intensive research into the embodied spirituality of the Himalayan Yoga Meditation tradition, adopting the full regimen of the Himalayan Yogis. I also practiced darkness meditation in the cave monasteries and temples of the Himalayas in a deepened exploration into the symbiosis between perception and contemplative practice. It was in Rishikesh that I discovered the transformational practice of contemplative walking, which involves walking very slowly -- toe first, then heel.
What's the reason of your silence during the last few weeks?
I took a 40-day vow of silence in preparation for last Saturday's performance. According to the Himalayan masters, we leak up to 80% of our energy through speech. My silence ensured the performance is powerful both visually and energetically.
Silence, meditation, durational contemplative practice, deep listening... All these form the foundation of my creative practice.
In developing my new performance, "Light Body," I invented a choreographic method which draws upon the meditative principles of contemplative walking and takes the practitioner on a journey into the deep silence of the mind. This silence frees the dancer to tap into her own innate embodied spirituality and discover original gestures and movement forms which liberate the body from resistance, tension, and noise.

What were the biggest challenges of doing the performance in a working farming environment?
"Light Body" was created on site at Isabella Rossellini's farm over a period of three months. This performance is as much a visual artwork as it is a performance artwork, so getting the visual effect just right was key. The visual effect of the piece required delicate timing and many months of studying the way that light behaves on the farm at sunset. The piece depends entirely on the viewer's visual perception during that liminal state of transition from sunset into twilight, so I've observed countless sunsets there and met quite a few fireflies along the way! Collaborating with nature and the elements (especially with light) instills a special reverence for the poetic precision of nature. Also, Isabella is a keen observer and expert in animal behavior possessing a profound reverence for nature which is very contagious. The birds, cicadas, fireflies, and crickets at the farm became important contributors to the light and sound of the piece. The absence of man-made music and the seeming "silence" opened a door to invite nature's prolific orchestra to provide music for the piece. Working with nature in this intensive way has given me a deepened appreciation for the generosity present within the natural world. The song is always there if you're willing to hear it.

Besides Light Body happening in a beautiful farm setting, what's behind selecting an agricultural environment to make the performance?

When Isabella invited me to create a piece for the farm, I was most inspired by her vision to establish a place where the relationship between nature and culture could experience a renewed symbiosis. This vision is so refreshing for our time. I tend to orient my life and art around my ability to study the various phenomena of light, and Brookhaven Hamlet possesses an astonishing quality of natural light. So the invitation to create a piece specifically for Isabella's Brookhaven farm was irresistible.
Is there in Light Body any continuity from your previous work in Las Vegas? Is there a lineal evolution from a total chaotic and noisy environment such as Las Vegas to a peaceful and quiet Brookhaven farm?

Broadly, my work draws upon my fascination with the laws of the physical universe and investigates the astonishing mysteries of light, form, and the interior cosmos. It's been my life's work to investigate light's spiritual and phenomenological qualities, whether I am meditating in the caves of the Himalayas, leading a quiet procession of luminous dancers at a farm at sunset or crafting immersive, vertiginous encounters with the art material of human consciousness in a Las Vegas nightclub. My work seeks to reveal the ever-present invitation into the vast inner landscape of beauty.
Light Body, 2016. Live dance performance by Lia Chavez. A commission by Isabella Rossellini. Presented by Beverly Allan and Nur Elektra El Shami at the Farm of Isabella Rossellini. Brookhaven Hamlet, NY USA. July 23, 2016. Duration: 45 minutes. Featuring costumes by Mary
Katrantzou. Curated by Tali Wertheimer. Photos and film documentation by Ira Lippke. Image © Lia Chavez
Popular in the Community