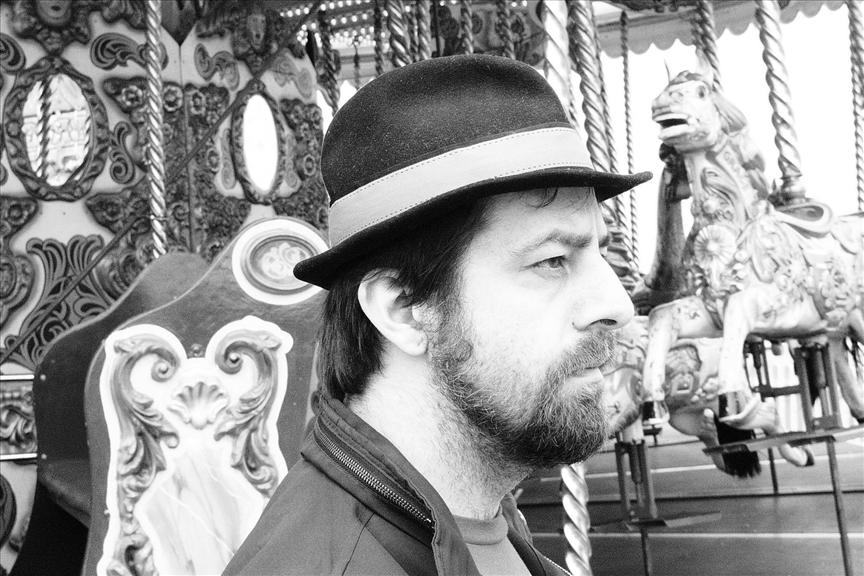 A distinctive, soulful tone. Honest and moving songs. A wickedly awesome beard. Yep, there's a lot of reasons to dig singer/songwriter Sean Rowe. You might know know who this guy is, but chances are you will soon after his album Magic drops next week. The Troy, NY native's album is filled with dark ditties that have already made waves in the music blogosphere (his song "Jonathan" is available as a free download with Paste) and local radio (the baritone recently made an appearance on the New York public radio show "Soundcheck.")
Rowe will be hosting a Manhattan release show on Feb. 24 at the Rockwood Music Hall, and will soon embark on his first West Coast tour. I caught up with him recently, and asked him about his sound, style, and making Magic.
When did you realize you had a distinct singing voice?
I was very self-conscious as a singer growing up. When I would rehearse songs with my band in middle school, i would purposely overdub and erase my vocals because I was so embarrassed of the sound. It wasn't until I was about 17 years old and discovered Otis Redding that I was so inspired to take the lead vocal. It all started with Redding for me.
How would you best describe your voice?
Sometimes when it's at it's best, it feels like a liquid to me. At times... like a raw sensual power that can shatter anything, but sometimes it can be quiet and subtle like a child. It feels best when I just let the energy filter through and not think about it too much.
Your songs are very deep -- describe the songwriting process...
it's a process of "chipping away." I don't rely on any one method but usually a melody comes to me with partial phrases and nonsense mumbles. it's kind of a way to let the subconscious filter through. Then... I'll really listen to what the song is saying and what it wants to be. For me, it's important to trust that it always wants to be something.
I also think it's really important that the words are true and really fit. I don't like to use metaphor just to sound poetic. I'm in the business of connecting with a listener so I become a kind of translator from my inner mess of emotion to a tangible picture that a listener can climb inside of. I don't necessarily think it's import to convey a direct meaning as it is to create a strong picture and invoke real emotion. Not all of it comes out as true. Much of it is just garbage but within that sea you usually find a few pearls to work with.
Why was Magic chosen as the title of your album?
I love words that are open-ended. It can serve the imagination in many directions. I see magic in nature for sure but also in the spaces between words and in moments of pure intuition.
What was your childhood like?
I was lucky enough to grow up in a supportive, loving family that always fostered my musical abilities. I was also really quiet, introverted and shy. Of course, I'm still like that today and it's a real paradox that I've embraced such a blatantly social career as a stage performer. Sometimes it scares the hell out of me. In my youth, just as today, two things dominated my everyday life... music and nature. I would spend literally hours rocking back and forth on my bed listening to 8-tracks of the Beach Boys. Every time I hear "in my room," I am instantly seven-years-old again. It was always like a meditation for me.
Speaking of nature, it says in your bio that you're a fan of the wilderness. Explain.In the outside world, the woods has always been, my sanctuary. I didn't really have any naturalist mentors when i was a kid as i would have loved but the mysterious call of the wild that was ever present in my mind was enough to keep me on the naturalist path for life. If I didn't have that kind of refuge, i would not be who i am today.
If you strip away all the religious dogma, politics, money, society, and cultural boxes that we've assigned ourselves to, there is nothing but nature left. All that remains is the pure energy, heart of the land and our connection to it. To me that is sacred. No one can live without clean air, water, food and shelter. That is the great equalizer that has been with every culture and all peoples from the very beginning. that is my religion; the reality of the earth. To me -- in a very real way -- God is the woods.
What inspires you?
Emotion, when it comes from a pure place; intuition that rises from the heart; music that is real and not pretentiousness, the great naturalists: Otis Redding, Leonard Cohen, Geronimo, Euell Gibbons, Chief Joseph, Bob Dylan... the list goes on.
What do you hope people take away from your music?
Just an emotional connection would be nice.
OK just to break the seriousness of this interview, would you ever consider writing a song about Rick Moranis?
Actually I don't think that would break the seriousness of this interview at all. I consider Rick Moranis to be one of the most legitimate actors of our century despite the fact that his last name is actually a combination of "moran, anus, and penis." If Rick never made another movie except his devastating role as the "gate-keeper" in Ghostbusters, the world would continue to be a better place because of him. Would I consider writing a song about Rick? I would consider writing a concept album about the man!
REAL LIFE. REAL NEWS. REAL VOICES.
Help us tell more of the stories that matter from voices that too often remain unheard.