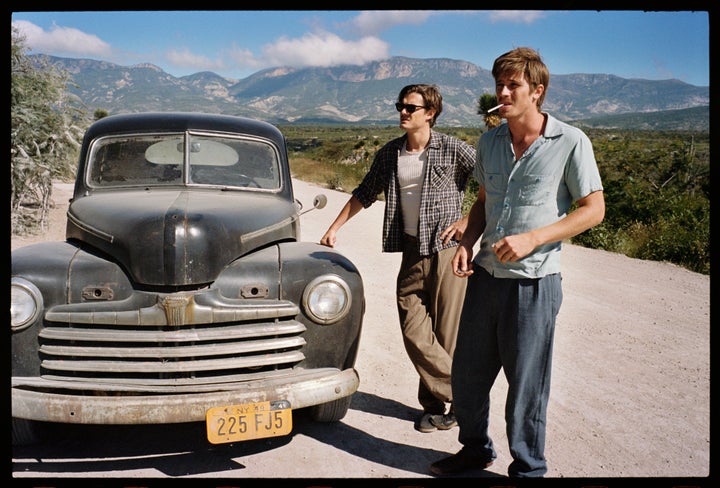 Winter break during my sophomore year at Bard, I decided to drive out West to Nevada to join an action the American Indian Movement was doing for the Western Shoshone Dann Sisters.
I was knee deep into my environmental work and fascination with AIM and Leonard Peltier (who, by the way, is still imprisoned!) and determined to put my money where my mouth was, so to speak.
So in January of 1992 I set out on the drive to Crescent Valley, Nevada, thirty miles west of Elko. It may not have been Jack Kerouac's version of On The Road but it was certainly a watered down rendition and full of inspiration.
"The Beat Generation," as Kerouac defined them so early on, has maintained a fascinating hold on popular culture, even though during their heyday they were mocked by the mainstream but as we know people ridicule what they don't understand and anything that mocks their own way of life and belief systems. Which, is exactly what Kerouac, Ginsburg, Burroughs and the rest of their crew did. They literally began a cultural revolution so it is not surprising that filmmakers continue to burrow through their archives for inspiration.
My latest fascination with them was sparked a week ago after reading Ben Morgan's The Typewriter is Holy. It was equal parts inspirational, beautiful and devastating, which is exactly what great art should be. It is all fleeting.
This year at the Sundance Film Festival, there are two films centered on the Beats. Big Sur, written and directed by Michael Polish, starring Jean-Marc Barr, Kate Bosworth and Josh Lucas, which is based on Kerouac's novel he wrote while trying yet again sober up from the alcoholism that eventually killed him at age 47, and Kill Your Darlings, directed by John Krokidas, starring Michael C. Hall, Daniel Radcliffe and Elisabeth Olsen, which focuses on the brief period in the very beginning of the threesome's relationship that ended in murder.
A few years ago the film Howl was also at Sundance, which I loved. All the layers of sound, black and white film and animation mixed in with the trial and the poem itself laid over the soundtrack. I thought it was brilliant but then I went to Bard, where filmmaker Adolfas Mekas had us watch a 14-hour Japanese film with English subtitles called The Human Condition. In case you're wondering, he dies in the end. I think there are about fifteen people in the world who have seen that film and someday I dream of meeting at least one of them that did not go to Bard.
And of course there is the Garrett Hedlund, Sam Riley, Kristen Stewart and Viggo Mortensen movie version of On The Road that opens December 21, which I am curious to see. Whatever it is that draws us to the Beats, it is no doubt partly our own periodic existential crisis. I will stop before I get started on the multiverse, which is what I have been fascinated by lately. At least we can ponder all of this at the movies....
Popular in the Community