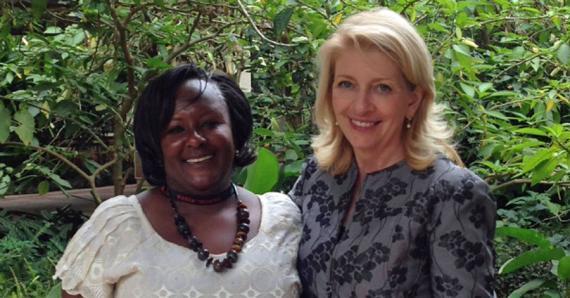 Ambassador Catherine Russell (right) poses for a photo with Zohra Baraka (left), a Kenyan artisan entrepreneur and chairperson for the African Women's Entrepreneurship Program in Kenya.
Recently I had the chance to talk one-on-one with Zohra Baraka, a Kenyan artisan entrepreneur and chairperson for the African Women's Entrepreneurship Program in Kenya (AWEP Kenya), about how she became an artisan and how issues of gender inequality have played a role in her life. Here are excerpts from our conversation.
CR: Tell me a little bit about your business.
ZB: I have been in business for the last 20 years. It has been mountains and valleys. And what I can say is that many people in the business left because they don't have the patience. This is one business that needs a lot of patience and persistence.
My husband has been the driving force behind telling me to start a business that impacts women. Here in Africa, if you educate a woman, it's for the whole family. When a woman comes to ask me [to supply] an order, she is the first person I'll give it to, because you are assured the money will educate the children. With the men, you are not assured.
Case in point: Five years ago I had a male supplier. I did not know that he had five children: three boys and two girls. And the girls were at home. They were not going to school because of the traditions that girls should not be sent to school where they come from.
One morning my assistant tells me his wife wants to see me. So I said, what is this about? When the lady came in, she started crying and telling me her two daughters had been at home and the supplier refused to pay school fees. She asked if I can give money from her husband's payment.
I almost cried. I told her, I can't do that because he already had a contract and he can take me to court. I called my assistant and said, "When we get the next order for these items, can you give it to her to do it? But in the meantime, can you advance her some money so that she can go sort out the kids and use it as a deposit?"
Believe me or not today if she hears I am in that region, she will bring a live hen and bananas and say, "Mama has come."
CR: Are there any moments early in your life where you realized you were entrepreneurial?
ZB: When I was a teenager, my parents used to have a shop. My mother was semi-literate. I have wondered how she used to manage the calculations and keeping books. She never kept any books! She still managed to run the business.
My father was not semi-literate. He was a businessman. So during school holidays I would be left to take care of the shop. And any other time, like Saturdays and Sundays, I would be left for the shop. I knew one day I would become an entrepreneur.
CR: Your parents must have been so proud, if your mother wasn't even fully literate, and then her daughter graduates from college.
ZB: It so happens that my mother got married when she was 13. She was given to my father. He was way older than her. In fact, she tells us that she saw him first on their wedding day.
I remember when I was in secondary, people came to ask for my hand in marriage. My mother told me, "There are people coming from this and this family. Please don't accept, but don't say I told you." I said no. And she said, "If she doesn't want him, we can't force her."
CR: Any other role models that stand out to you?
ZB: When I finished college I applied for a job with the government. That year by coincidence the government had introduced business administration subjects in school.
So the people who did business administration, we found ourselves in classrooms.
I got a very bad boss. This was a headmistress, and she really frustrated me. In fact, at one point I miscarried because I would go to tell her, I'm not feeling well. And she would say, you are pretending. I went to a doctor, and she would say, you should have seen a government doctor. How do I know that you have not colluded with this doctor to give you this sick-off? It really stressed me until I miscarried.
And as I was there, I said, when I become a boss, I will not frustrate people. I'll try to listen to people. Women, we are our own worst enemies. And therefore, when I do it, I'll do better than what I went through.
CR: What do you think are the challenges facing women who run business here?
ZB: The women in Kenya have no information about what the market wants. The artisans, they don't know what they want in the United States, and the quality standards, the dos and the don'ts.
For example, the chain stores have very strict terms and conditions. One time, I was late to supply and it was either you give us a discount or you cancel an order. If I had known that, I would not have taken the order.
CR: What do you want people to know about women in Africa?
ZB: Women in Africa are very good entrepreneurs, but we have not been given the chance to explore that potential to the maximum.
Popular in the Community