On a recent overcast morning, fog rising up around Haystack Rock in the Pacific Ocean, I huddled with 14 Bristol-Myers Squibb colleagues on the shores of Cannon Beach in Oregon. We were all dressed in black, orange and yellow cycling gear ready to begin this year's Coast 2 Coast 4 Cancer fundraising bike ride.
Six teams. More than 80 riders. Twenty days. Eleven states. Nearly 2,900 miles.
The goal of Coast 2 Coast 4 Cancer is to raise money for Stand Up To Cancer, whose collaborative "Dream Teams" of scientific researchers are working together to accelerate cancer research and provide innovative treatment to patients faster.
Bristol-Myers Squibb will match donations raised through the ride, dollar-for-dollar up to $500,000, in support of Stand Up To Cancer's research efforts. So far the teams have raised just over $270,000 and counting. Anyone can donate here through Oct. 10.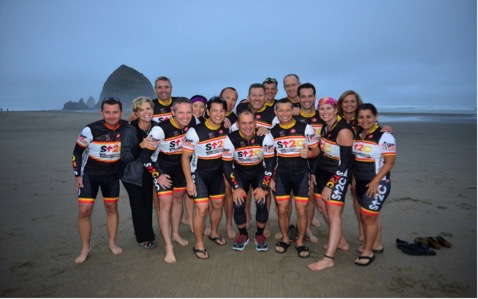 With Team Velo de Cure before leaving Cannon Beach, Ore., on the first day of Coast 2 Coast 4 Cancer.
Perhaps team member Ellen Potepan summed it up best when asked why she and other Bristol-Myers Squibb employees are participating in this year's second annual Coast 2 Coast event.
"This is so much more than just a ride," Ellen explained. "It takes us to the core of why we do what we do and it's an opportunity to make a difference."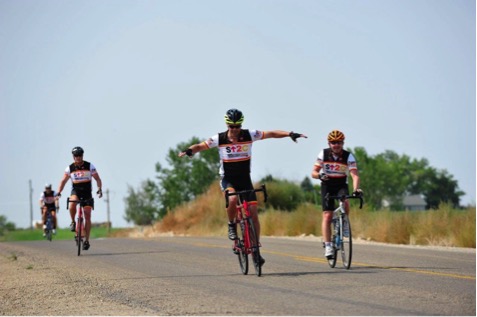 With Hans Bjornestad, center, leading the way during our ride through Idaho.
Our team, Velo de Cure, which means Cycling for the Cure, had the privilege of starting the coast to coast ride earlier this month. We had the entire country between where we stood and Asbury Park, NJ where this incredible journey concluded on Sept. 29. The thought of all those miles ahead of us was equally exciting and intimidating, but each of us was riding with the extra motivation of a family member, friend or colleague who has been touched by cancer. Unfortunately, there were no shortage of these stories.
Christopher Anderson, another member of our team, was riding with several members of his family in mind. He lost his mom to cancer when he was just 10 years old and both his dad and sister are cancer survivors.
"I'm riding for all those patients currently undergoing treatment," Chris said. "Unfortunately we all know someone with cancer and we're all affected by it."
Our leg of the cross country journey was some 300 miles, over mountains, through Portland and east to Boise, Idaho where the next Coast 2 Coast 4 Cancer team from Bristol-Myers Squibb would pick up the second portion of the ride.
Along the way our team saw some of the most awe-inspiring scenery you could imagine. I'm not going to lie, some of those miles were tough, especially inclines near Mt. Hood. The other members of team Velo de Cure were a huge support and inspiration for me and each other as we rode pedal stroke by pedal stroke through the Pacific Northwestern countryside.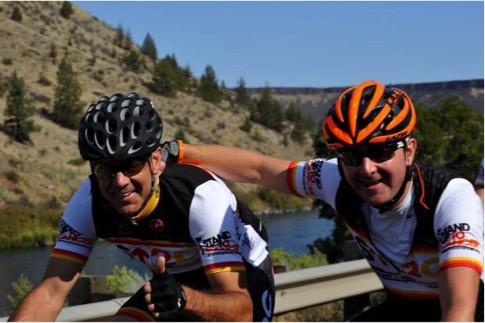 With John Fee, Director of Scientific Engagement, Immuno-Oncology cycling near Mt. Hood.
What kept us going was knowing that not only were we riding for patients, we also work for an incredible company that is committed to helping transform the way cancer and other diseases are treated.
For more information on how you can show your support for Coast 2 Coast 4 Cancer, visit cancerbikeride.org. You can make a donation here or text BIKE to 40202 to make a $10 pledge.
Calling all HuffPost superfans!
Sign up for membership to become a founding member and help shape HuffPost's next chapter