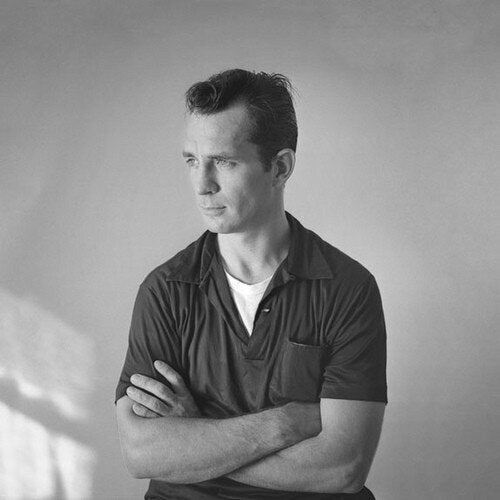 Early '70s. A bar at the Place Saint-Georges in Paris, where the shadow of André Breton still hung in the air and where our master of masters, Jean-Toussaint Desanti, was fond of coming. In the atmosphere, there's still a bit of this "spirit of May," or this "feeling of May," that was so much a part of our youth. There's still a bit of the elation of those unreasonable times, of their poetry in action, of their back-and-forth of impatience and passion. There remains, as at the beginning of it all, the still burning desire for art as opposed to culture, a life instead of just survival, books that make one live, not die.
It's all still there and I see myself in this bar, once again, with a young militant Maoist called Marin Karmitz, today the author of two films, describing the law of "comrades" and the obligation to hit back, return "blow for blow" -- I can see myself, with him, talking about one of those books of life, legendary above all, a source of sustenance for young people refusing the inevitability of an timid existence, one somehow cracked or just rocked softly into precocious old age, a book like a bible, a treatise on savoir-vivre for the use of future generations, Jack Kerouac's On the Road.
In time, I understood that the book we know and that I had packed, along with Lowry's Under the Volcano and Artaud's Voyage to the Land of the Tarahumara, on my first trip to Mexico was not the right book -- a censored version, bowdlerized by the puritanical American publishers of the era.
I understood that its author was a nostalgic, perhaps even an adept, of this Roman Catholic and apostolic church whose fervent obligation -- ah, the famous "I am not a beatnik, I am a Catholic" of the preface of the 1960 Lonesome Traveler -- had been passed on to him by another sort of celestial bum, Charles Baudelaire.
I understood (but later, much, much later on, and to get to that understanding, I had to take another route, alone, one that was spiritual or, in any case, philosophic) that these roles of paper coming out of the shadowy mouth of the typewriter and constituting, end to end, one solitary and long paragraph, typed all in one breath, without punctuation, could not fail to evoke another roll -- and what a roll! -- the Torah... the letter of fire... devour the book... the lesson of Ezekiel following that of the Flowers of Evil... a prophetic, almost Jewish Kerouac. But, of course.
I understood that this literature known as "direct" or "spontaneous" or "stream of consciousness," this pulsating, jazzed literature, written while on dexedrine and typed, it's said, the way Count Basie's hands fluttered over the keyboard, or Charlie Parker blew on his sax, was one of the most thought out, concentrated, honed and perfected. I understood that his models were Joyce, Pound, Dostoyevsky, Rabelais, Celine or, especially, things past and found again: "to do exactly what Proust did, but fast," the very expression of a plan that could scarcely be confused with that of a literature of the gut.
And then I finally learned, even later, much later, from Paul Bowles in Tangiers, that Kerouac, one day, had had enough of this book, he cursed it, he hated it. There are books like that, said Paul Bowles; for me it was The Sheltering Sky, for him, On the Road, books of life that, in becoming cults, turn into books of death. Magical books that ultimately weigh you down, crush you, suffocate your desire to go on writing and living; books that damn you, books as heavy as tombstones and that, in the final analysis, one can only die of -- this terrible "mortal shiver" his other friend, Allen Ginsberg, discerned in him towards the end.
But then, forty years have passed. Kerouac's children are called Kurt Cobain, Tom Waits, Jim Jarmusch. And the son of the Moaist filmmaker of the early 70s, the film heir as unruly as his father was, who sports a first name that conveys the eternal and Gidesque youth the latter passed on to him, got hold of this book and informed of what we did not know and that he realized from the very beginning, made of it an impressive cinematic work. A Proustian film. A Rimbaldian one. One of those films (Rimbaud, precisely...The Search... Malraux's The Human Condition... Céline) we always thought impossible, still-born, inevitable sea serpents regularly pulled out of Limbo, only to immediately return. But no, here it is.
No longer Marlon Brando and James Dean, as Kerouac had dreamed, but Garrett Hedlund and Sam Riley, their younger brothers. Not Francis Ford Coppola who, in 1968, had acquired the rights to the book, but a Walter Salles we have never seen so much a master of his art. And, at the finish, a magnificent ode to the road, a road that has become an ode since road, in Greek, is odos. A work of liberty, but of a liberty that is no longer at the end of a gun barrel, as the fathers, and even more, the fathers of the fathers believed, but at the end of this road that has become language and, this time, image. The language of asphalt blended with that of the verb. A long ribbon of blacktop and of equally burning words. Molten matter of syllables and inspired macadam. American vertigo. A prize of literature become cinema. We shall see.
Popular in the Community