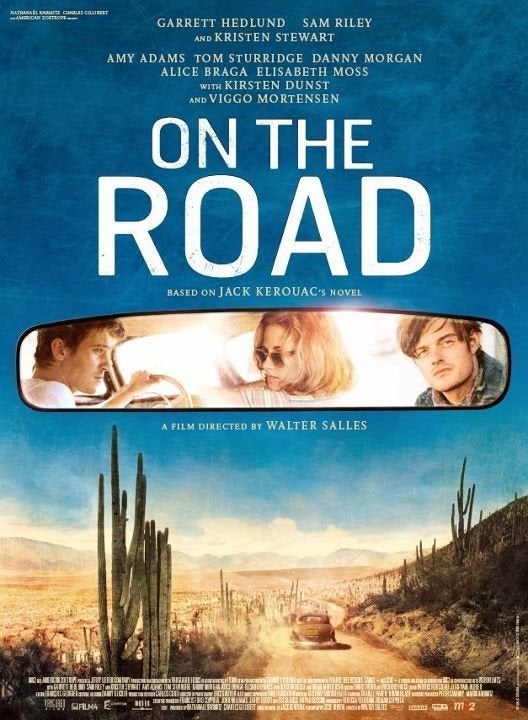 After the death of his father, aspiring writer Sal Paradise is staring at the blank page in his typewriter wondering what path his life will be taking. A millisecond later a green automobile comes screeching sideways to a stop and Sal finds his muse as Dean Moriarty appears on the scene. Sal's life will never be the same as Dean takes us all on a ride to places we never knew existed.
The movie trailer for Walter Salles' film adaptation of Jack Kerouac's seminal novel On The Road has just been released. It portends an extremely satisfying movie experience that literary fans have been anxiously awaiting for over 30 years.
Sal Paradise, of course, is Jack Kerouac, and Dean Moriarty is Neal Cassady, Kerouac's iconic hero of the American night.
Controversy has raged for decades among Beat Generation fans as to whether this movie should even have been attempted. I can understand both sides of the argument. On The Road is a very personal novel for many, many people. At the Beat Museum, located in San Francisco, we see people from every corner of the world walk through our doors daily who are on their own personal journey kick-started by their reading of Kerouac's books. On The Road holds a very special place in the hearts of many of these people and they don't want their vision of Kerouac's book (and their own personal journeys) messed with.
The flipside of that argument, of course, is that On The Road must be made into a film. Jack Kerouac himself sent a letter to Marlon Brando back in 1959 imploring Brando to make the film. Kerouac understood that a novel is not a movie and he even told Brando he was willing to write the screenplay himself incorporating whatever accommodations and changes needed for the story of the book to work as a film.
In 2012 that argument still has not subsided. But with the release of the trailer for Walter Salles' film adaptation of On The Road I believe the filmmakers have magnificently met their obligation to the true fan and to their own artistic callings.
Captured in this 1.45-minute trailer is all the energy, drive, excitement and uncertainty of the book itself. The raw sexuality of Garrett Hedlund as Neal Cassady and Kristen Stewart as his 16-year-old bride, Lu Anne Henderson. From the dance halls of New York to the hotel rooms of Denver to the whorehouses of Mexico, Kerouac's words come alive on the screen.
With the release of this trailer it appears France's MK2 Productions, Brazil's Videofilmes and Francis Ford Coppola's American Zoetrope have combined to deliver a breathtaking interpretation of a story Kerouac fans all know so well.
And to those fans who have been holding their breath all these many years hoping against hope the movie will meet their expectations -- click 'play' and see if you don't breathe a little easier.
Calling all HuffPost superfans!
Sign up for membership to become a founding member and help shape HuffPost's next chapter