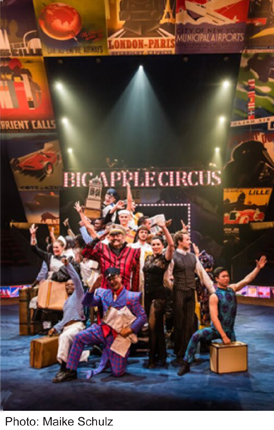 The travel posters adorning the intimate tent, the signature locale of the Big Apple Circus at Lincoln Center, promise trips to Marseille, Lille, Paris, London, and the Orient. Evoking the Roaring '20s, and the modern voyage from the dawn of airplane travel to such conveyances as train and camel, "The Grand Tour" featuring aerialists, acrobats, animals, jugglers, a ringmaster with a booming voice, and two very silly clowns as conductors, this circus is a trip.
"The Grand Tour" was created by Joel Jeske, who with Brent McBeth, is dressed in comic uniform and made up as the most friendly host you can imagine; but, that doesn't mean these two are not immensely mischievous too as they transplant red noses, traverse a desert, and cheat at musical chairs. Yes, cheat!
But that's all part of the good fun of this show under Mark Lonergan's fine direction, and marked by excellent production values: a great live band playing original music by David Bandman, Peter Bufano, and Jeffrey W. Holmes, Maruti Evans' expert lighting so that shadows play as the aerialists perform, and sensitive animal acts, including horses, ponies, and dogs, led by Jenny Vidbel. During intermission, viewers ride ponies, queuing up until every kid gets a chance.
My posse included three discerning critics: one Big Apple Circus veteran, now grown up, plus first timers Noah (10) and Hannah (8). Though we could not agree upon a favorite act, the dogs were most anticipated and remembered. Long after we made our way out of the tent, stopping for a group shot with Joel Jeske and Brent McBeth, and hanging out by Lincoln Center's lit and dancing fountain, a show on its own, we were all still talking about the large dog who went through a small hoop. Like much going on at The Big Apple Circus: the Dominguez Brothers' Wheel of Wonder to the Dosov Troupe's teeterboard, it seemed impossible, but it happened.
REAL LIFE. REAL NEWS. REAL VOICES.
Help us tell more of the stories that matter from voices that too often remain unheard.