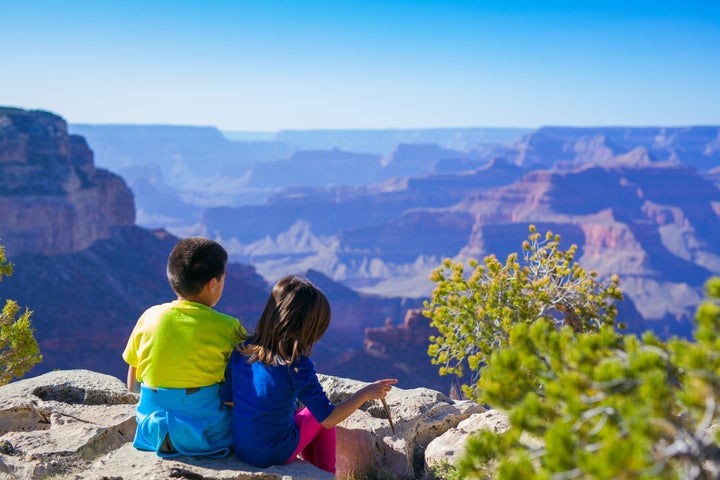 Both my husband and I knew we wanted to adopt children at a very early age… even before we knew we were gay. Unexplainable to those who have never experienced such a calling, I can only explain a pull inside of me. A knowing that there would be a day when I would adopt a child.
We started the process in mid-2015, taking all the required trauma-based parenting classes. But the timing never seemed right. After being unexpectedly laid off from my job last year, my daily availability, and our experience raising four other children into teenage and young adults, gave us the confidence to take a leap into the foster system to find more children.
Several months and hours of hard work later, we were certified as an adoptive home for foster children and the search began. We initially thought our certifying agency would be performing the searches for us, but we quickly realized that it was up to us to go through online photo listings of children, attend adoption matching programs and fairs and reach out to the different placement managers with our calling card… our "home study". This comprehensive dossier is what the social workers review to see if you have the right experience and psychological strength to be a "match" for one of their children. We were matched a few times to various children, each one falling through for reasons beyond our control.
Then one day (on my birthday, no less), we were contacted about a sister/brother sibling set that the county felt were a perfect match for our home. Pre-kindergarten aged kids who needed a home. We eagerly said yes and, after a few weeks of successful "kid dates" to gauge compatibility, their social worker said it was time for them to move in permanently with us. We went to their foster home and loaded our Jeep with their belongings, which were six Target bags full of clothes (most of them used and too big or too small), a couple of backpacks, a doll, and a football. There was even a brand new bike that was given to one of the kids the prior Christmas from a well-meaning charity. It still had the tags and had never been ridden because it was far too big for a 5-year-old. This was our first experience with the realities of foster kids. A life in bags and the best (and probably only) Christmas present ever… that was perfect for someone else. Bags and a bike that could have easily been handed to another foster kid. It was a true metaphor of the anonymity of their lives.
Their specific story isn't unique. The trauma of being tossed around, never to be truly, deeply, unconditionally loved, reveals itself in the oddest moments. Moments when life is quite normal. A quick comment in the car or a passing mention during dinner. Reveals of distant memories that they strive to hold onto because they're the only pieces they have left of parents that they love. We were trained to deal with this side of having foster children. Loss. Idealization. Anger. Trauma. We knew going in that this wasn't going to be easy. But, raising any child isn't easy. Ask your friends with 4-year-olds about their day. It probably ends with passing out from exhaustion on the bed. In the end, the children are just that… children.
Our role is to be the forever home that these kids so desperately want and need. But, to be open for us they must let go of the life that never happened. They must grieve the loss of the dream of reunification. Loss of parents that could not keep them safe, healthy and protected. Loss of innocence and childhood. We were prepared for it.
What took us by surprise was how little our new children had done in their lives.
They have been in the system since diapers and their caregivers were focused on providing a safe roof over their heads, so it all makes sense. But I don't think we ever even thought that much about it.
We live in Southern California, a quick 20 minute drive down the freeway to the beach. They had never seen the ocean. They've never been to any of the SoCal staples like Disneyland, or Knott's, or Universal Studios, or Six Flags, or even Chuck E. Cheese. I told them that we were going to Froyo for a special treat. They had no idea what I was talking about. When I explained it was frozen yogurt (I had to call it ice cream so they could understand) and they could put toppings galore on theirs, they both said, "Oh yeah, I saw that on TV." The first night they were here, we realized that they had never taken a bath in a bathtub, only quick showers where they were to scrub efficiently and exit promptly. They talk about their birthdays and wish on emerging stars in the twilight sky that they'll get presents this year. They asked if we could have a tree with lights on it in our living room for Christmas because they've never had one. They don't know how to ride bikes. Never owned a Razor scooter. They have never been allowed to play sports or do anything extracurricular. They've merely existed for years. Waiting.
So, each day, we do something "normal." We took them to see the ocean last weekend. Our daughter jumped in the waves with glee. Our son, afraid that invisible sharks were going to eat him, took longer to embrace the concept of wet sand and water. Within an hour, he was jumping for joy. There was a moment when my husband and I stood there watching them that we both realized we had tears in our eyes. It was so beautiful to watch.
Life with our kids is like a new relationship. We learn new things everyday… mostly good, occasionally bad, and sometimes sad. But there's something truly magical about being able to give children the ability to dream. We are Willy Wonka, opening the small door at the end of the shrinking hallway to reveal a beautiful world full of wonders that never existed before. What's amazing is that we get to go through that door together and experience this new world together.
Our path to adoption started with RaiseAChild, an LGBT focused organization who helps find parents who will foster and adopt. They have developed a system to find — and then support — people who are interested in becoming foster/adoptive parents. As a result, RaiseAChild out performs the national standard by advancing 23% of prospective foster and adoptive parents from inquiry to certification. For more information, go to RaiseAChild.org.