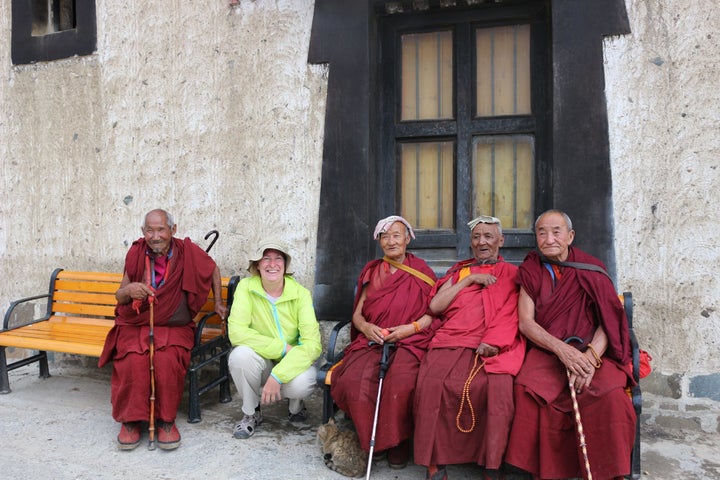 Our minivan takes yet another curve precipitously close to the edge of a steep mountain pass. A minor miscalculation on the part of the driver, a flick of the wrist slightly in the wrong direction, a momentary lapse of attention, and we would all tumble several thousand feet down sheer cliff face in the middle of a vast and dusty wasteland in the outback of Tibet.
I am amazed by the skill of our driver, an older Tibetan man, whose wrinkled face echoes the crevices of the rocky terrain he maneuvers through with such skill. He drives by intuition, guided by the road, as though the road can speak to him, whispering its secrets. Along the way, we narrowly escape several near misses as four-wheel drives, aggressive Han Chinese drivers scowling from behind the steering wheels, angle to pass our van on rutted mountain roads hardly wide enough for one vehicle, much less two. The closer we get to Mount Everest the more the road deteriorates. Paved roads give way to dirt ruts or pools of murky water that we simply plow through, not quite sure of their depth. Guardrails became infrequent or altogether nonexistent.
There are no seat belts in our van.
Our only protection is our Tibetan guide Lotse's prayers, spoken quietly, his fingers flitting over amber prayer beads, as our van maneuvered its way out of Lhasa's city limits two days earlier. All American or European notions of safety are tossed out the open windows to flap away in the wind like the prayer flags we see fluttering on almost every mountain peak and in every human settlement in this sparsely populated land. Life is impermanence, Indo-Tibetan Buddhism teaches us, and nowhere is that state of impermanence felt more keenly than here in Tibet. In Tibet one trusts in karma, in fate, and not in flimsy things, like seat belts or four-wheel drive.
For me, at age forty-eight, this trip is a fulfillment of a dream I've harbored since my early twenties, when I'd taken a course in Indo-Tibetan Buddhist Ethics at Columbia University with Dr. Robert Thurman, the first Caucasian ordained as a Buddhist monk by the Dalai Lama. What seems like an entire lifetime has passed between the days when I'd read and analyze books like A Guide to the Bodhistava's Way of Life or The Life of Milarepa under the tutelage of Bob Thurman, who would remind us, "The day you can walk across campus with mindfulness is the day that I will begin to speak with you about enlightenment." I raised three children and sent two of them off to good universities. I had been married for fifteen years and divorced seven. I had participated in Lithuania's independence movement and in the rebuilding of the country. I'd published books; seen my plays staged; earned graduate degrees; taught in universities and prestigious international high schools; traveled to twenty-five countries—and always, in the back of my mind, there was Tibet. An unattainable dream. A promise of pure spirituality; a delight of color; a state of mind. When I was younger, I used to tell people that it was my dream to become a Buddhist nun. I did not know what I was talking about then, of course, but that youthful desire represented something deeper, a need to grasp what life and death is beyond the surface of things. I have come to Tibet now to remember all that.
In Hong Kong I'd heard through colleagues that it was possible for Americans to visit Tibet, as long as they traveled under the watchful gaze of a Chinese tour company. I applied for a visa to China and sent in my deposit. My entire trip, ten days in Tibet, including tours of the major monasteries and the Potala Palace, and the road trip to the Mount Everest base camp, including a train ticket to Lhasa and return flight through Beijing, as well as accommodation and local transportation, was far more affordable than what I would have paid (and could never have afforded in fact) if I'd traveled to Tibet from the United States.
When I learned it was possible to get on a train in Guangzhou, in southern China, and fifty-six hours later to disembark in Lhasa, I knew that was how I would travel, overland, across China. Originally, I was planning on traveling alone. But at a Baltic social event I mentioned my plans to Agita, a drop-dead gorgeous natural blonde from Riga, Latvia. Agita decided to join me on my Tibetan pilgrimage while standing on the rooftop of a penthouse bar in Hong Kong too drunk for me to take her pledge seriously. Two days later she had purchased her place on the tour; we left the next week.
For some inexplicable reason, when Agita and I picked up our train tickets from the Guangzhou train station, we were separated into coupes in two different cars. When I went over to check up on Agita in her car. I found her perched on the narrow bench in the train hallway gazing out the window. I peeked inside her assigned coupe. Her fellow passengers, a group of rowdy, half-drunk Chinese men, had all pulled off their shirts and were sprawled out inside the coupe bare-chested, shouting over each other in loud voices. Then and there, I insisted Agita disregard the bunk assignment and join me in my coupe.
As we travelled across China, I wrote in my journal: Upon crossing the border from Hong Kong into the mainland, you immediately feel that you are in China. You can see it in the stiffness of the railway workers on the platform, in their nervous grab for a cigarette, and in their frenzied puffs, inhaled while watching with wary eyes as the train from Hong Kong slides past. Cantonese is replaced by Mandarin. Outside the train windows the luxury skyscrapers of Hong Kong are replaced by Soviet style block houses. Landscaping ceases and weeds grow wild.
Traveling with one backpack, a camera bag, a money pouch, and a feedbag filled with dried fruits, granola, and chocolate to settle my stomach in the high altitudes, I meet Chinese tourists on the train traveling with over-packed suitcases, selfie sticks protruding from their backpacks, fitted out as though they were heading on a safari.
I see many Chinese cities from the train window on my way to Lhasa. When I visited Shanghai, I marveled at that ultra-modern city, a miracle of contemporary cosmopolitan life. "Don't be deceived by the façade," friends warned me, "the real China is poor, desperate, and polluted." That is the China I see now rolling past my train window on the rail line to Tibet. Hours and hours of the "other" China—gray cities with clouds of perpetual gloom hanging over them, gray cities consisting of cheaply constructed concrete apartment blocks, gray cities that descend forever across bleak plains, punctuated by the occasional jagged mountain range, gray cities offering little hope or stimulation for their inhabitants.
We have passed volcanic rocks; we have passed through major industrial cities stretching out for miles, situated on vast planes in the middle of nowhere; we have passed shepherds tending their flocks, and we have been woken up at three in the morning by a hysterical woman screaming in Mandarin and gesticulating with angry fists, indicating that Agita is sleeping in her assigned bunk, and that she must give it up to her immediately. We stood our ground and refused to move. We told her through a girl who was roused from her sleep in another coupe and dragged into ours to translate using a Google translate App on her iPhone that there were plenty of empty bunks in the train and that this was the last stop before Lhasa and no one else would be boarding the train anyway. The woman brought in more and more Chinese compatriots to take her part, relying on an old primitive bullying method to get her way: The village was backing her up. The passenger train society, her compatriots, sleepily huddled in the hallway, waiting for the fuss to die down. The train conductor tried to reason with her, but the woman refused to back down. The more she insisted, the more Agita and I dug in our heels, our cool Baltic blood simmering to the boiling point, and the stubbornness of centuries settling in, steeling our resolve. In the end, the train conductor persuaded the woman to move into an empty coupe. A mother with a small boy and girl, around ages four or five, moved into our coupe. They immediately became our friends. The little girl and I would draw pictures while her mother slept in her bunk. When the mother awoke, she would scream at the little girl for no reason at all, as a kind of knee-jerk reaction to her existence. But she was kind to the little boy. For the next 37 hours she fed her son and daughter instant noodles out of Styrofoam buckets as herds of yaks, like punctuation marks on an empty page, grazed in the snow outside the train windows.
On the pressurized train to Lhasa, we traveled through the Mongolian plains together with an entire village of Mongolians. They did not speak to each other. They would shout at each other at the top of their voices. One woman made sounds that I did not know the human vocal range was capable of, sounds that were half guttural, half shriek, mostly directed at her children, or at her husband, who would simply shrug his shoulders sheepishly and slink away. They'd toss half-eaten corn cobs on the coupe floors, along with all their other trash. They'd set their children loose to roam the train's corridors, relying on serendipity and the global village of train passengers to keep them safe. I drew pictures of horses, dogs, mermaids, and handed them to the children to keep them entertained. They were so delighted by my simple line drawings that it occurred to me that they may have never seen picture books before. The children would race down the corridor, clutching their drawings to their chests, screeching with glee as the barren landscape rolled past our windows, dotted with small half-frozen ponds of water.
Despite frequent announcements warning against the tragic consequences of smoking on a pressurized train and the dangers of igniting the oxygen pumped inside by using lighters, passengers lit up demonstratively, smoking openly, flicking their lighters as a form of mindless entertainment.
The moment I stepped off the train in Lhasa and entered the massive granite train station, I felt the tension. We westerners were immediately singled out and ushered to the police station for a document check and a mandatory luggage inspection before we were allowed inside the country. As soon as we passed this inspection, we were released to walk across a cordoned off granite square the size of a football field to meet our guide, Lotse, who was waiting for us behind a barricade. Immediately upon arrival in Lhasa, one feels the tension of the occupation of Tibet in the air. One feels it in the furtive glances of the Tibetans hurrying down their own streets, watching their backs; in the glazed-over stares of Chinese police armed with semiautomatic rifles, standing at attention, poised for trouble, immobile, tense, frozen inside glass boxes the size of old-school telephone booths, situated on street corners, in front of grandiose government buildings.
In Lhasa I expected to find many western tourists and amenities. Instead, I found hordes of Chinese tourists. The new train lines from the major cities in China bring 20,000 Chinese tourists to Lhasa every day. They come with a mercantile spirit, buying up prayer wheels and twirling them around as if they were pinwheels, or posing with them for selfies in that cute "little girl" pose that only Chinese women can pull off. Chinese tourists are herded around monasteries in large groups, kept in line by aggressive, flag-toting, screeching tour guides, imported from their home cities and provinces to tote the party line. Chinese tourists stand stock still in temples as their guides launch into prolonged narrations. And yet, when given a few minutes to take a look around on their own, I notice the older generation would stop and pause in front of the Buddhist statues and pray, following the correct postures and movements. These secret Buddhists, I like to hope, have come to Tibet to rediscover something of their own lost religion.
The passengers in our minivan, ten people who'd only just met a few days previous in a hotel lobby in Lhasa, represent the era of globalization. There is Muskan, an Indian businesswoman from Xian, China, who studied in Kathmandu, Nepal, and longed to experience high altitudes again. Muskan told us that her name meant "smile," and we all agree her named suits her. Muskan was the joker among us, always kidding around, teasing anyone who deserved it; she made the group cohesive.
Then there is Maria, a Belarussian woman in her twenties. Maria spent her adolescence glued to American television, blocking out the bleak reality of Minsk. She taught herself to speak in a valley girl accent, which earned her a position teaching English in Beijing. While living in Beijing, Maria, a natural linguist, picked up Mandarin, which she shouted into her cell phone as we dipped and plunged through rutted dirt roads, negotiating an apartment rental for her non-Mandarin speaking boyfriend. After what seemed like hours of harsh syllables reverberating against the metal cocoon of our minivan, Maria finally ended the conversation with a Russian expletive that caused Agita to burst out giggling from the back of the van.
Agita distinguished herself from the rest of us mere mortals by her iron constitution. She could chain smoke at high altitudes while the rest of us struggled to breathe the thin air. When we first arrived, in the van ride to our hotel, Lotse gave us instructions on how to cope with altitude sickness: "Rest," he said, "do not exercise. Do not smoke and do not drink alcohol. Do not take a hot shower."
Agita immediately did all three of the above and felt great. I dubbed her, "The Iron Lady."
There is Zsuzana from Budapest, Hungary. Zsuzana runs a marathon a year, always in a different country, and then takes a vacation tour afterwards. This year Zsuzana ran the marathon in Beijing and decided to spend her vacation touring Tibet. When I asked Zsuzana how long she trained for her marathons, she told me she runs them cold. The rest of the year she doesn't even so much as jog, not even to catch up with a departing bus or tram.
There are two young Chinese engineers from Kuala Lumpur, Malaysia. Ever smiling, friendly, and solicitous, Yet Chez and Sam are our cultural translators. They take good care of us Westerners. They are pleasant and well-mannered, educated, and inform us on the history of the Chinese in Malaysia.
Oliver, an IT specialist from Germany, who is working in Shanghai, a serious young man in his mid-twenties with that stereotypical German affection for gadgets and precision, adds a note of sobriety to our otherwise raucous group, which naturally makes him the target of countless verbal quips. However, he takes all our teasing in stride. He carries a professional camera and tripod with him everywhere he goes. We are all grateful for his very accurate photographs, which he shares generously.
Rooming with Oliver are two students in their early twenties: Dan from Australia and Guillaume from southern France. Both spent a semester in Chengdu and Beijing, respectively. They had only met on this trip, but bonded like brothers. It was a pleasure to see them together. One got the impression that they would be friends for life. However, they are not above the typical student prank, which culminated with Guillaume—to our collective horror—urinating demonstratively into the sacred Yamdrok Lake, after being pursued and hounded by a pack of locals demanding payment from him for taking a photograph of a yak on his iPhone.
It is rumored that every tour in Tibet has an informer planted within it, a Chinese person loyal to Beijing who will keep an eye on the Tibetan tour guide and monitor him to make sure his tongue never slips. We suspected May, a Chinese woman in her fifties, who has lived in Canada for twenty years, but nonetheless prefers to speak Mandarin. At the same time we recognize that our suspicions are more likely fraught with paranoia than veracity. Nonetheless, May never lost an opportunity to take a dig at Lotse, or to contradict his narration. May contended, often and loudly, that "Tibetans all get free health care while we Chinese have to pay for everything" or "Tibetans get money to send their children to school while we have to pay." May liked to remind the group: "The Chinese government takes very good care of its ethnic minorities," adding, "but they are so ungrateful." Her pronouncements often caused Lotse to cringe, but he is disciplined and bites his tongue. However, his wry smile speaks volumes. When I asked Lotse the percentage of Tibetan population to the Chinese, he called out triumphantly, "We are 65% Tibetan and 35% Chinese. We are still more!"
May dresses in traditional flowing Chinese embroidered skirts, jackets, blouses. She ate her meals separate from the rest of us, telling us that she only eats Szechuan food and not Tibetan food. When we assembled a tip for Lotse and for the driver, May refused to contribute, telling us that "Chinese people do not tip." To prove her point, she complained that Lotse's narrations were too brief compared to the long lectures delivered by mainland Chinese tour guides, who held their groups of tightly packed together Chinese tourists captive for up to an hour inside shrines and monasteries as they either droned on monotonously or shouted aggressively. Those tour guides had no need of a megaphone.
Our Tibetan guide, Lotse, could be described in Western terms as a cool guy. There is no other way to put it. With his knock-off Armani shirts, weather-beaten jeans and complexion, easy gait, and Ray Bans, he possesses natural poise and a dry sense of survival humor. Nothing ever gets to him and he is always ready to join in the fun, whether that meant skipping stones across a mountain pass or joining us for a beer at a local Tibetan club. He never assumed a stiff poise with us, his self-esteem would not allow that. He treated us like people, not customers on a tour. Lotse is thirty-one, married, and is raising two children. As the eldest male in his family, he is supporting his mother and other relatives. He studied painting and traditional Tibetan music. Whenever there is a slow period between tours, he enjoys nothing more than staying home and working on a new painting, and teaching his children Tibetan traditions.
Although the span of ages in our group ranged from the early twenties to the mid-fifties, no one was ever excluded, not even May. We enjoyed eating together, laughing over jokes, sharing stories, exploring monasteries, wandering the streets of Old Lhasa, or drinking weak Tibetan rice beer from shot glasses in a dimly lit smoky Tibetan tavern in Lhasa. Perhaps, indeed, it was possible that we'd been together on some past life journey. These are the types of thoughts one entertains while in Tibet.
As our minivan negotiates the dirt roads, I gaze out at the lunar landscape outside the dusty van windows. The terrain is dry, unforgiving, the mountains steep and jagged. Not far from where we are traveling lies the mountain pass that leads to India: The trail the Dalai Lama took in 1959 when he fled Lhasa after the Chinese occupation of Tibet. The occupation is referred to as "the liberation of Tibet." This Orwellian doublespeak is all over the place, anywhere information is provided for tourists. It is announced glibly over loudspeakers on the pressurized train to Lhasa in a crisp, educated British accent by some Brit who was apparently the type who'd say anything for money.
Every few hours our minivan must stop at a police check point where we all must file out and line up with our passports for inspection. The Chinese take no chances with their borders, not even here, where many die or never make it while trying to cross the mountains into India. I have read survivor memoirs of Tibetans, who as children or teenagers, made the dangerous journey on foot across the mountains that lead into India. They do not head for India seeking a better life in the West. They do not go to earn money to send home. They go so that they may attend the Tibetan Children's School in Dharamsala. Parents risk the lives of their children, entrusting them to questionable guides to get them over the border, so that they may freely study the Tibetan language, culture, religion. These children defy death so that they may study all the subjects they are not able to study in the Chinese government schools in Tibet, the schools, as May kept reminding us, that are free to Tibetan children, and for which their parents are given sacks of free grain as long as their children kept attending.
I understand the Tibetans. I understand their stubbornness; their refusal to assimilate. I grew up in the diaspora during the Cold War years when Lithuania was occupied by the Soviet Union. I attended Saturday Lithuanian language and culture schools and summer camps. I understand the will and the defiance behind preserving a language and a culture in its death throes due to a foreign occupation by a larger, more aggressive culture. Although Russia is once again assembling its troops on Lithuania's borders, we have enjoyed our freedom, our independence, our national rebirth. The Tibetans have not yet been able to do this, and I wonder, after decades of occupation, how long can they wait? How long will they hold out before their culture, their religion, their way of life is lost?
However, so far indigenous Tibetan culture has survived and seems to be thriving on the streets of Lhasa. On the streets outside the temple walls, Tibetans repetitively lie down, stand up, press their palms together, immersed in the rhythms of their meditation. Tibetan women wear the traditional Tibetan national costume—horizontal stripes in shades of browns, maroons, greens—as they walk along the streets, attending to their daily chores, or praying, spinning their prayer wheels, walking clockwise around the Old City of Lhasa. In shops in Old Lhasa bolts of Tibetan woven fabrics are sold, and Tibetan women congregate in these shops, holding the fabric against their chests, checking the color and weave before making their purchases. At the same time the lack of freedom, the constant surveillance, the pressure of a foreign occupying force, does not relent in Lhasa for one moment.
Only out on the open road does the military presence subside, but only until you reach the next check point. Tibet is an occupied country and the Tibetans are an oppressed people. No amount of propaganda or surface decoration could ever change that. One feels the effect of the occupation in the desperation of the Tibetans as they hunt down tourists to harass them into buying prayer flags or prayer wheels, trivializing the sacred objects of their own religion. Hawking their goods (some of it now made in factories in China), or dressed in their traditional costumes and charging tourists to pose with them for a photograph, they become a parody of themselves.
These tourist-chasing Tibetans give off that specific hopelessness of an occupied people, of a people who are in grave danger of losing their identity, their pride. Although there are almost double the number of Tibetans to Chinese in Tibet, they are treated as a minority group in their own country. I have read the testimonials of Tibetans, who have escaped across the mountains to India, and from there have come to the United States. I've read that even with a PhD Tibetans are prevented from working in professional positions. The highest goal a Tibetan can hope for in their own country is a job as a tour guide.
While in Tibet I find myself thinking often of the year I spent in Soviet-occupied Lithuania in the late eighties when I was a student. Unfortunately, like in Soviet-occupied Lithuania, there is a segment of the Tibetan population that has submitted to alcohol. And there are those who've internalized the arrogance of the oppressed. I'd seen this behavior before—in the old Soviet Union. In the hotel we stayed in the night before setting off for Everest, we were served an early breakfast. In the dining room trays of steaming food were set out for us foreign guests, both Western and Chinese dishes. However, few of us had the stomach to eat any of it. A Tibetan man, a hotel worker, parked himself beside the food and sat there chain-smoking a particular type of foul-smelling Chinese cigarette, glaring defiantly at anyone who approached the food, grinning, enjoying the stench he was creating. This is just one example of the schemes of the oppressed, misdirected, pathetic, intended to annoy tourists, but in the end pointless.
The question that hangs in the air everywhere in Tibet is this: Will Tibet ever be independent again? This, I imagine, is what Tibetans themselves desire and dream for, and believe will one day come to pass. In the darkest years of the occupation of Lithuania, when the Baltic States had disappeared off all maps and were hardly ever mentioned again, we believed that one day our country would be free. We Lithuanians, Latvians, Estonians would gather to mark our stolen independence days and sing our lost anthems. We chanted a dream and by chanting that dream, eventually it came true. And, we were ready to fight for it, by demonstrating, protesting, demanding that our stolen nationhood be returned to us. I believe that it will be so with Tibet: As long as the Tibetans do not lose their culture and their faith. As with any occupied land, the people's power lies not in their weapons, but in their ability to hold onto their culture and language, and pass on their beliefs to the next generation.
China, it is widely believed, will never release Tibet because of Tibet's vast natural resources. However, in recent years the Chinese have discovered a new goldmine: tourism. The Chinese have realized that rather than murdering Buddhist monks and nuns and destroying monasteries, they can do better, they can profit from them. The Chinese government has figured out that rather than annihilating the Buddhist monasteries and eradicating the Indo-Tibetan Buddhist teachings, they can do even worse damage and erode the culture from within by turning them into a profitable tourist attraction, tempting the Tibetan people, and the monks themselves, into a manic cycle of profit and greed. Traditional Buddhist debates, where young Tibetan monks dressed in their maroon robes meet in temple courtyards to discuss the teachings, are now open to tourists to watch and to film. This occurs on a daily basis. I wonder at how this invasiveness affects the training of the young monks? In addition to debating with one another, they are now performing for tourists. I wonder how stampedes of tourists marching through the monasteries every day changes the stillness of that religious environment, transforming it into one of worldly distraction? Or perhaps the presence of tourists in the monasteries serves as one more lesson for Tibetan Buddhist monks, a lesson about tolerance, about persevering in one's faith despite the constant distraction?
When we visited the Potala Palace, I watched crowds of Chinese tourists moving through the chambers in a steady stream, and I thought, perhaps the Chinese travel to Tibet from their ruined smog-filled cities to see blue skies and cumulous clouds once more. Perhaps they come to take a deep breath? Despite the overwhelming sense of wonder I feel at being fortunate enough to visit Tibet, the nagging feeling eats away at me that I am experiencing a Disneyland version of Tibet, a Tibet that is marketed for Chinese and Western tourists. And yet, at every monastery we visit, the monks take our interruption of their daily routines with ease, going about their rituals, smiling at us, leaving us alone to freely roam their grounds and temples, to explore, to experience their faith on our own terms.
Members of our group quickly notice that many monks are using iPads and iPhones in the monasteries. They see this as a contradiction, evidence of a hypocritical embrace of materialism within a religion that extolls spirituality and negates the material. However, Lotse explains that the monks use these devices to read scripture, as one would have used a tablet or a scroll in times past. And this is something that has always fascinated me about Indo-Tibetan Buddhism: the faith's ability to juxtapose and balance the contemporary and the ancient. Buddhist monks, and the Dalai Lama, have worked with neuroscientists to tap into and understand the power of the human brain while engaged in meditation. Indo-Tibetan Buddhism does not shut out science and technology, but embraces it. Little is taken on faith; much of the religion's knowledge rests on a rational perception of the universe.
We arrive at Mount Everest base camp late in the afternoon. This is our moment of triumph, the highlight of our trip. We hug, laugh, take group photos, scurry up the side of the mountain giddy and gleeful. We are lucky. We are one of the few groups to see the peak of Mount Everest in the sunshine. We also see the sunset on Everest, a moment of brief pink glow, and then it is gone. We retire for the night to a traditional Tibetan tent made of fabric woven together from yak wool and felted; decorated with bold white Tibetan symbols against a black background. There we spend the night, sipping black tea boiled on a wide Tibetan stove and telling stories to pass the time until dawn.
That night, in the Everest base camp, I succumb to altitude sickness and find myself shivering under a goat hide inside the traditional Tibetan tent. I see a different side of May, when she shares her special Chinese roots with me, brewing up a mixture on a camp stove to help ease my dizziness and nausea. I am appreciative of May's mothering at a moment when I am so sick I could scarcely breathe.
On the way back from Everest we visit a few monasteries. Small mountains of money flutter in the breeze. No one touches this money. These are offerings left by worshippers. The money seems to have no meaning to the monks. It is scattered on the floor, underfoot, overflowing over the edges of holy statues, littering the pathways outside the temples' entrances. No one chases the paper money as it blows away or drops into a drainage ditch and sinks to its muddy bottom.
I pause in one room and listen as two young monks chant in Sanskrit. A rough-looking workman steps inside the temple, wearing dusty work boots and dirty clothing. He says something in Mandarin to the monks. He must have asked to be paid for his work, because one of the young monks stands up and plucks two 100 yuan bills from the palm of a holy statue and hands them to the workman.
Outside of the Pelkor Monastery in Gyantse, an old Tibetan woman sits etching images onto slabs of slate. She paints the images, so that they stand out in bright colors against their slate-gray backgrounds. Her paintings are arranged on a card table. I pick up a bit of slate with an image I'd seen painted not only on monastery walls, but on walls in the city of Old Lhasa. It is an image of an elephant carrying a monkey on its back. On the monkey's head, sits a rabbit; on the rabbit's shoulder a bird is perched. I ask Lotse what this image symbolizes.
"It means that although people can be very different, we should all be friends," Lotse says. He pauses a moment, then adds, "It is like your group. You are different races and ages and come from different countries, and yet you are all friends."
The next day we return to Lhasa, making our way across the rugged landscape that is Tibet. On our last night in Lhasa, before we all part ways, scattering to different continents and different lives, we take a walk together through Old Lhasa. In the Old City of Lhasa I watch as children find creative ways to play. They stack bricks; they tie chairs together with a bit of string to make a fort; they chase each other around the narrow winding streets. Their play reminds me of my own pre-Internet childhood, a childhood spent outdoors running wild with five siblings and with the neighborhood children, a childhood of imaginative abandon. It is the childhood that gave me the foundation to a lifetime of creativity. I watch the Tibetan children play as I walk the streets of Old Lhasa and I think, on this remote mountain top, civilization has not yet quite caught up, but one day it will, inevitably it will.
We wander to the Potala Palace because Oliver wants to take a nighttime photo of the illuminated palace. As Oliver carefully sets up his tripod and camera, the rest of us decide we want to take group photos. A few meters away a Chinese guard in uniform stands, watching us suspiciously. Oliver approaches him and asks him if he would take our photo. He agrees. We ham it up for the camera, provoking the guard to painfully crack a smile. Immediately, his supervisor emerges from a nearby booth and says something to him. They both stalk away. It must not be easy to be the occupier in an occupied land.
The next day on the flight from Lhasa to Beijing, as we fly over Tibet's rugged mountain ranges, I read an article in the China Daily with the catchy title: "Tibetans born to live the high life, study finds." The article begins, "Tibetans are able to live at high altitude thanks to a special gene they inherited from a mysterious now-extinct branch of the human family…" At first I think, is this a joke? Some sort of Chinese propaganda? But the article has a reputable source, Agence France-Presse in Paris. The article goes on to explain that "the ancestors of today's Tibetan ethnic group acquired a key variant of a gene regulating oxygen in the blood when they mated with a species of human called the Denisovans." The Denisovans are contemporaries of the Neanderthals. The article contends that "before the Denisovans disappeared as a separate branch, they intermingled with Homo sapiens, leaving traits that survive in the human DNA pool today." In a study published by the journal Nature, scientists in China and the United States compared the genomes of 40 Tibetan and 40 Han Chinese group members. The article claims that "buried in the Tibetans' gene code is an unusual variant of a gene called EPAS1, which regulates production of hemoglobin, the molecule that hauls oxygen around the blood…" The variant found in Tibetans averts problems caused by low oxygen experienced by people who relocate to places above 4,000 meters (13,123 feet) in altitude. Lhasa is 4,000 meters above sea level, making it the highest altitude city in the world. So, perhaps the Chinese will not be able to survive in Tibet in the long run, after all?
Our plane flies past Mount Everest just as the mountain emerges from behind cloud cover, once more revealing its snowy face in its full glory. I remember the "bumping road," as the Tibetans call it, the road to Everest. I remember the perilous twists and turns and the camaraderie in our minivan, which made danger seem remote. Or maybe, protected as we were by Lotse's prayers, it was remote. I remember the Tibetans living alongside the road in tents, in makeshift stone dwellings, people living outside of modernity, outside globalization, except for when we foreigners passed through, littering their lives with our needs and our insignificant gifts, chocolate bars for their children and a few scattered coins. Perhaps this stone-age gene will keep their world isolated, pristine, as the rest of the world recklessly descends into its polluted postmodern global reality of interconnected megacities that defy the logic of human scale.
I did buy the bit of slate from the old woman in Gyantse. I keep it with me, under my seat, in my carry-on luggage, as we cruise past Mount Everest, the clouds now opening up even further to fully reveal the mountain's peak, like a lotus flower, exposing the sheer icy beauty of this ancient mountain's face. I bring the bit of slate back to Hong Kong, where I place it in a prominent place on my bookshelf. Every day, as I pass out my door to descend into the MTR, and am absorbed into the anonymous crowd, where I weave my way around the sleep-walking masses, who are lulled into a state of non-awareness, plugged into their devices, I think of this image of unlikely friends traveling together on an elephant's back. The image reminds me of those rare moments of connection, of those random friendships found along the roadside of my travels—found treasures, like a shiny pebble or an iridescent sea shell that one keeps in one's pocket for ages and then rediscovers one day, years later, and suddenly the memory bursts back to life with all its small, yet significant, meaning intact. And this bit of painted slate helps me remember that the divisiveness, that the forty-one wars being waged on our planet right now, are not the only way, and that often the most precious life lessons we learn are those that we carry with us from a timeless past deep into a hurried future.
From: DIGGING A HOLE TO CHINA: A MEMOIR ON TEACHING AND TRAVELING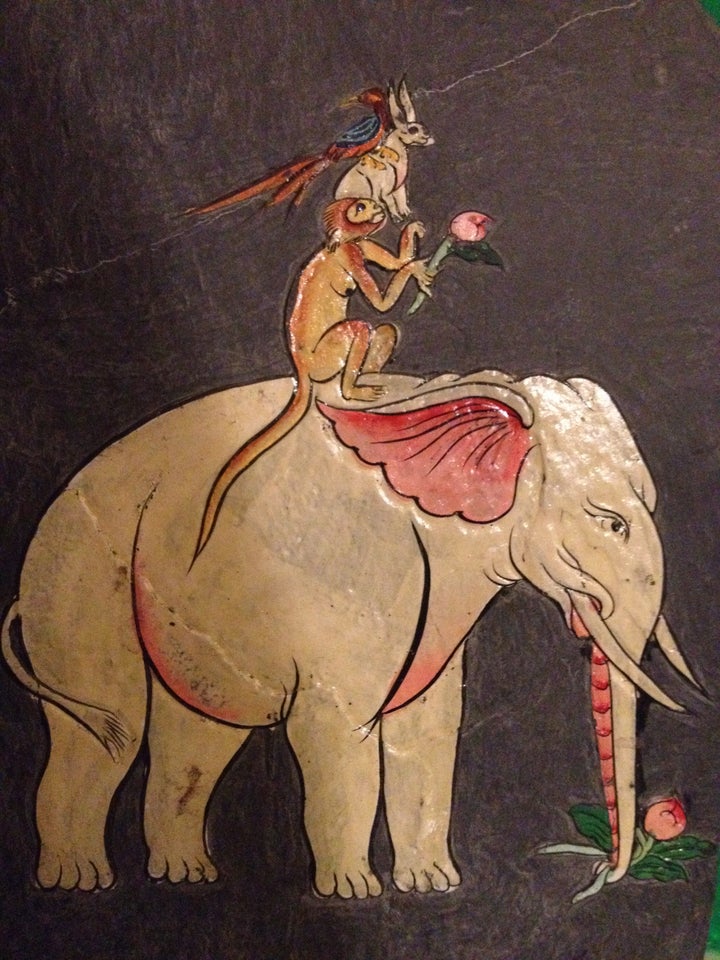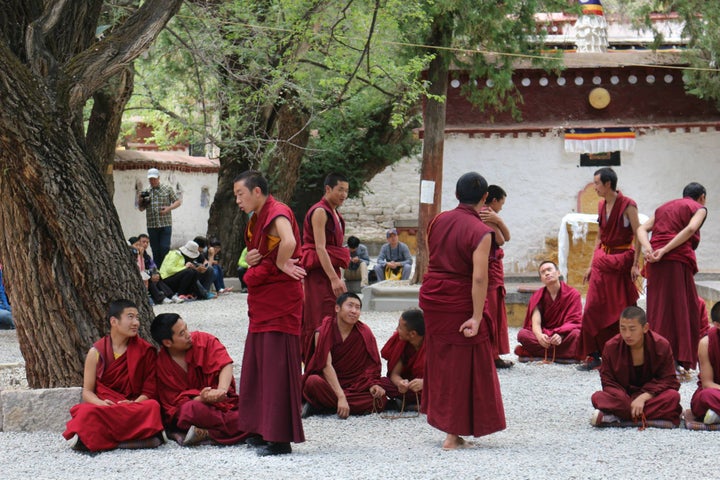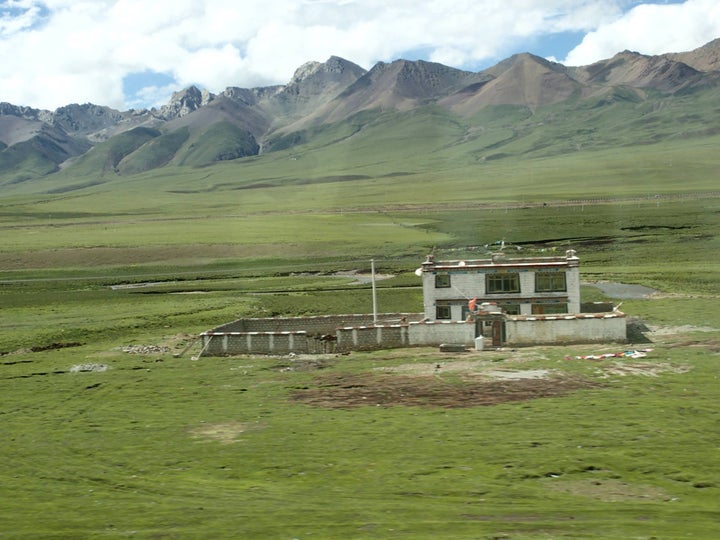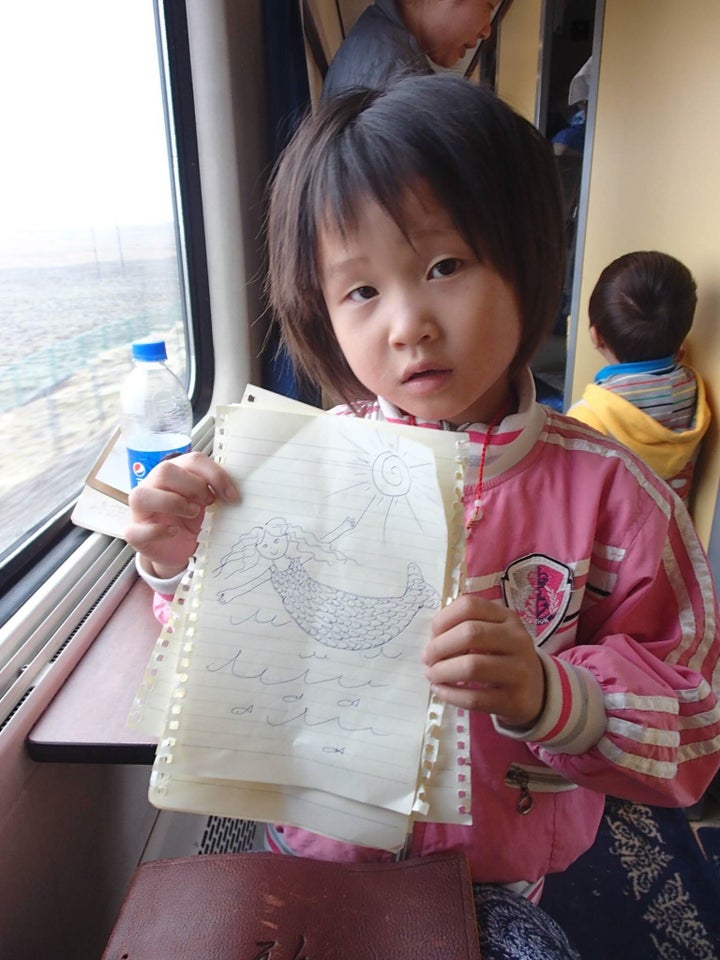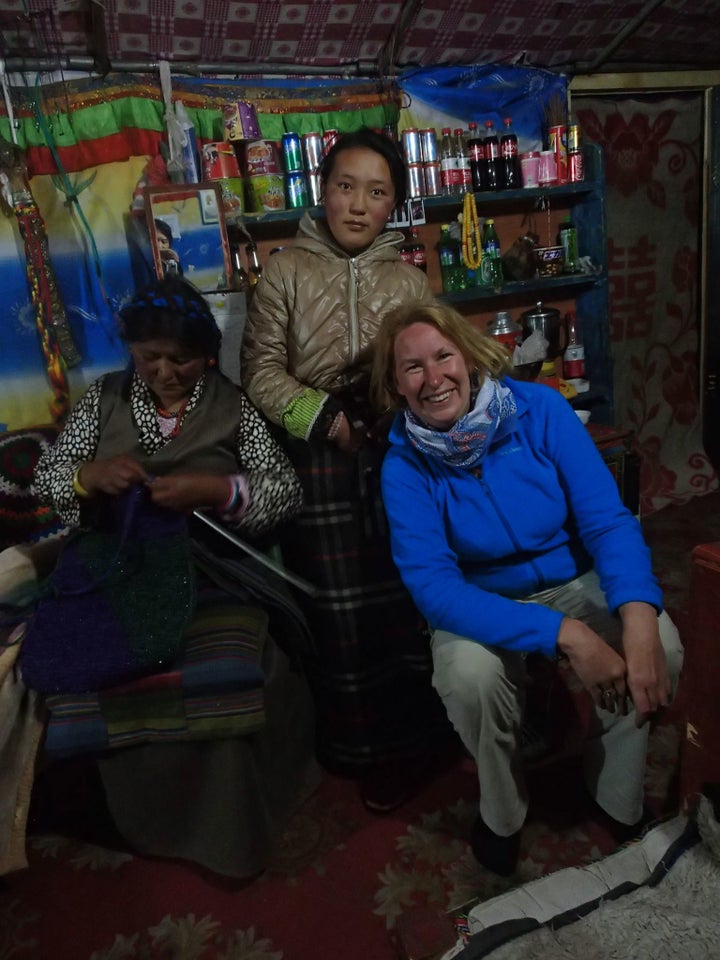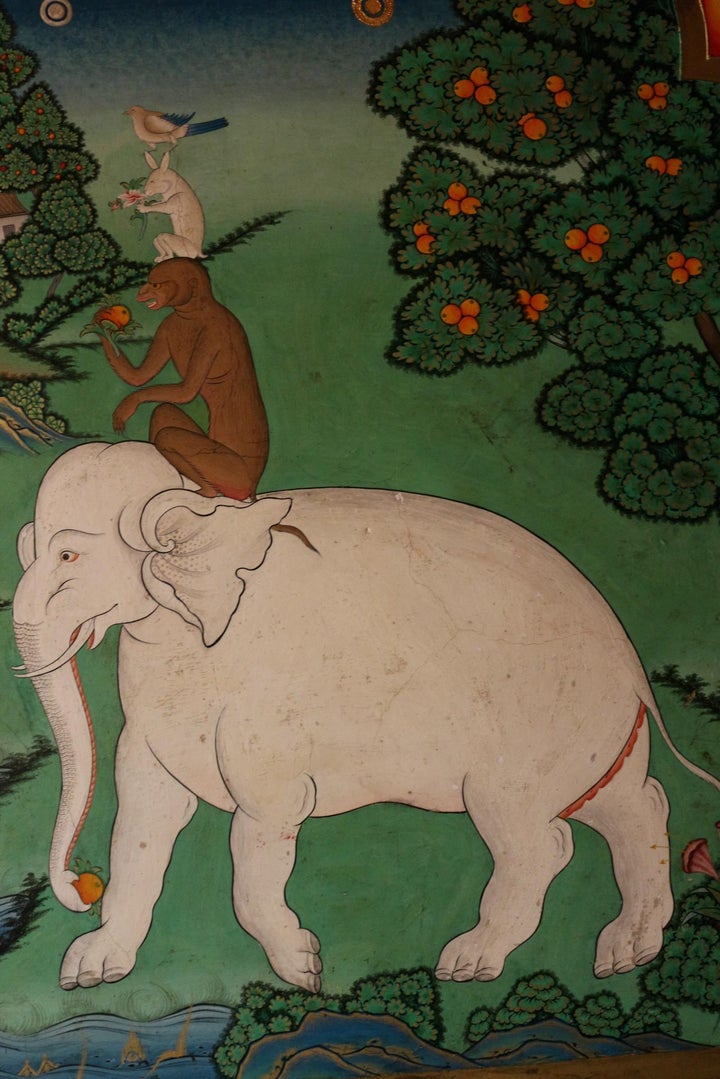 Popular in the Community