On the road again! School was hardly out before the family and I had our camping gear packed into the rental minivan. Time for another western adventure to visit and learn about some of the public lands that the Sierra Club and others are working to protect.
Where to this year? As a parent, I would never single out one child as my favorite. As executive director of the Sierra Club, I would never say that I love one part of Our Wild America more than the others, but...  we started this year's trip by heading back to the red rock lands of southern Utah that we visited two years ago. The dry canyons and mesas can seem forbidding, but their stark beauty is unassailable.
Our first big stop was the Four Corners region of southeastern Utah, where we had the privilege of meeting with members of the local Navajo and Ute Mountain Ute tribal communities. Local tribes have deep ties to the lands here. They live, work and practice their traditions on this land. They and the other tribes of the Four Corners area are sensitive not only to their own sacred sites but also to the archaeological heritage left by the civilizations that preceded theirs.
On Sunday, we hiked to the Moon House Ruin in San Juan County's Cedar Mesa area, which contains more than 50,000 cultural/archaeological sites. Our guide was Willy Gray Eyes, chairman of the Utah Diné Bikéyah (the Utah Peoples Land), a Native American-led nonprofit that is advocating for the protection of vulnerable public lands. Willie showed us around the ruins, which date to the 13th century. He also explained the many medicinal uses of local plants like the juniper and pinyons that dominate the ecosystem here. Many plants and herbs used in Navajo rituals can only be found on public lands outside of the tribe's reservation, such as Cedar Mesa.
Most people in Utah agree that more public lands should be protected, but getting them to agree on exactly how to do it has been challenging, to say the least. Meanwhile, according to Willy Gray Eyes, the Navajo see their ancestral lands being "desecrated and dishonored" by everything from illegal off-road vehicles to souvenir hunters to oil and gas development. One solution would be for President Obama to permanently protect 1.9 million acres of these lands as part of a new Bears Ears National Monument.
From San Juan County, we headed north toward the area around Canyonlands National Park.  When we camped near here at Dead Horse State Park a couple of years ago, we were shocked to see the light of flared gas from nearby fracking wells just outside the national park's boundary. Two years later, the area is under even more intense pressure from fracking.
An ugly new development is the sight of exposed natural gas pipelines crisscrossing the landscape. Ironically, these are an attempt to reduce the amount of gas being flared from fracking wells. One of these, the Dead Horse Lateral Pipeline, stretches 22 miles and runs on top of the red rock right outside Canyonlands National Park. Approved by BLM and the Department of Interior, the pipe is uncoated and unpainted. Maybe that's so that it can eventually rust and blend in with the red rock landscape.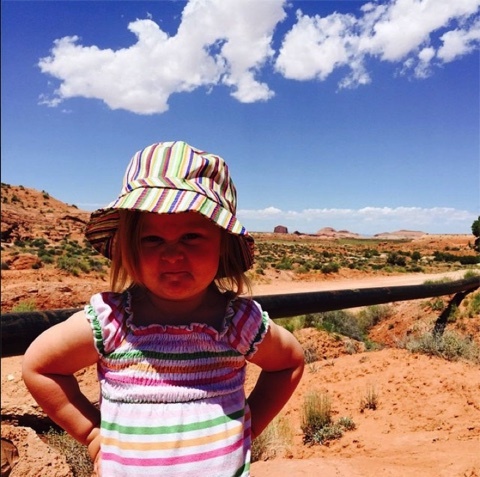 Gas pipelines in red rock country? Genevieve does not approve.
Of course, the more logical solution would be not to allow fracking on these public lands in the first place. That's why the Sierra Club and others have long supported a proposed Greater Canyonlands National Monument. Both the Greater Canyonlands and Bear Ears monument proposals offer the President Obama the chance to protect these uniquely American landscapes before it's too late.
REAL LIFE. REAL NEWS. REAL VOICES.
Help us tell more of the stories that matter from voices that too often remain unheard.