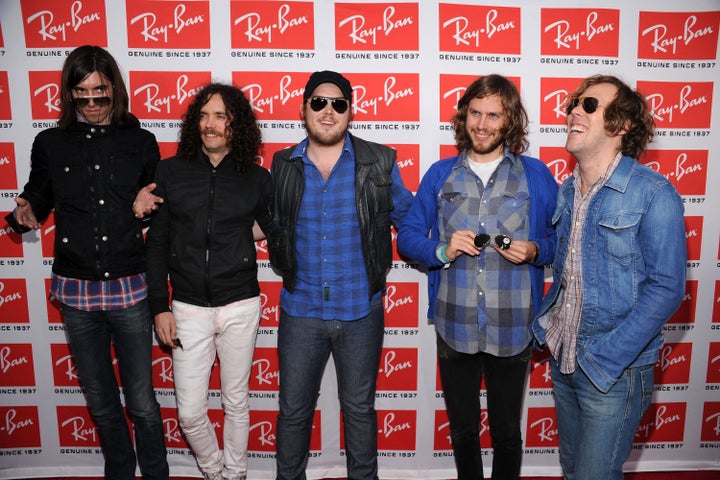 The Postelles are in an antique store 154 miles out of Los Angeles filling up their touring van's gas tank. There are two hot rods topping off at the neighboring pumps. The band has geared up on water, snacks, and fuel. Meanwhile In the neighboring vintage shop, drummer Billy Cadden has stumbled upon a gorgeous 1973 Fender Precision Bass. Somehow he has managed to uncover the only instrument in the entire store. The rest of the band emerges from the woodwork, from amongst old teapots, Navajo rugs, and old Coca-Cola memorabilia to inspect the find. The bass is in perfect working order, and looks as though it has been barely touched for decades. The owners of the store have no clue what kind of treasure they are sitting on. A vintage piece in condition like this is worth north of $4,000. It is on sale for $999.99, original case included. This is highway robbery, and The Postelles are about to make their getaway. They gather around in a huddle around the bass, passing it around and heaping adulation upon the four stringed wonder.
"This neck is impeccable," Dargahi exclaims as he works his way through a walking bassline.
"It plays like butter," Billy, in wide-eyed admiration.
The guitar is cased, paid for, and the band walks away like thieves in the afternoon sun. They are on their way to Los Angeles' Roxy Theater. Tour manager Brian Wilson stands his dutiful guard outside the van, making absolutely sure the band makes good time and arrives in southern California in time for load-in and soundcheck. Back on the road we see the two hot rods stalled out on the side of the freeway, a couple minutes south of the antique shop. Their touring partners, Free Energy, are in a van several hours ahead.
Last night's show had Portland beat hands down: San Francisco's Independent Theater was filled with fans who bought an outsized amount of merch before both bands had to make the 6 hour haul to Los Angeles. The drive is mild compared to the trek from Portland to the City by the Bay. Back on the road, David whistles several bars from Free Energy's "Dream City," a staple of their live show.
Both bands were on point Thursday night. The sound at the Independent Theater was impeccable, and the crowd responded enthusiastically. As Free Energy tore through their set the floor was filled with dancing, writhing bodies, in step with their brand of no-holds-barred, 70s power rock.
"That song was called 'C'mon Let's Dance,' it might be I don't know...too literal?" jokes singer Paul Sprangers.
Free Energy was born from the ashes of a band called Hockey Night in Red Wing, Minnesota. The band was in talks with Jon Galkin and James Murphy (of LCD Soundsystem) about signing to his label DFA Records. "We'd started talking to Jon Galkin, the label manager at DFA, towards the end of Hockey Night," explains Sprangers. "We broke up, and Jon still signed us based on our demos."
Paul and Scott Wells, lead guitarist of Hockey Night, continued to write and record songs in Minnesota for another year or so after signing to DFA. "'Hope Child' was one, 'Young Hearts'. There were some Hockey Night songs that we were demoing and then a bunch that Scott and I were just demoing."
Paul and Scott proceeded to pack their bags and move to New York City, where they slept on the floor of DFA while continuing to record songs. It took quite some time, about 10 months, before they actually decided to record a full-length debut. With Murphy at the helm, producing the record, Free Energy finally recorded and released their debut 'Stuck On Nothing' which hit the shelves last May. "It was a long process from signing to actually putting out the record. 3 or 4 years," recalls Sprangers.
The vans make their way through the rolling hills of California beneath a setting sun. Brian Wilson calls up Free Energy and confirms that they have arrived in Los Angeles. They are unloading their gear at The Roxy, tonight's venue. Meanwhile, as the sun ducks behind the pacific horizon, The Postelle's tour van is beginning to enter LA and has become fully entrenched in the famous Los Angeles traffic. It shows no signs of letting up, and there are only a few hours until showtime. It looks as though we are going to be late to a show, which, judging from the ticket sales, promises to be packed.

Support HuffPost
The Stakes Have Never Been Higher
Popular in the Community