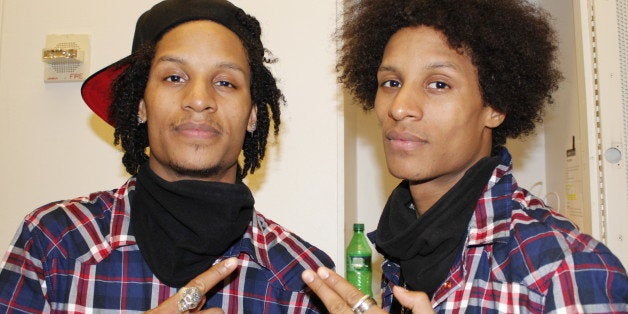 NEW YORK -- With tickets finally on sale to the general public for "Beyonce & Jay Z: On the Run," one of North America's most anticipated stadium tours this summer, many are wondering what gifts these music gods might bestow upon us mortals come concert time. Further fueling our curiosity is this recent photo posted on Instagram by Queen Bey's most trusted and loyal subjects, dancers "Les Twins," which reads "#monster crew's coming @beyonce Jay Z."
"Les Twins," born Laurent and Larry Bourgeois, are identical twin brothers from France who have shared the stage with Beyonce and Missy Elliott, appeared in Jay Z's "That's Rocawear" viral video and toured with Cirque du Soleil's "Michael Jackson: The Immortal World Tour." While the dynamic hip hop duo -- who also refer to themselves as "Monster" -- rather admirably are keeping tight-lipped about the "On The Run" tour, HuffPost did manage to squeeze out a few details.
"Monster is coming back," say Les Twins, adding, "Les Twins doesn't work without Monster and Monster doesn't workout with Les Twins." We're still left guessing, though, as neither would confirm if they're going to reunite on stage with their #flawless employer.
Well, we sure hope Beyonce is listening! These tall glasses of water (ladies, trust, they're easy on the eyes) made women (and men) everywhere swoon as the only male dancers during last year's global takeover known as the "Mrs. Carter World Tour."
"The last tour... it was a flawless tour," says Larry. "It was a new full album... it was just a lot of work," adds Laurent. On Beyonce, the duo says, "She doesn't know how to sleep. She's like us. Nobody knows behind-the-scenes."
When it comes to behind-the-scene secrets, Les Twins are also shedding new light on rapper Jay Z.
"The thing you don't know about is that Jay Z knows how to dance," says Larry. "He feels the music."
So will fans finally get to see HOV shed his trusty Brooklyn bounce and rock those hips with his wife for "On The Run?" We'll just have to wait to see. But here's what we do know: the wait won't come cheap.
According to Forbes, tickets to this 16-city tour are 44% more expensive than the tours they individually headlined last year. In fact, it's reported that the average ticket price for Jay-Z and Beyonce's joint tour is $342.67 on the secondary market.
But fear not! For less than half that price, you can catch Les Twins and their gravity defying moves at a city near you. The pair is taking a temporary break from the main stage to teach exclusive workshops at celebrated venues like New York's Alvin Ailey American Dance Theater.
"We're never tired enough to (stop giving) love to people who really want to be with us and enjoy dancing," says Larry on teaching. "I love to give people the opportunity to believe that it can be them on stage," adds Laurent.
So you think you can dance? Find out if you have what it takes to step with Les Twins at one of their U.S. workshops here: Facebook.com/lestwinsofficial.
Support HuffPost
The Stakes Have Never Been Higher
Popular in the Community