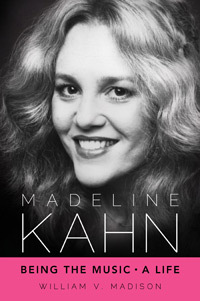 Those of us who watched the actress Madeline Kahn (1942-1999) as she slipped into prominence--with a startling performance in the 1969 off-Broadway musical Promenade, followed by an over-the-top and almost-starmaking turn in Richard Rodgers' Two by Two (1970)--were not all that surprised when she proved herself an adept comedienne in films like "Paper Moon," "Blazing Saddles" and "Young Frankenstein." By 1974, Kahn was by any measure a star, thanks in good measure to Mel Brooks. But then, according to William V. Madison in "Madeline Kahn: Being the Music, A Life," it all disappeared. The talent didn't disappear, mind you; but it seems that Kahn's faith in herself, which was never strong, deserted her altogether. The life we get is one of constant disappointment, and altogether depressing.
The book, mind you, is not depressing; it is illuminating. It's Kahn's life, itself, that is almost unrelentingly depressing. Madison has followed her career step-by-step; every job seems to be discussed, including guest shots on television series. But the jobs come against a background of a terrible life-with-mother, and Paula Kahn beats Gypsy Rose Lee's mom hands-down. Paula comes back again and again, like a bad penny or a bounced check (and not infrequently with a bounced check). If Madeline finds success, momma poisons it; if Madeline earns praise, momma minimalizes it. This makes a rather interesting character study, one can say, but a miserable life for an actress whom we might have thought had reason to enjoy herself and her accomplishments.
Madison identifies On the Twentieth Century, the 1978 Cy Coleman-Betty Comden-Adolph Green-Harold Prince musical, as the nadir of Kahn's career. Her performance wasn't ruinous, at least not the performance I saw at the St. James shortly before Kahn's contract was prematurely terminated. It simply wasn't what was needed by the piece. The problem seemed to be that the role was written for the wildly cascading voice that Kahn demonstrated in Promenade and Two by Two--and most gloriously in the Barbara Cook role of Cunegonde in a 1968 New York Philharmonic concert version of Candide, celebrating Leonard Bernstein's 50th birthday. A mere decade later, that voice was gone; or rather, Kahn's belief that she could regularly hit the notes was gone. Here you had a terminally insecure singer--in terror of finding those high notes--handed a comic operetta filled with high notes, with success more or less riding on the star's performance. Kahn almost literally closed up and shut down. Not helping matters was that director Prince--who joined the show after the leading lady had been cast--was told Madeline Kahn but somehow mistook her for Bernadette Peters, and never managed to adjust. (While it might sound unlikely, at that stage of their careers it was not altogether unreasonable to confuse Kahn and Peters.)
After more or less walking out of Twentieth Century, Kahn's career fell to pieces. Bad films, poor sitcoms, and jobs undertaken solely for the money. (Momma had a tendency to come around demanding cash, and at one point actually sued Madeline.) These jobs included a poor revival of Born Yesterday opposite Ed Asner, which played an extended tour before reaching the 46th Street Theatre in 1989. Kahn did, happily, have a late-career triumph in 1993, as the middle sister "Gorgeous" in Wendy Wasserstein's The Sisters Rosensweig. Kahn was wonderful here, and deserved the Best Actress Tony Award she received.
But this was the only bright spot that came along; while the average audience member couldn't have known the turmoil of Kahn's life, I remember thinking at the time that this was the first winning performance I'd seen from her since "Blazing Saddles" and "Young Frankenstein" almost twenty years earlier.
But that was the end of it. The next time I saw Kahn was in a 1995 Carnegie Hall concert production of the troubled Stephen Sondheim/Arthur Laurents musical Anyone Can Whistle. This time both Madeline and Bernadette were on hand, playing the roles originated by Angela Lansbury and Lee Remick. (Lansbury served as narrator.) The benefit served as a major fundraiser, but the performance was poor. Kahn looked lost and unprepared, and was pointedly diminished by having the still-radiant Lansbury standing there at the podium.
The final time I saw Kahn was at some benefit or other at the Pierre, presumably late in the decade. Kahn appeared, in a quiet and non-flashy guise, to sing Bock and Harnick's "What Makes Me Love Him?" from The Apple Tree. For some reason, Sheldon was standing next to me at the back of the ballroom, and I said to him--during the musical introduction--that this should be lovely. But it wasn't. Kahn was distracted and could barely sing the notes. Giving her the benefit of the doubt, this well might have been after she was diagnosed with ovarian cancer, in 1998; or maybe not. I remember being puzzled that Kahn--who was clearly capable--couldn't even get through this relatively simple lullaby.
Madison makes clear in "Being the Music," though, that other than her late-career triumph in Rosensweig, this was typical of Kahn. A performer of talent and promise, she died on December 3, 1999 after what Madison paints as a troubled and surprisingly mirthless fifty-seven years.
.
Madeline Kahn: Being the Music, A Life by William V. Madison is available from University Press of Mississippi
Popular in the Community