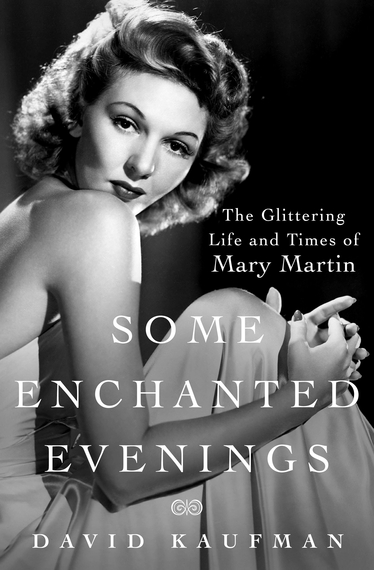 I'm sweet! I'm sweet! Peter Pan crows as he launches into "I'm Flyin'" in the first act of the Broadway musical of the same name. More than a few readers of Mary Martin's 1976 autobiography, "My Heart Belongs," might well have thrown down that tome overcome by the treacle from Mary and her ghostwriter, proclaiming just how very sweet Mary was.
This--and her post-Pan recordings (namely The Sound of Music [1959], in which the 46-year-old star was playing the young postulant; I Do! I Do! [1966], where she started as a twentyish newlywed and sounded, all along, like a grandmother; and her not-very-spicy 1965 London cast album of Hello, Dolly!)--have left her something of a question mark to audiences who weren't around early enough to see her three classic performances. Venus, in Kurt Weill's One Touch of Venus [1943], made Martin a star; Nellie Forbush, in Rodgers & Hammerstein's South Pacific [1949], made her a legend; and Peter Pan [1954] made her a veritable icon. This from the singer who originally made her name by performing a demure striptease--dressed in a white fur jacket and satin underwear--to Cole Porter's innuendo-laden "My Heart Belongs to Daddy" in the 1938 musical, Leave It to Me!
Theatre enthusiasts who know those performances only from recordings and the Pan telecasts might well wonder: is the somewhat cloying Martin of the later musicals, and the authoress of that treacly memoir, a bit too sweet to be true?
Now you can open David Kaufman's Some Enchanted Evenings: The Glittering Life and Times of Mary Martin [St. Martin's Press] for the answer. And the answer is uncompromising, and often eyebrow-raising. Here is Martin revealed, without all that stage magic and fairy dust which supported her public persona. What we learn, first and foremost, is that most of the sweetness was indeed manufactured.
Kaufman shows us a young singer out of small-town Texas with an abundance of talent, energy, and a knockout voice. Early on, her career was taken over by a manager/husband who also did her hair (literally). The "Mary Martin" that we know was a product carefully manufactured by Mary and her man, Richard Halliday. "Mary makes the bullets," comments the ever-quotable Mary Rodgers, "and Dick Halliday fires them."
Biographies have come a long way since 1976; information--or to use the technical term, "dish"--that would have been thoroughly unconscionable back then is now routinely included, and I suppose required. Rumors and false gossip remains difficult, because who's to say? But verifiable truth is, yes, truth. While it might be nobody's business, and while it might not add to our understanding of the subject's talent, it does indeed help explain a thing or two about career choices. That said, it would have been unthinkable for anyone to reveal this information back in Mary's day; one can only imagine how Martin and her multitudinous fans would have reacted.
Kaufman doesn't exactly uncover witnesses to the inner-Mary, although the circumstantial evidence tying her to Jean Arthur and Janet Gaynor is rather convincing. What is surprising is the link to Arthur, already a major movie star ("You Can't Take It with You," "Mr. Smith Goes to Washington") when Mary first went out to Hollywood as a starlet who never quite made it on screen. Kaufman points out the obvious: Martin looks like, and developed the same charmingly eccentric style, as Arthur. That Jean and Mary should both play Peter Pan on Broadway, in separate productions four years apart, turns out to be not to so much of a surprise. Both had a lifelong fascination with the character; Kaufman tells us that long before either played the role, they would attend Hollywood costume parties in the guise of that boy who won't grow up (sometimes in consultation with each other).
As for Halliday, he had a reputation for being difficult. Here he has the fangs of one of those legendarily menacing stage mothers; except that after South Pacific, Mary's clout was strong enough to get Halliday signed on as co-producer. In which capacity he could do far more damage. (I recently came across some unpublished letters that give a first-person account of Halliday's backstage behavior, and I must say that Kaufman does not exaggerate in the least.)
The result of all of these carryings-on was a life of great celebrity; but also what seems to have been a not-very-fulfilling offstage life. Kaufman makes much of Larry Hagman's vehement complaints about his mother and stepfather. Halliday more or less outlawed Mary's son--from a quick marriage, when she was sixteen--from the household. Hagman, who in Mary's later years became even more famous than Mom (courtesy of his role as J. R. Ewing in "Dallas"), understandably detested Halliday; but he also resented his mother for permitting Halliday to banish him.
Mary's relationship with her (and presumably Halliday's) daughter Heller was--if we read through the lines--not all that wonderful either. The girl spent much of her adolescence on stage: in Mary's 1947 U.S. tour of Annie Get Your Gun (at the age of five); in Peter Pan, where she was deemed incapable of handling the role of Wendy so Jerome Robbins built up the smaller role of Liza for her (allowing Heller her own dance specialty); and in the 1955 State Department tour of Thornton Wilder's The Skin of Our Teeth. After which the teenaged Heller bluntly went on strike, refusing to set foot on stage again.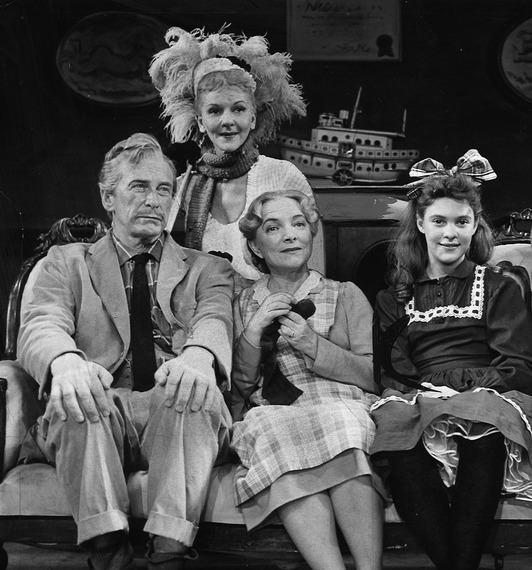 George Abbott, Mary Martin, Helen Hayes and Heller Halliday in the 1955 revival of The Skin of Our Teeth
Martin's post-Sound of Music career was less auspicious. It is well known that Mary & Dick turned down both Funny Girl and Hello, Dolly! in favor of their self-produced Jennie [1963], in which Mary played a twenty-something version of Laurette Taylor (as she turned fifty). This one turned into one of the biggest big-budget disasters of the day, no thanks to the battles between the producers, the writers and the star. Martin eventually played Dolly in an international tour (including stints in London and a celebrated tour of military bases in Vietnam); and she had a success in the David Merrick/Gower Champion production of I Do! I Do!, although Bob Preston--her costar in the two-hander--got all the cheers and a Tony.
And that was it, save for an altogether baffling return in 1978 in an inconsequential Russian play (Do You Turn Somersaults?), which died in two weeks at the 46th Street. And then came the altogether legendary failure Legends--a 1986 comedy by James (A Chorus Line) Kirkwood, pitting Mary against Carol Channing. A far cry from South Pacific and Peter Pan and The Sound of Music.
Kaufman discusses this all in detail, and in an authoritative manner which leads us to believe the tale he spins. (He adds a colorful detail about the 1982 car crash that seriously injured Martin while killing press agent Ben Washer and--ultimately--Gaynor. Paul Gregory--Gaynor's husband, who was also in the cab--relates that Mary decided that the cabdriver's curls were too long, so she took a scissor out of her manicure kit and was trimming his hair--distracting him when they were hit by a drunk driver.)
This is not that "sweet" Mary of "My Heart Belongs," no. But it makes a better and far more believable story than the yarn Martin herself fed us.
.
Some Enchanted Evenings: The Glittering Life and Times of Mary Martin by David Kaufman is available from St. Martin's Press
Calling all HuffPost superfans!
Sign up for membership to become a founding member and help shape HuffPost's next chapter