How many years has this happened to you?
You get invited for a holiday supper and surprise!
You are asked to bring a side dish.
Sure, you could try the ol... lemme bring the wine trick, but one can only do this for two years in a row max. After that, you're kinda labeled as the lame wine loser chick.
No dears, there comes a time when you have to bite the bullet or the -- um -- potato and cook a side dish for that damn potluck supper!
A side dish, FYI, does not mean pita bread and hummus, no matter how much parsley you sprinkle on top.
What follows are some super side dishes that will have your hosts applauding. Maybe then you can try the lame wine trick next year.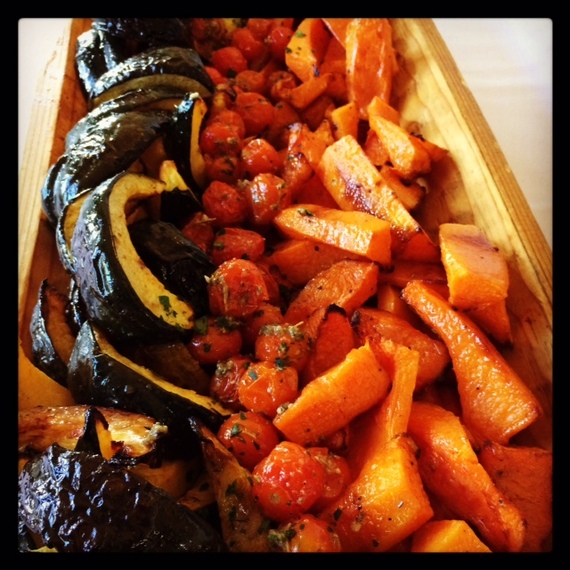 Roasted squash with oven dried tomatoes
Oven dried tomatoes are just god's answer to fabulousness.
I love to use cherry tomatoes.
Buy a few pints of cherry tomatoes, cut in half and toss with olive oil, salt, pepper, minced garlic, some chopped thyme and a handful of brown sugar. Then lay them onto a baking sheet and roast at 250 until the tomatoes are wrinkly like your toes in the tub. For this particular recipe I want to keep the tomatoes a little plump so we're just gonna roast them for about an hour and a half, but when I make the real deal oven-dried tomatoes, those suckers can sit in there for four hours easy.

Meanwhile cut up some winter squash, like acorn or butternut -- it's great -- into relatively bite-size pieces. The butternut squash you have to peel which is a bummer for sure. The acorn squash peel is edible and lovely. Other veggies that are great too are cauliflower, carrots, zucchini and broccoli. Toss your veggies in olive oil, salt and fresh ground pepper and roast until they have a nice char and are soft to the bite but still firm, like me!
When ready to serve, toss in your tomatoes, adjust seasoning and you're done! This is great hot or room temp. I like to garnish with some fresh herbs but you don't have to. This is super pretty as is.
** Optional but fantastic is to brush a little maple syrup on your squash when roasting. Dang that's good!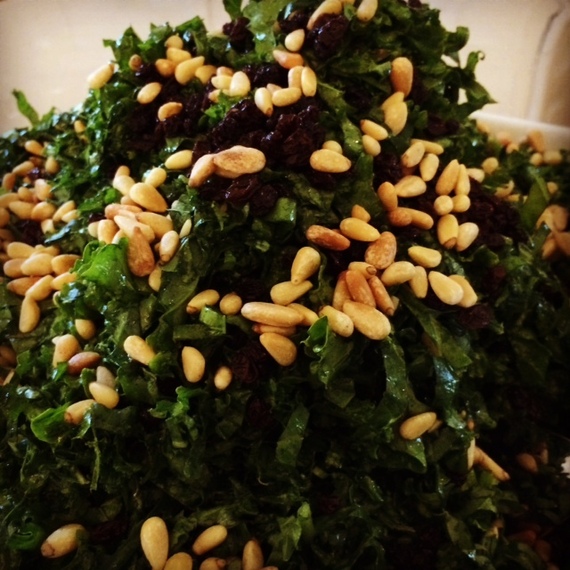 Folks go nuts every time I make this salad. It's like they just can't get enough of it.
The first time I served it was for a wedding I catered years ago. I added it to a buffet that included barbecued brisket and three-cheese-mac-and-cheese as the "healthy option".
I assumed folks would devour the brisket and mac, but the dish they came back for seconds and thirds for was the kale! Wow!
The most annoying thing about this dish is prepping the kale. You have to cut off the hard white parts and just keep the green stuff. Then roll a bunch of green kale into a cylinder and slice across so you get nice thin julienne strips. When you are done wash and dry. You can do this a day ahead.
For your dressing, for say two heads of kale; mix 1 shot of champagne vinegar with a good plop of honey, a good plop of Dijon mustard and a shot and a half of olive oil. Season with salt and ground white pepper.
My fave is to add toasted pine nuts and currants to this. But mainly it's the sweet and crunchy that's best. Raisins and toasted pecans are fine. Sundried cranberries and toasted almonds are great. Whatever floats your boat.
I like to dress my kale an hour before serving and really rub in the dressing nicely, so the kale has time to break down and get soft.
Some folks dress their kale five minutes before serving but I am not a fan of the super raw kale salad thing. Life is too tough. I don't want my kale to be.
Sweeties, if you bring these dishes to a holiday supper, you can get away with anything. Even singing drunken show tunes. I know I've tried it and I sing like a chicken on acid.